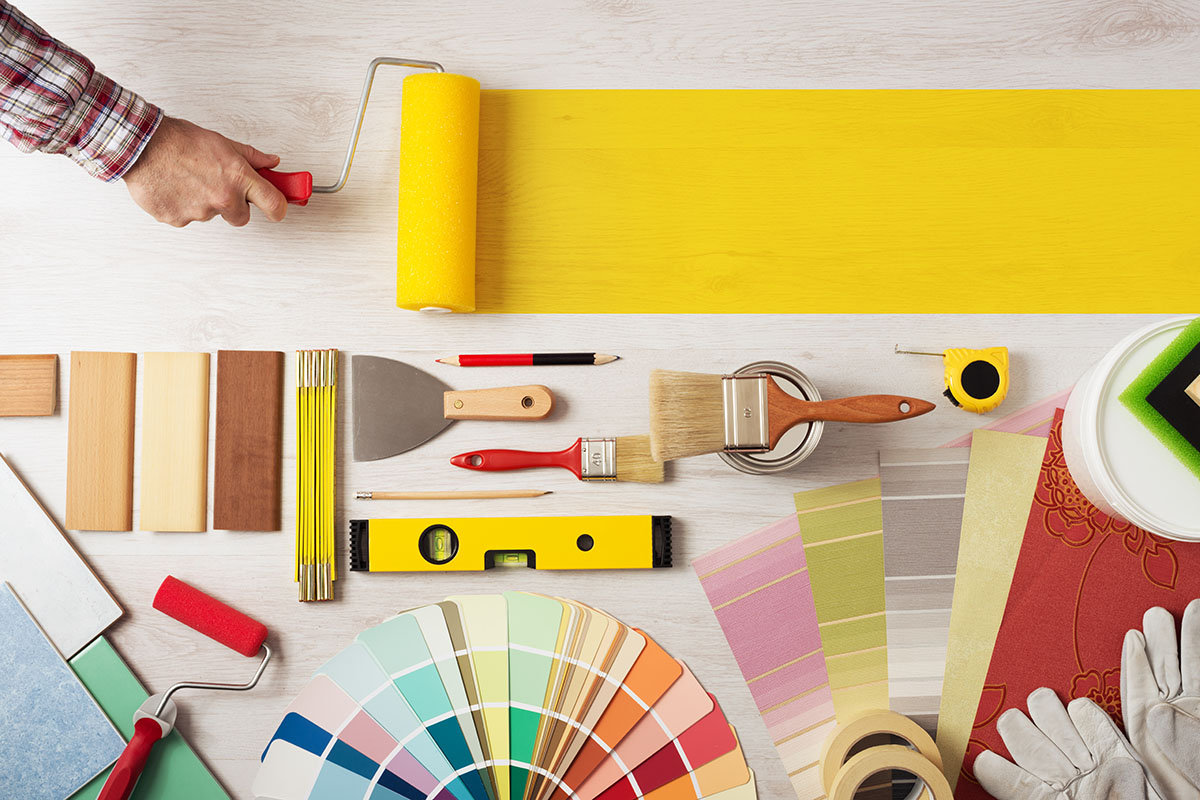 Is it time to make some changes to your home? What could be easier than giving a fresh coat of paint on your interior walls? It is a simple and the least expensive way to breathe a new life into your decor.
You have the brush in your hand, so you can go ahead and start working. It is important to keep in mind an important question: would the result of such a painting be satisfactory? There is a good chance that things will not turn out the way you expected, especially if you have never painted before. A professional painter is your best bet if you do not want to take any risks. Choosing reliable specialists will ensure that you obtain the results you desire.
If, on the other hand, you have time, patience, and are willing to take the risk of tackling the painting project yourself, then you need to make sure you are familiar with the entire process. This article can guide you through it. The following tips and tricks will help you to efficiently paint the walls in your home. Read on to find out more.
How should you prepare for painting and decorating?
There are some essential steps you need to take before you start painting. You should pick the right tools, choose the right paint colour and prepare the room including walls and environment.

Making the right choice of tools
The first thing you need to do before you start painting is preparing your tools. It is common for beginners to neglect this part, which is a big mistake because if you don't choose the right tools, your painting work is very likely to be ruined.
The basic tools you need include a paint brush, paint roller and extension pole, paint roller tray, drop cloth, sandpaper, masking tape and putty knife. Most people have some familiarity with these tools, even if they have never attempted to paint before. Most people, however, do not understand how the type of tool they choose can make a difference.
Here are a few tips on how to pick the appropriate instruments.
Pick a paintbrush according to the type of paint you will use
There are a variety of paint brushes available on the market with different shapes, sizes, and bristles. The shape and size of the paintbrush should be selected based on the area you will be painting. Most of the time, you will need an angled paintbrush to cover the corners. In terms of the size 2-1/2-inch-wide brush is ideal for most DIYers. You have to be more careful when selecting the bristles and choose the one that will best match the type of paint that you are going to use. If you are applying water-based paint, it is best to pick a paintbrush that has synthetic bristles. In case you are going to use solvent-based paints then go for a natural bristle. Alternatively, you can always opt for a paintbrush with a combination of bristles, which is suitable for any type of paint.
Choose a roller according to the wall texture
Paint rollers are available in three different lengths: short, medium, and long. It is best to use a short pile for flat surfaces, a medium for smother or generic textures and a long one for textured walls. Don't forget to pick up a roller extension if you're planning to paint the ceilings as well.
The quality of roller covers is also essential. It should not have overhanging fabric and seam. Also, make sure that the cover does not have any gaps or loose backing at either end.
Choosing a paint colour
Choosing a paint colour is a big decision. You might have a hard time picking the right shade with so many paint samples on the market. So what you need to do first is to consider the function of the room you will be painting. For example, when painting and decorating a bedroom, it is best to go with warm and neutral colours to ensure relaxation. Living rooms, on the other hand, can offer more opportunities for creativity and experimentation. Aside from the colour scheme, you also need to pay attention to the type of wall paint and its quality. Here are some hints to keep in mind when buying wall paint.
Colours should complement your furnishings and the mood you want to create in the room
The first thing you need to do when choosing a hue is to make sure the colour matches your furniture. The next step would be to decide what feeling you want in the room. The colour of a room definitely affects the mood, so it's important to choose it carefully. Try imagining the paint colour you would like for your home. A mix of warm and cold colours may create a perfect balance. Painting all walls in the same colour can be also a great idea. Make sure that you take into account the size of the room. For instance, if the room is too small, it would be a bad idea to use dark colours.
Water-based paints are preferred for interior wall painting
In general, paints are divided into 4 different types - oil-based (enamel) paints, water-based (acrylic emulsion) paints, distemper paints, textured paints and metallic paint. While oil-based paints are more suitable for wood surfaces, emulsion or water-based paints might be your better choice if you're looking to give a new look to your rooms. In general, they are durable, easy to wash and dry quickly. In addition, acrylic emulsion paints offer various paint finishes that you can choose from, including matt, eggshell, satin, silk, soft sheen, and gloss paints.
If you want to create an accent wall in the room then your ideal choice will be textured paint. Be aware, however, that this type of paint is difficult to work with. Therefore, if you are trying to create a great aesthetic value then you might want to leave the job to professionals.
Go for high end or super-premium products
As soon as you are ready to purchase a gallon of the shelf, you probably already know what colour and finish you want. However, not all eggshell paints are created equal. You may have noticed that the price of paint products varies greatly, even within the same company. The reason for this is the difference in quality.
Generally, you can pick between three paint grades - entry-level, high-end, or super-premium. Choosing an entry-level grade will give you a solid product at a lower price. However, you should understand that quality might not be as high as you would like. The higher quality paint will cost you a bit more per gallon, but it will have a bit more durability, especially in a flatter finish. In addition, these paints apply more easily. As for the Super-premium category, these are the most expensive and highest quality paints. Super-premium paints are highly durable and provide excellent coverage. Moreover, they offer increased moisture and mildew resistance, so they are great for bathrooms and kitchens. They also dry relatively quickly which is another plus.
Prepping the room for painting
You need to prepare the workspace before painting so that you get the best results. This will also save you time and effort during the cleanup phase. 
Here is how to prepare the room for the upcoming work.
Clean your space
Try to remove all of the stuff from the room. If there are any heavy or large items that are difficult to move, put them in the middle of the room so that you can easily reach all the walls that you are going to paint. Cover the furniture with a drop cloth to protect them from any paint splatters.
Wash the walls
The purpose of washing your walls before painting is to get rid of dust and stains so that your paint does not interact with the adhesive. Wash all surfaces with warm, soapy water. Rinse the walls afterwards with a damp sponge. It is important to leave adequate time for walls to thoroughly dry otherwise the paint may start peeling and blistering.
People tend to avoid washing the walls since it is tedious and takes so long. However, this step is important to ensure that your paint job goes on smoothly and looks professional.
Protect the floor and mask the skirting boards with tape
Lay an inch-and-a-half of tape along the bottom of baseboards, then stretch a plastic sheet or drop cloth across the room and tack it under the tape. Place half a tape on the top of skirting boards and press firmly so that the paint does not bleed through when you are painting.
Repair the wall surfaces
Go around your room that you are painting and take out every single nail and screw that you will not be hanging something on right after. After that, you will need to fill the holes with spackle and sand them with fine sandpaper. Priming may also be necessary in some cases. A paint primer or mist coat is an excellent way to get the best adhesive and durability from your paint.
How do you paint a room like a professional?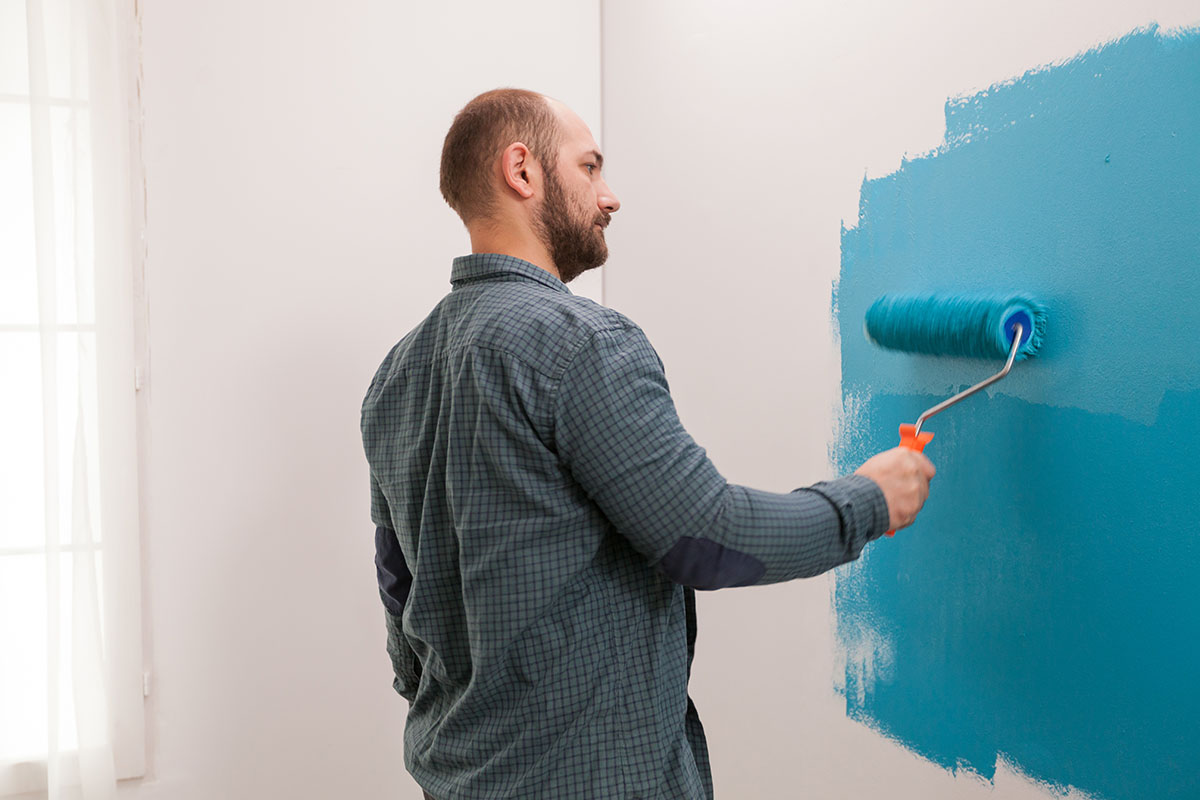 If you want to paint like a pro, you need to know how to cut in and paint the walls properly. When painting a room, there is one important rule that you should follow: work from top to bottom. Here are a few more painting tips to help make your job easier.
Use the "cutting in" technique to paint the corners and edges
Whenever you paint, you begin by cutting the lines between the ceiling and the wall with a brush. Make sure that the lines are as straight as possible. If the lines are not straight, the entire paint job will not appear professional.
After you have applied two coats of paint between the ceiling and the walls you need to continue your brushwork by painting the lines around the windows, door frame and all the lines around the baseboards.
Tip when cutting in: Be sure to hold your paintbrush like a pencil. Doing so will allow you to paint straight lines. It will also keep excess paint from dripping onto your fingers.
Start with the ceiling
The best way to paint the ceiling is with a roller and extension pole. Begin in the corner of the ceiling where your cut corner is still wet and roll in overlapping strokes. Work in grid-like sections of three to five square feet to keep the edges wet and achieve even coverage. To avoid overlapping marks, use a series of W-shaped stroke patterns until the cover is complete. Continue rolling out and blending sections until the entire ceiling is covered.
Tip when painting the ceiling: Keep a paint tray close to you so that you can constantly roll the roller and keep it wet. This will also help prevent paint spills on the floor.
Paint the walls in a "W" pattern
If you're painting the walls with a roller, there are a few things you can do to help you achieve good results.
The first one is to use a " W" pattern technique. It is one of the most common methods used by experienced DIY painters. What you need to do is to take your roller, paint a big "W" and fill it in. Be careful not to lift the roller until the "W" is filled. Then paint another "W "underneath the first one, and fill it in. After that, roll over both vertically. Always make sure to have enough, but not too much paint on your roller. Repeat the entire process beginning with the area next to the first section. Keep going until the entire wall is perfectly painted.
Second of all, it is crucial to perform the "wet edge" technique which refers to painting the walls as close to edges and trims as possible in order to prevent "hatbanding" (uneven colour). Be careful not to touch the opposite wall when doing that.
Give all of your walls one coat first, let them dry for at least 6 hours and then start applying the second coat of paint.
Tip when painting the walls: To achieve the best coverage throughout the wall you should never push on the roller. Keep rolling until the paint comes off easily. Once it stops coming off, simply dip your roller back in the paint.
Finishing the painting job
After you finish the painting job you need to clean paint rollers, brushes and paint trays with soap and warm water until they rinse clean. If your tools cannot be properly cleaned with water then you can use white spirit. Any leftover paint should be tightly sealed in the can so that you can reuse it.
Wall painting mistakes to avoid
Avoid the following mistakes when painting walls.
Using low-quality tools
The tools that are not of good quality tend to be cheaper but do not provide good results, forcing you to work twice. If you use a low-quality brush, for example, bristles may be left on the painted wall. Cheap paint rollers are likely to cause streaks and skips on the painted surface. The same is true for the paint - if it is of poor quality, you will have to apply more coats and the outcome might not be satisfactory.
Not using masking tape
Place masking tape around window frames, door frames, light switches, plug sockets and other areas where you would like to paint straight and clean. If you don't use tape you will end up with a sloppy job and poor finish.
No prep work done
The old flaking or peeling paint needs to be removed and the glossy paint needs to be scraped and sanded before painting over it. Furthermore, you must make sure to fill in any holes and marks on the walls before you apply any paint to ensure a smooth finish.
No cleaning done
When painting a clean wall, the paint looks better and lasts longer. Even small particles can give the paint a poor appearance.
Ignoring the weather
Sun, wind, and rain all have different effects on your painting application. It is best to avoid painting in direct sunlight. Wind can speed up the drying process and cause paint to settle unevenly.
Skipping the primer
The primer gives your paint a good surface to adhere to, as well as improves the appearance of the fresh hue. A primer is especially important if you plan to paint over a different or darker colour or if you have stains on your walls. You can only skip priming if you're applying the same colour as the previous one.
Not buying enough paint
It's as simple as that. You don't want to get stuck without paint in the middle of your project. Paints all have varying levels of coverage, so check with your local supplier.
Not mixing your paint before you apply it
You should always mix the paint properly before starting to cover your walls because it reacts differently based on the temperature. Whenever you will need more than one tin of paint, make sure you mix them together to get a consistent colour throughout the whole room.
Decorating tips and ideas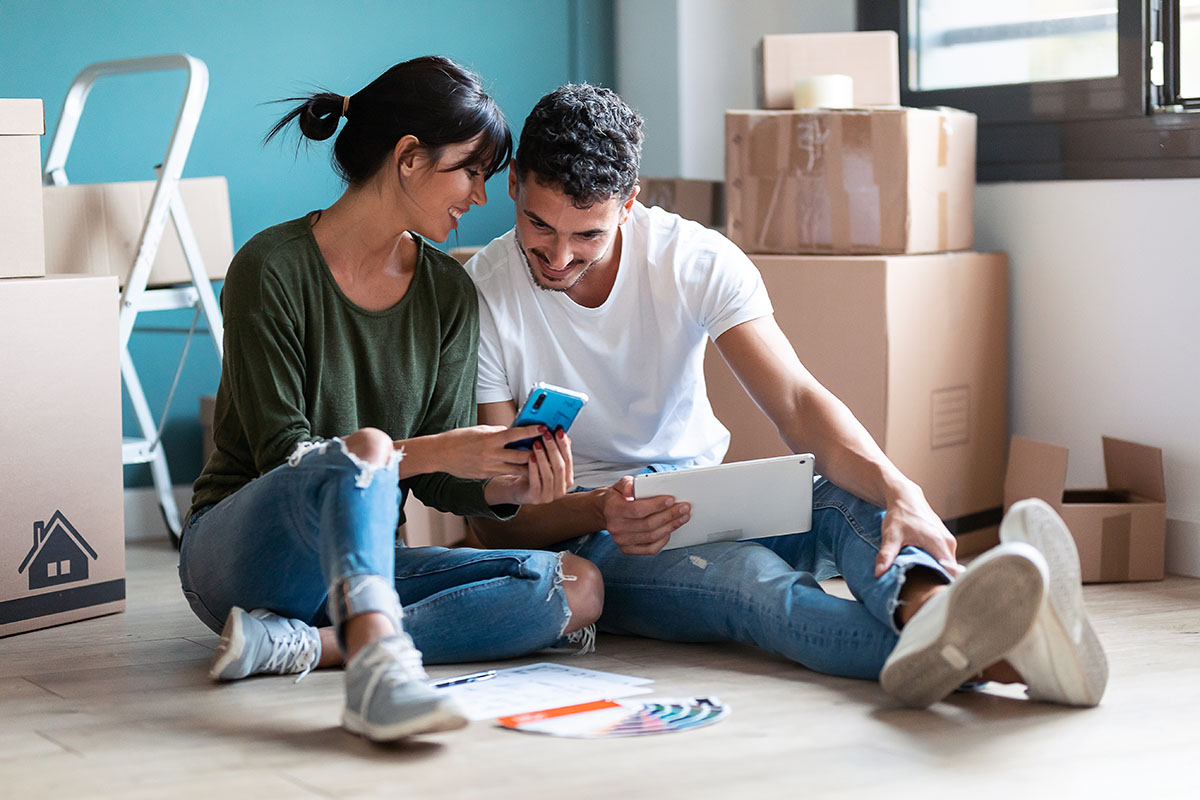 A new coat of paint can completely transform a room, giving it a totally new appearance. The following decorating tips and ideas can help you create a unique vision for your home.
Create an ombre effect
An ombre technique is where one paint colour transitions into another, creating an optical illusion as it moves between two colours. It can be used to decorate any room in your home. To accomplish such a task, you will need various shades of paint. Apply the colours according to your taste, then cross the border between them. When you want to achieve a high-end finish, it's best to leave the job to a professional.
Implement geometric wall
By emphasizing the monochrome colour scheme with bold geometric shapes, it will take on a whole new look. How can you do it? Paint the lightest shade first and let it dry completely. After that, use paper tape to outline the desired shapes, and paint them in the desired colour. Let the paint dry, then carefully peel the tape off.
Utilize grey hues to create a soothing effect
If a contemporary look is your thing, this can be a good option. Moreover, it is a simple project that you can easily complete on your own. All you need to do is paint one wall of your room with a colour that contrasts with that of the other walls. Simple, neutral palettes or black, white, and grey tend to work best.
Final notes
The task of painting isn't difficult at all. Nevertheless, it requires a lot of effort and time. Moreover, if you are a beginner in this field, you are very likely to fail, which will ultimately lead to higher costs. Therefore, if you are uncertain whether you can handle it, you're better off leaving it to professional painting and decorating contractors.