Kitchen counters are high-working areas and as such they need to be made of quality, durable materials. There are so many types of kitchen worktops today that choosing the right match for your kitchen can quickly turn into a challenge and even a nightmare.
How do you tell which one is durable and fancy, how do you know where in the room it is best to install them? Are there any special maintenance tricks you should implement? Which is the best kitchen worktop after all?
Quite understandably, you have a lot of questions. This post will attempt to answer most of them. Check out the following sections for all the details on kitchen worktop types and their specific features.
Hardwood Worktops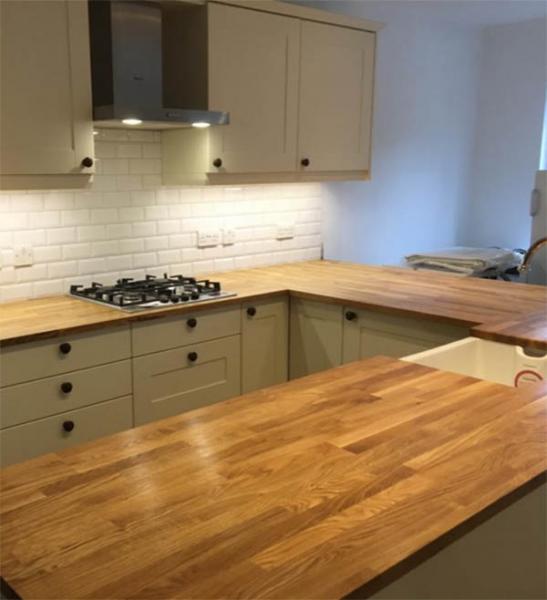 Without a doubt, hardwood is one of the most common materials incorporated into kitchens and it's no wonder why. It looks good, it can fit any design, modern and traditional alike, and it's highly durable if sealed properly.
Usage and Best Location
Solid wood kitchen worktops are best used on kitchen islands and dining areas but you should never use them as a chopping board.
Wood is a natural material which means it is susceptible to heat and humidity. If you want it to last, you'd better install it at a decent distance from the washing machine, cooking appliances, dishwasher, and sink. Any surface or appliance that emits excess moisture or heat could reduce the lifespan of your dream worktops significantly.
Maintenance
Wooden worktops need an initial treatment to maintain their durability and look for a long time. After you finish the installation, seal the surface with a generous coat of oil and repeat every week for two months. If you are not sure the wood has received the right amount of oil, test it by spraying little water on the surface and see what happens. If it forms droplets, you've done a great job and you can leave it alone. If the water pools instead, you should add some more of the treatment.
Tips for Cleaning
You may be tempted to apply a regular cleaner on wooden kitchen worktops but you really shouldn't. These products contain harsh chemicals that can stain the wood. Your best bet is to run a sponge or rag immersed in soapy water through it. Don't forget to dry with a clean cloth to prevent moisture from setting in. If you have to battle stubborn stains, consider spritzing lemon juice or vinegar onto it. To avoid stains, though, you should wipe up any spillages right away before they get the chance to leave marks.
Upsides
Durable and long-lasting
Easy to cut and install
Affordable: around £140 onwards per linear metre
Resistant to bacteria and germs
Enhanced strength due to higher density
Easy to repair (e.g. sand imperfections away)
Downsides
Regular maintenance is required
You should always use a chopping board on the surface when prepping food
And before we move onto the next one, we would like to draw your attention to the fact that there is a difference between hardwood and softwood. Softwood is usually cheaper but with lower prices come lower quality. Keep that in mind before you swap your hardwood worktops for softwood. Of course, it's your decision to make.
Oak kitchen worktops are the most popular hardwood material. There is no denying it looks good. Timber worktops are another popular option. On the other hand, walnut is also quite beautiful and aesthetic. Plus, it can be polished. However, its steep price is the main reason why people shy away from having a walnut kitchen worktop in their homes.
Granite Kitchen Worktops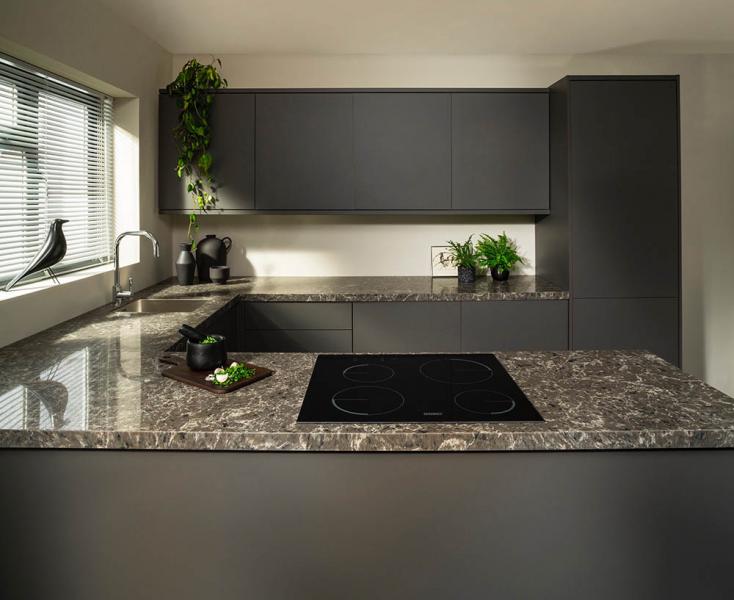 Granite is an expensive material that creates a feeling of elegance and luxury. It has been used in building for many years and it will not likely go out of fashion any time soon. In fact, if you want to give the heart of your home a timeless appeal, this is the kitchen worktop you need.
Usage and Best Location
So, granite belongs to the group of solid surface worktops and is quite durable. Thus, it can be a great addition to any kitchen, whether you are going for the floors, stair treads, or the worktops. Now, since we are on the topic of kitchen worktops, we ought to say granite can be used for food preparation. It's resistant to scratches. If your hand slips while cutting onions and the knife brushes the surface, you can rest assured no damage will be done.
Being porous, granite should stay away from moisture. This means it's a bad decision to pop granite worktops in the sink section. It is ideal to implement them in kitchen islands and other surfaces around the kitchen.
Maintenance
Granite can absorb liquids if they sit on it for too long due to its porous nature. For this reason, it requires sealing twice a year. Also, any spills should be removed instantaneously.
Tips for Cleaning
To keep this kitchen worktop clean at all times, you should give it a quick wipe down using a microfiber cloth and some soapy water. Don't let it stay wet for too long, though. You may also stick with a cleaning solution that is specifically designed for granite surfaces. There are various brands in stores these days. Use whatever works for you.
Some people go with a hand-held steamer but it may not be a good idea. Granite does not tackle heat very well, so refrain from this activity or at least don't do it way too often. Whatever you choose, remember to avoid using harsh chemicals on granite kitchen worktops.
Upsides:
Timeless
Durable and resistant to scratches
Impervious to bacteria if sealed well
Resistant to heat
Low maintenance
Easy to clean
Downsides:
They can crack if you put heavy objects on top
They are quite heavy
They are more porous than slate worktops
They can get expensive - there are many variables that determine the price but it starts from £300 per square metre
Marble Kitchen Worktops
Marble is a natural stone obtained from limestone rock or sedimentary dolomite. Since it adds a luxurious touch to any place, you want a piece of it in your home. It's bright and smooth, soothing to both the eyes and mind. The only trouble is that it's porous. It's only natural to be wondering whether it's a good kitchen worktop option. The answer is both yes and no. It depends on what you want to use it for.
As far as kitchen worktops are concerned, marble can be two types: honed and polished. Starting with honed marble, it has a matte finish achieved through sanding. This causes more pores to form on the surface. On the other hand, polished marble is a little bit more resistant to staining.
Usage and Best Location
Marble is best used on kitchen islands and around the stove. It's a bad conductor of heat, which means it will stay cool no matter what. Because of this specific feature, a stone kitchen worktop is perfect for working dough, as the chances of overheating are slim to none.
Maintenance
The surface of this natural stone has pores and can let liquids seep in. Again, this is something you don't want on your kitchen worktops, especially if you hope for them to hold up for years. To give marble the protection it needs, you have to use a sealing product every now and then. It is wise to consult a professional about it.
How do you know that the surface could use sealing? It's easy to figure it out. All you have to do is repeat the test we explained earlier. Add some water on the marble worktop (1-2 teaspoons should suffice). Now, wait and observe what happens.
If the surface needs sealing, the water spot will begin to expand into other areas and after a while, the stone will start to get darker in colour. This is a clear sign that some of the liquid has been absorbed.
It's important to record how much time it takes for the surface to darken. Get a timer before you do the test. If it's only been under a minute and the changes are already visible, your marble has no sealer at all.
If it's been around five minutes since you spilled the water and the spot is getting darker, then your stone has some sealer left but you will need to apply another coat.
On the other hand, if the water spot doesn't change at all after 10 minutes of sitting, it means everything is fine. Your marble is protected.
Tips for Cleaning
All it takes is a damp cloth, you don't even need some special solution to keep marble spic-and-span. The surface is smooth and it's easy to remove any stains or spills. To make it shine, use a squirt of stone polish on it and finish with a dry cloth.
Do not use lemon juice, vinegar, or other acidic substances to clean your marble kitchen worktops. Unlike granite, they are not resistant to acids. That being said, if you accidentally spill juice onto the surface, don't hesitate to clean straight away or else it may cause damage.
Upsides of Marble:
It can stand the test of time, both when it comes to modern trends and longevity
It's easy to cut
Each piece is truly unique
It's resistant to heat
It offers the ideal surface for baking
It's easy to clean
Downsides of Marble Surfaces:
Honed marble worktops are susceptible to staining but not to scratching
Polished marble scratches easily but repels stains
Marble is more porous than a slate kitchen worktop and requires sealing twice a year at the very best
It's a little harsh on the wallet: £500 per square metre. Truth be told, every type is different and you may be able to negotiate a better price.
It's not as durable as quartz kitchen countertops
Concrete Kitchen Worktops
If you are looking to make your kitchen more contemporary, concrete is your best bet. Not only is it robust but it can be now sealed, stamped, and etched to create diversity and better resilience. That said, it will probably go out of fashion a few years from now, so make your choices wisely.
Usage and Best Location
These kitchen worktops can be used almost everywhere around the kitchen. If you take good care of them, they can be added near the sink but you have to make sure to wipe away any water after each use.
Maintenance
Concrete kitchen countertops require an initial treatment but it has better be performed by a professional. They have to be sealed with a high-end epoxy sealer. After that, sealing has to be reapplied every 9 to 12 months. You can go for a water-based wax sealer for the ongoing maintenance sessions.
Tips for Cleaning
Give the surface a good scrubbing with a sponge, soap, and water. You don't need any magic cleaners to remove dirt from concrete. Be sure to gather any debris, crumbs, and food leftovers beforehand.
Upsides:
They are extremely durable
They are impervious to heat
The surface is easy to clean as long as regular sealing practices are in place
They are resilient to scratches
Considered a premium material, concrete worktops can improve the value of a home (in case you are planning to put your place for sale)
They allow for additional materials to be embedded (lights, shells, glass fragments, etc.); this ultimately gives a more personalised look
Downsides:
Being heavy, they can put a strain on other surfaces (floors, counters)
They can stain
They require annual sealing
Cracks can occur
Repairs are not possible
They are expensive (£300 per metre)
Copper Kitchen Worktop
Copper is a gorgeous and functional metal that can become less pleasing to the eyes when it forms patina. Nevertheless, it is the perfect accent to any kitchen, so if you are willing to give it a try, you may start by installing it in a smaller site first.
Usage and Best Location
You can put copper worktops on a free-standing island or near the sink, it doesn't matter. Copper does not harbour any smells and is perfect for any area as long as you keep it in good shape. It also makes a perfect range hood and backsplash material.
Maintenance
No initial treatment or sealing are required. Do not use stiff-bristle brushes or hard chemicals on copper surfaces. They will damage the outer layer. What is more, keep foods like mustard, pineapple, and lemons (anything acidic) in a bowl or plate when cooking.
Tips for Cleaning
Make certain to clean your copper surfaces as often as possible using high-grade cleaners that are formulated specifically for copper. Mild soap will do the job as well.
Upsides:
Metal worktops last for decades
They are eco-friendly
They are resistant to germs
They are easy to clean
Downsides:
They are costly: £130 per metre
Copper changes over time: a well-used surface will develop different colours, losing its uniform look; so, if you don't think you'll be able to tolerate that, then it's not the best choice for a kitchen worktop
They require regular maintenance
Composite Kitchen Worktops
These are made of two or more materials, which improves their features and durability. Quartz (or engineered stone) and Corian are the two most popular options here and they are both man-made.
Usage and Best Location
Thanks to their improved features, composite worktops are ideal for every nook and cranny in the kitchen.
Maintenance
Quartz is relatively maintenance-free. Corian countertops should be cleaned more often. Do ensure they are dry at all times.
Tips for Cleaning
Cleaning composite worktops is simple. Simply spritz some soap or cleaning solution on the surface and wipe away with a damp cloth. For limescale marks, you may want to use a special product. Rinse and dry.
Upsides:
Quartz kitchen worktops are resilient
They are non-porous and require minimum maintenance
There is an extensive palette of colours to choose from
Corian can assume any shape when cut down
It's easy to clean
Downsides:
Quartz is sensitive to chemicals
Corian doesn't cope well in heat
It's not resistant to scratches either
Laminate Worktop
Made from wooden particle board and plastic, laminate is a widespread material for floors. Be it as it may, it is not the best option for kitchen worktops. It has plenty of benefits but it's not as durable as other materials. The truth of the matter is, it has a short lifespan. If that doesn't bother you, which is highly unlikely, take a look at its features.
Usage and Best Location
Try to keep laminate at a distance from hot and humid areas. It can be added to a kitchen island or several countertops across the room. Don't install laminate worktops near the cooking appliances or around the sink.
Maintenance
Laminate worktops are extremely easy to maintain. The plastic coating creates a barrier from germs and bacteria, as well as scratches and cracks. You don't have to worry that your kitchen habits will harm the material.
Heat and water is where you want to be extra careful. Always use a protective mat whenever you have to place hot dishes on the surface and don't delay in cleaning spillages.
Tips for Cleaning
Resort to a mild detergent and water or get a cleaner that is specifically formulated for laminate surfaces. Either should work. Just don't let it get soaking and religiously wipe dry with a towel once you are finished.
Upsides:
Affordable (£40 per linear metre)
Stain resistant
Not susceptible to scratches and cracks
Hygienic
Different looks available
Easy to cut and fit
Downsides:
Not durable
Prone to delamination and burns
Difficult to repair
Stainless Steel Kitchen Worktop
Stainless steel is an incredible material for the home and office, reason being it's highly durable and long-lasting. It does have drawbacks but the benefits outweigh the flaws.
Usage and Best Location
Being non-porous, stainless steel worktops are amazingly good at keeping bacteria and germs off provided that you disinfect them before and after use. This means they are ideal for prepping and cooking food. You can do it right on the counter without having to worry about hygiene. However, refrain from chopping food directly on the surface or it will develop tonnes of scratches.
Maintenance
A highly annoying characteristic of stainless steel is that it shows smudge marks and fingerprints. The market provides several products that will help you keep the surface free of gunk. No sealing is needed but you have to be careful not to move anything across the surface because it will leave scratches.
The good news is that stainless steel does develop a patina with time, so it will be more difficult to scratch. However, any previous damage that has been done will still show. So as long as you don't mind an imperfection or two, it will be all right.
Tips for Cleaning
Do not employ anything abrasive to clean kitchen worktops. Choose a mild sponge or cloth and use the soft side to get the job done. Regular soap and water will work like a charm but if you want a more professional feel, get your hands on a special stainless steel cleaner.
Upsides:
Non-porous
Resilient and durable
Resistant to heat and water
Not stain resistant
Downsides:
Lots of fingerprints
Prone to scratches
Noisy
Final Thoughts on Types of Kitchen Worktops
There are loads of types of kitchen worktops, from modern to classic, high maintenance versus little maintenance, expensive versus affordable. They come in a wide variety of styles, colours, and designs, so it's absolutely possible to find the perfect materials for your dream kitchen.
Keep in mind that the notion of best kitchen worktop varies slightly from household to household because everyone has different needs and goals. What is good for some may be useless for others. So, hopefully, the detailed info in this post has helped you figure out the exact surface you want for your cooking area. Good luck!