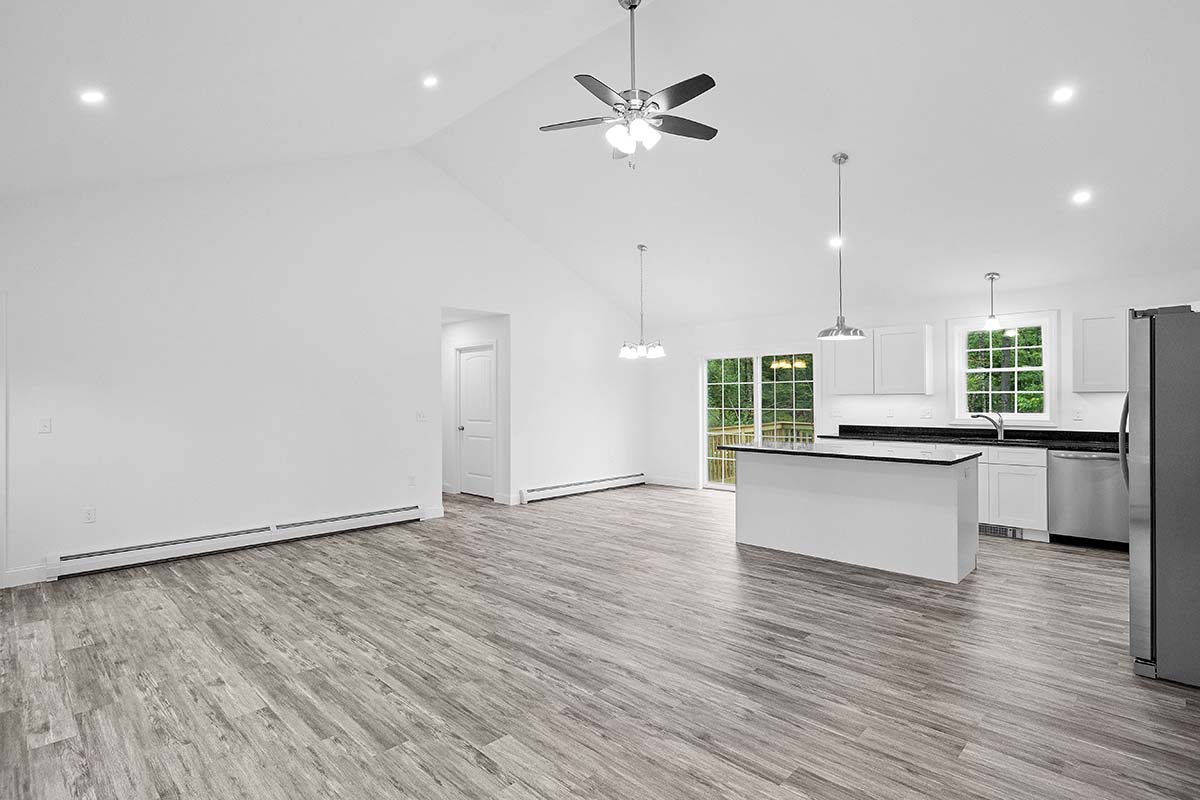 Having made the perfect selection of your new kitchen cabinets, counters, and appliances, the moment has arrived to discern the most ideal flooring that will truly elevate your culinary oasis. Ideally, you will want it to be durable, easy to maintain and match the overall design of the space. Well, the decision can be a bit difficult and sometimes even overwhelming as the options are quite a lot. Besides choosing the specific type of flooring - be it laminate, wooden, vinyl, or others - you will also have to select its shade, colour, and design.
Maybe you need some help? Here, we're delving into the world of kitchen flooring, exploring top-notch options that boast both style and remarkable longevity. To make things even smoother for you, we will provide you with some of the finest kitchen flooring ideas carefully gathered by Surrey renovation experts. So let's dive in and discover the perfect flooring that will truly stand the test of time in your kitchen!
What are some of the common kitchen flooring types?
When it comes to flooring for kitchens, there is a wide range of options available – from wooden and natural stone to vinyl and laminate. Each type comes with its own unique features, perks and limitations. So, when choosing kitchen flooring it is important to weigh them against your specific needs and preferences.
Wood flooring
If you seek kitchen flooring that exudes timeless charm and never goes out of style, look no further than this exquisite floor material. Undoubtedly, wooden flooring stands as a classic and enduring option, renowned for its warm ambience and breathtaking appearance, making it a beloved choice among countless UK homeowners.
Hardwood flooring is made from natural hardwood species, typically derived from deciduous trees like oak, maple, cherry, walnut, or hickory. The wood is cut into planks and then installed to create a durable and aesthetically pleasing flooring surface. You may find two different kinds of hardwood flooring on the market including solid wood flooring and engineered wood flooring. The primary difference between the two lies in their construction. Solid wood is crafted from single, solid planks of timber, whereas engineered wood flooring boasts multiple layers of timber with a wooden veneer finish.
Natural wood flooring comes with a lot of perks, including:
It provides elegant and timeless appearance. Wooden floors can add a touch of warmth and sophistication to any kitchen, enhancing the overall feel of the room.
It can last for decades. Renowned for its exceptional durability, high-quality real wood floors stand as an ideal choice for busy areas, such as kitchens.
It is easy to maintain. All you need to do in order to keep your wooden floor nice and tidy is to sweep and mop it on a regular basis.
You can choose form a wide range of designs and shades. This flooring is available in diverse finishes and styles allowing you to choose an option that impeccably complements your kitchen space and fulfills your personal preferences.
Engineer wood flooring is an ideal choice for installation over underfloor heating. Its cross-layered construction makes it less prone to expansion and contraction compared to solid wood, which makes it a better choice for installations over underfloor heating.
Now, let's see some of the downsides of this kind of flooring.
You are paying a premium for the quality of this kitchen flooring. The real wood is a beautiful, durable, and high-quality material. However, all of these unique features come with a higher price tag.
Hardwood floors are not impervious to scratches. Such floors can last for decades when you take proper care of them. But if you use abrasive tools and detergents to clean them or move furniture without protective pads you can easily scratch the floor finish.
Natural stone flooring
You can find a variety of natural stone flooring options including granite, marble, limestone, slate and so on. Each type of stone has its own distinct features and charm which can significantly impact the overall aesthetic appeal of your culinary space.
When it comes to flooring for kitchens, solid stone stands as one of the most durable materials, offering unparalleled longevity. Furthermore, it can bestow a truly luxurious and high-end appearance upon your culinary space, elevating its overall allure.
But what makes real stone flooring one of the best choices? Here are some of the benefits of this kitchen flooring.
It enhances the overall design and value of the space. No matter whether you opt for marble, granite or slate flooring, it will help you create a natural and inviting atmosphere in the kitchen.
It is very durable and can withstand heavy usage. This flooring can be a perfect solution for busy kitchens, dining spaces, and living areas. When properly maintained, it can last for many years, often outlasting other flooring materials.
It is heat resistant. It can also be compatible with underfloor heating systems.
It comes in a wide range of colors and patterns. You can choose a colour scheme and design that best complements your kitchen and personal preferences.

It is low maintenance. Regular sweeping and mopping are normally enough to keep it tidy.
As with every flooring material, natural stone has its weak traits. Here are some of them.
It can be expensive. The prices may vary between £50 to £150+ per m² which is much higher compared to other kitchen flooring options such as laminate for instance, which may cost about £25 - £30 per m². Keep in mind that premium quality stones and custom designs will generally be more expensive.
It can feel cold underfoot. As we all know, this can be a problem in the UK, especially during colder months. In case you choose this kind of flooring, it might be wise to consider installing underfloor heating.
Tile flooring
Tiles present another popular choice for kitchen flooring. They come with numerous advantages and are available in many different materials, colours and styles. Some of the most commonly used floor tiles are ceramic tiles and porcelain tiles due to their practicality and versatile look.
Let's see what are the benefits of having tiled flooring.
Floor tiles are sustainable and long-lasting. Porcelain tiles, for example, are known for their exceptional strength and resistance to wear, making them suitable for various high-traffic areas, including kitchens, bathrooms, and commercial spaces.
There are a variety of options to suit every budget. With an extensive range of colours, patterns, and sizes available, tiles offer plenty of design options to suit various kitchen styles. Moreover, their price range varies widely, offering both cost-effective options and more luxurious, expensive choices.
Tiles are very easy to clean. They are great for busy households and families with pets and kids. Additionally, tiles are non-porous and do not harbour allergens or bacteria, contributing to a more hygienic kitchen environment.
They are suitable for using over underfloor heating. Most ceramic and porcelain tiles are suitable for this purpose. However, it's best to consult with the tile manufacturer or a professional installer to confirm that the tiles you plan to use are suitable for underfloor heating to avoid any potential issues.
They are water resistant. This feature makes tile flooring ideal for kitchens where spills are common.
Of course, if you choose this flooring option it is good to be familiar with the potential downsides which may include:
They can feel a bit hard underfoot. They may be less comfortable for extended periods of standing in the kitchen.
Grout lines require periodic maintenance. Grout lines between tiles can trap dirt and require periodic cleaning or sealing to prevent discolouration.
Laminate flooring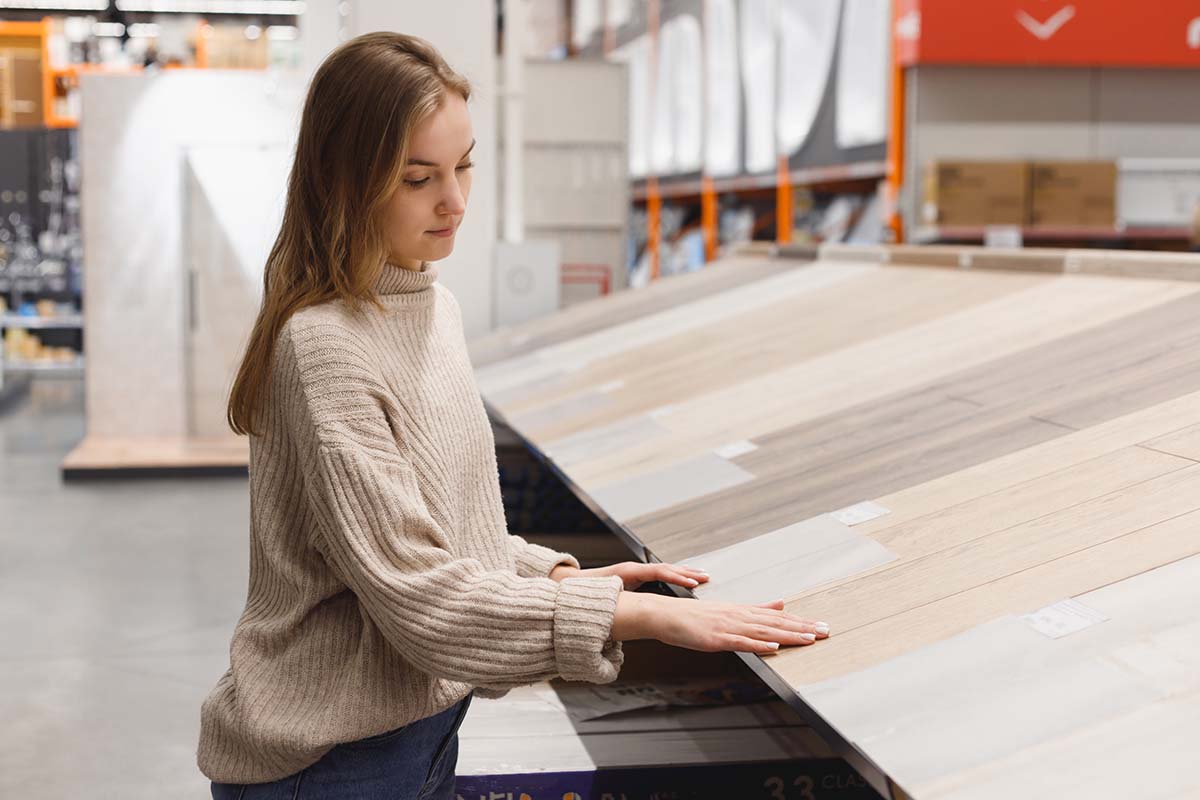 Laminate flooring is usually a compelling choice if you seek a more budget-friendly alternative to stone or solid wooden flooring. It consists of several layers, including a photographic layer that replicates the look of the desired material, a core layer made of high-density fiberboard (HDF) or particleboard, and a protective wear layer on top for additional strength. However, do not expect that this type of kitchen floor to have the exceptional quality and long-lasting characteristics found in natural materials.
The benefits of laminate flooring include:
It is a more budget-friendly kitchen floor. Its prices start from as little as £7-8 per m² for a basic option, up to £20-25 per m² for high quality products.
It allows you to achieve various looks for your kitchen. There is a huge range of designs, patterns, and colors available.
It is soft underfoot. Laminate flooring typically has a bit of give, making it more comfortable to stand on for extended periods, which is beneficial in the kitchen.
It requires minimal maintenance. Regular sweeping and occasional damp mopping are usually sufficient.
Now, let's explore the limitations of laminate floors.
They are typically not waterproof. While some laminate floors have moisture-resistant properties, they are not entirely waterproof like tile or luxury vinyl flooring.
They lack the same level of resilience found in other natural materials. Laminate flooring may not have the same lifespan as hardwood or stone flooring, though quality laminate can still last for many years with proper care.
Choosing low quality option may result in shorter lifespan. The quality of laminate flooring matters. It's important to note that not all inexpensive laminate flooring is of low quality. There are budget-friendly laminate options that can still provide reasonable durability and performance if properly selected and install.
Vinyl flooring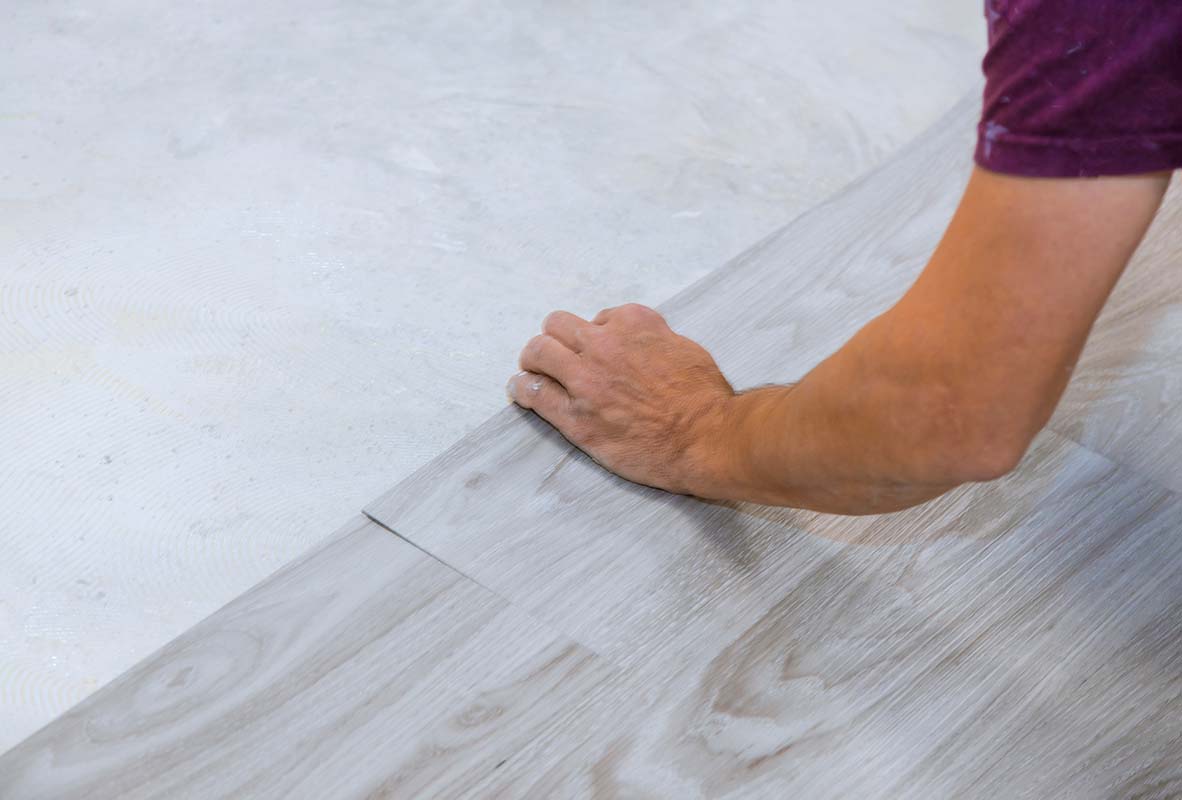 Vinyl floor is another more affordable option commonly used in kitchens. It is a type of flooring material made from synthetic polymer materials, primarily polyvinyl chloride (PVC). In general, you may choose between two kinds of vinyl floors - sheet vinyl and luxury vinyl tile (LVT), with the latter being renowned for its exceptional longevity and enhanced aesthetic appeal.
Some of the benefits of using vinyl floors in kitchens include:
It is scratch and stain resistant. This flooring is designed with a wear layer on top, which acts as a protective surface that helps to resist scratches and common household stains, such as food and beverage spills. However, it's essential to note that the degree of scratch and stain resistance may vary depending on the quality and thickness of the product. Higher-quality vinyl flooring often has better stain and scratch resistant properties than lower-grade options.
It is not too costly. The prices of this kitchen flooring ranges form £20 per m² to £30 per m². However, keep in mind that luxury vinyl tile is generally more expensive than standard vinyl flooring.
It is more comfortable underfoot compared to hard materials like stone or tile. This type of kitchen flooring also tends to be warmer to the touch, making it cozier in colder climates.
The limitations of vinyl kitchen flooring include:
It does not provide as high-end as natural materials. While vinyl can closely mimic the look of natural materials like wood or stone, it might not have the same high-end appeal or value.
It can potentially discolour over time. Some low quality products may fade and change their colour with time when exposed to direct sunlight.
How to determine what is the best type of flooring for your kitchen?
By considering some important factors and asking yourself some questions, you'll uncover the ideal flooring solution that aligns with your needs and preferences. You may want to contemplate the following aspects when making the crucial choice of the best flooring for your kitchen.
Consider your lifestyle and how you use the kitchen. Are you a busy cook who spends a lot of time in the kitchen? Do you have pets or children who may cause more wear and tear? If you have pets, for example, you may want to avoid flooring prone to scratches or stains.
Think about what style of kitchen you want to achieve. Choose a flooring material that complements the overall design and style of your kitchen. Consider the color, texture, and pattern options available and how they align with your kitchen's aesthetics.
Set a budget for your kitchen flooring project. Different flooring materials come at varying price points, so knowing your budget will help narrow down your options.
Seek advice from a professional kitchen renovation company. Consulting an experienced kitchen company is always a good idea. The specialists can provide valuable insights and recommendations based on your specific requirements.
Considering the factors mentioned above and carefully evaluating the pros and cons of various kitchen flooring types will assist you in narrowing down the array of options and ultimately selecting the one that best suits your needs.
Kitchen flooring tips and ideas from Surrey renovation experts
Your kitchen floor serves as both the anchor of your culinary haven and a canvas to showcase your unique style and functionality. With that in mind, gathering inspiring kitchen flooring ideas and expert recommendations is always worthwhile. Here, we present a collection of expert tips and creative concepts to help you turn your kitchen floor into a breathtaking masterpiece.
Ideally, you will choose a durable and high-quality material
Kitchen floors endure a lot of traffic, spills, and heavy use, so it is always better to opt for quality and sustainable flooring materials like hardwood, porcelain tiles or natural stone. If you are looking for more cost-effective but still sustainable option then you may choose LVT flooring or high quality laminate.
Opt for a simple, classic design
Simple and classic kitchen floors have a timeless appeal that can withstand changing design trends. They are less likely to look outdated over time, ensuring that your kitchen remains stylish for years to come. They easily complement various kitchen design themes and color schemes. Whether the space has a modern, traditional, or eclectic look, a simple kitchen flooring design will likely harmonize well with the overall decor.
Go for smooth and glossy finishes to create a contemporary space
Opt for flooring materials with a smooth and glossy finish, such as polished floor tiles, high-gloss laminate, or epoxy coatings. These surfaces reflect light, creating a sense of brightness and adding a touch of sophistication to the kitchen. You can pair the glossy flooring with modern and streamlined furnishings, such as minimalist bar stools, sleek cabinets, and contemporary appliances. These elements will complement the flooring and enhance the overall look.
Cork flooring and polished concrete flooring are also options you may want to consider
Seeking an affordable yet impactful upgrade for your kitchen flooring? Take a moment to consider the charming possibilities of cork or the contemporary appeal of polished concrete floors. Many experts appreciate polished concrete for its endurance and easy maintenance, while others favor cork for its comfort and sustainable nature.
To conclude
Choosing the ideal flooring for kitchens relies on several crucial factors, encompassing the budget, level of foot traffic, and individual preferences. Collaborate with renovation experts to evaluate your specific requirements and peruse flooring samples to envision how they will beautifully harmonize with your kitchen's design.
Remember, well-chosen kitchen flooring not only enhances the overall ambiance of your space but also adds value to your home. So, take the time to research, seek professional advice, and invest in high-quality materials to enjoy a beautiful and functional kitchen for years to come. Happy renovating!