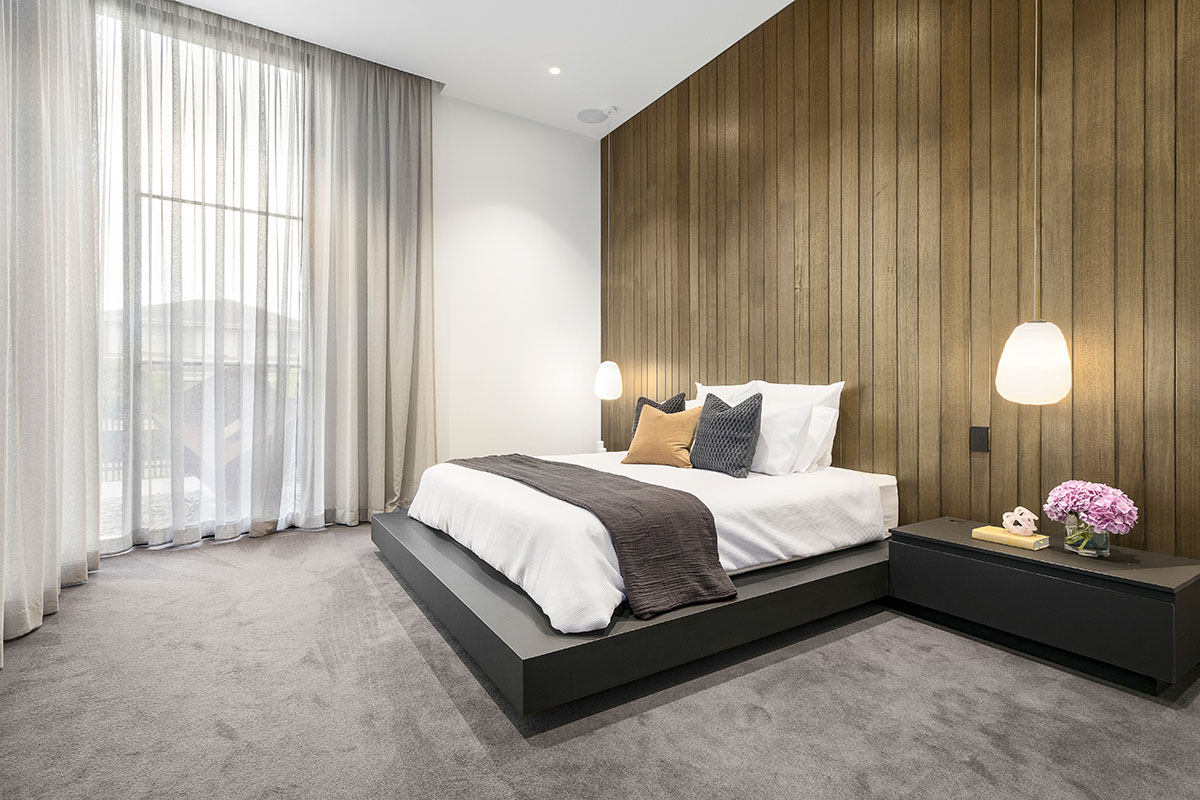 So, you're done with your bedroom renovation and it's now time to put the finishing touches. Painting and decorating your bedroom is a tricky task. You want it to have a contemporary vibe but you also want it to feel cosy and relaxing so that you can peacefully unwind every night. There are certain things to keep in mind when going about this. The following post is going to unpack a host of tips that will help you brainstorm decorating ideas for your bedroom. Let your imagination run wild and channel your creativity with us. Read on.
Bedroom Ideas: How to Decorate a Slanted Wall Bedroom 
If you are wondering how to decorate a bedroom with slanted walls, we will give you a few bedroom ideas to get you started.
First off, it's important to keep everything light so as not to overwhelm the space, so stick with bright wall colours and white bedroom decor. A slanted bedroom already looks and feels smaller, that's why you want to prevent it from getting worse.
Opt for short pieces of bedroom furniture. Consider buying graded shelves that fit the different heights in the room. This way you will not be left without storage.
When it comes to lighting, choose pendant lights to give a sense of height and avoid floor lamps that take up so much valuable space. Consider adding a table lamp near your bed.
If you're scratching your head trying to figure out where to get more light from, why not invest in a skylight? This will not only make everything romantic, allowing you to watch the stars at night, but also make the space appear more open.
Even if you live in a converted attic, you can still have an accent wall that will coax the eye away from the small area. Try to paint it in a different color scheme or hang a tapestry on it. Not to mention, you might add picture frames with some family photos to make your bedroom feel more personal to you.
Bedroom Ideas: How to Decorate a Bedroom with 3 Windows 
Let's unwrap some more bedroom ideas. If three of four walls are covered in windows, then you have one left where you can put tall furnishings like a bookcase or wardrobe. The rest of the furnishings had better be short pieces that go all the way to the window sill but no further than that.
A great idea is to get your hands on a vanity that comes with a flip-flop mirror. This will allow you to close it when you are finished using it so it won't jut out above the furnishings and ruin the look you are trying to achieve.
Put the bed close to the area, preferably in front of one of the windows so the latter can play the role of an extension to the bed. This will place more focus on the bed giving it a central position in the room. Its focal point can be a tall headboard, if applicable. For instance, you can go for an upholstered headboard, leather or metal headboard.
If all this light from the windows feels a little overwhelming, you can try and cover one of them, partially or fully, with some floor-to-ceiling shelving. Drapes are also an option.
Bedroom Ideas: How to Decorate a Bedroom without Windows and still have Natural Light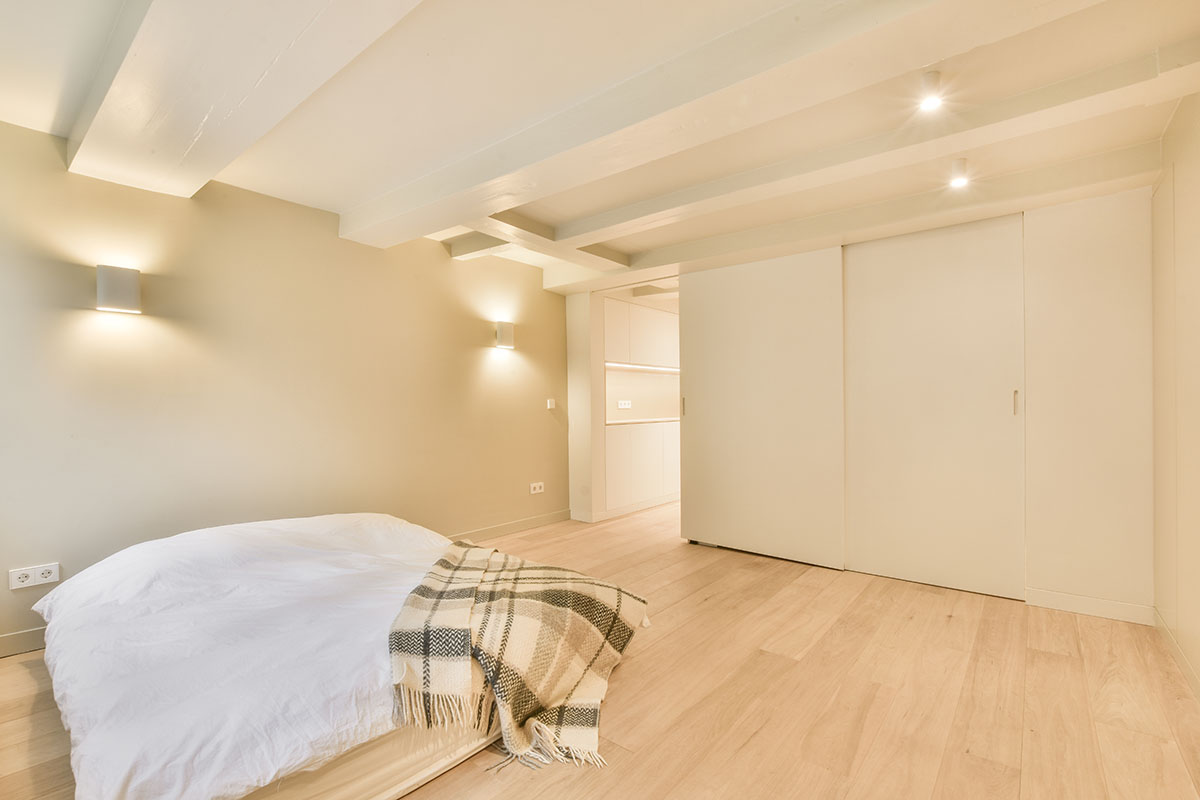 More decorating ideas to come. If your beautiful bedroom doesn't have windows, light is going to be your number-one problem here. You need to add sufficient lighting in every corner. Feel free to experiment with intensity making some areas like your dressing table brighter.
But also think about the types of fixtures you need. Some stores sell lightbulbs and other devices that can actually mimic natural lighting. We are talking about LED lights with special settings that can give off soft and warm light in the ranges of 3,000K-4,000K.
Choose dimmable options so you can easily adjust the level of brightness around the bed depending on your needs. Remember to hang one from your ceiling too.
Now, even though you don't have windows, you should still pretend that you do by hanging full-wall drapes on one of the walls. This means you need to also install a curtain rod. It may seem like a crazy idea but you will see how much depth and texture it will add to the place.
What is more, the walls and ceiling in a windowless room had better be painted in a light colour pattern, using the best hue so that the room appears bigger. Going with dark shades will achieve exactly the opposite effect and you surely don't want this to happen.
Don't forget about plants. They will lend life and freshness to the room. Choose different sizes to again create more depth and disperse them throughout the room.
Last but not least, use lots of mirrors. They will make the room feel larger, add depth, and bounce light around. You could also get one large mirror that goes from one end of the wall to the other instead of picking several small mirrors.
Bedroom Ideas: How to Decorate a Bedroom With no Money 
It may be tough to come up with decorating ideas when you can allocate zero budget for bedroom design. But no worries. You might still be able to do something about it.
The first thing that comes to mind is removable stickers. These come in a plethora of styles and shapes, and are perfect for rental apartments. They don't leave stains, so you don't have to worry that the walls will need painting after you get rid of the stickers.
Further to this, you could try different thicknesses, colours, patterns, and styles of paper. Cut out nice shapes and hang them on the wall. One way to do this is to grab some empty canvases and wrap them in colourful paper, then place them on an accent wall or in a corner.
Go to the dollar store and pick up some good-looking bedroom decor pieces. You can find everything there these days, you will be surprised. Thrift stores are another great option.
Make a new headboard for your bed from salvaged wood that you can find hanging around in old buildings (as long as this doesn't get you in trouble). You can ask your neighbours for help if you know they have some old furnishings they no longer need.
Another way to make a headboard is to use old window shutters. Feel free to paint them a different colour pattern and miss and match them however you want. This will spruce up your bedroom.
Bedroom Ideas: How to Decorate a Bedroom on a Budget 
But if you do have some money that you can spend on sprucing up your bedroom, here are some decorating ideas to help you out. One of the most inexpensive ways to doll up your bedroom is to give it a fresh coat of paint. By choosing versatile shades, you will create more depth and completely transform the look.
Another way to go is to swap out your bedding, cushions and throw pillows. This will provide an instant change of looks and is not difficult to do. The same thing applies to curtains. Getting new ones will freshen up the room without breaking the bank. Cushions, pillows, rugs, and curtains will give your bedroom a cosy and relaxing vibe.
The walls can be decorated with some DIY artwork, prints, posters, and whatnot. To make the room more exciting, you should also switch to new lightbulbs and lay out a nice, cosy rug next to your bed.
As you go about it, don't forget to include lots of plants and herbs. Nothing adds life and freshness to a bedroom like plants. They help you incorporate nature into your home, give you something pleasant to look at and also purify the air. That are a lot of benefits there.
It is a common misconception that you should not sleep with plants in your room. Of course, you want to be picky about the greenery you bring into your bedroom. Some can emit a strong odour and that can make it difficult to sleep.
If you are not bothered by that, then you can choose whatever plant you want. But if you can't sleep through the night because of the aroma, even though it smells really nice, then be careful what plants you put next to your bed.
Bedroom Ideas: How to Decorate Bedroom Walls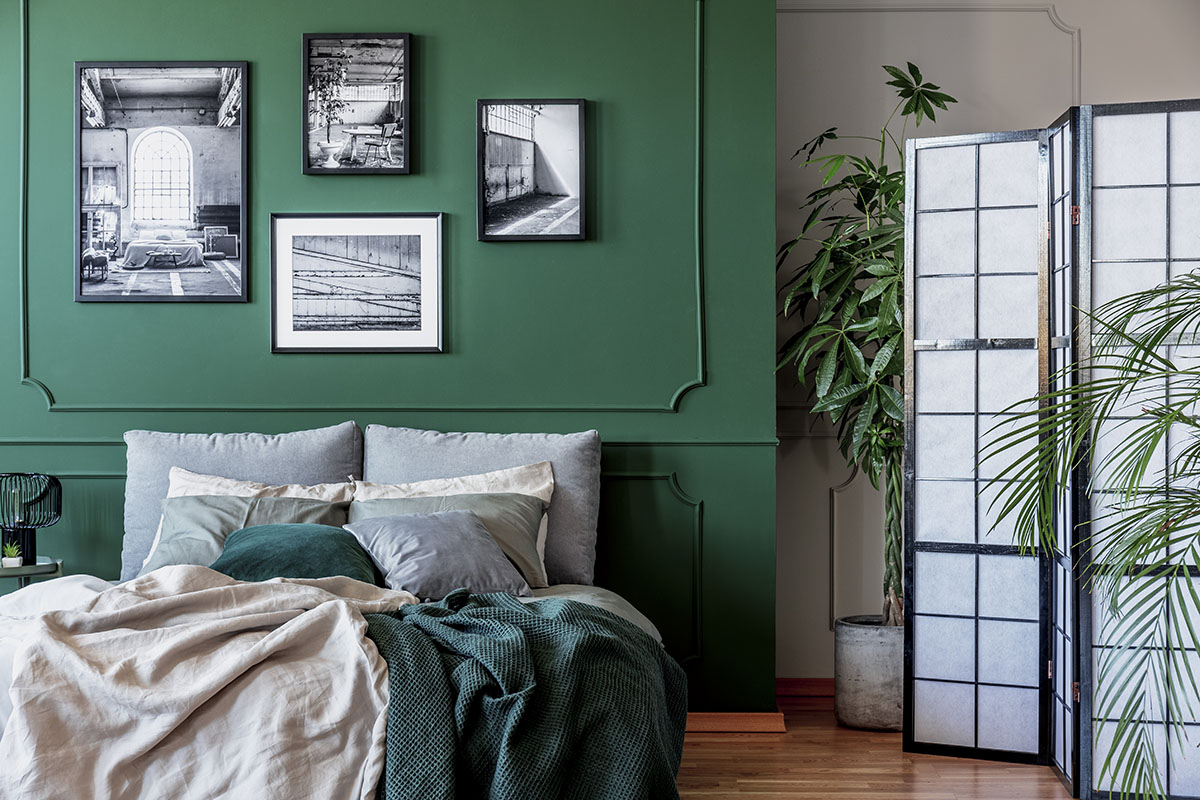 One of the most common ways to decorate the walls is to use wall art like picture frames, tapestry, floating shelves, and posters. Make a gallery wall of some kind. Some people go as far as to hang a rug on a wall. The options are endless and everything depends on the size and style of your room, as well as your goals.
Here is another idea: place a huge chalkboard on the wall. Then fill it in with whatever artistic work your imagination can come up with. Or put some motivational phrases and to-do lists.
Whatever you choose, here is one important piece of advice on how to decorate an empty wall in your bedroom. Keep in mind that your decorations should take up around 60% to 75% of the wall space that is available after you make your furniture choice. You don't want to overwhelm it in any way.
Bedroom Ideas: How to Decorate a Small Bedroom
Here are our decorating tips for a small bedroom. You should try a minimalist approach. Keep most of your stuff away from that space. After all, beautiful bedrooms don't guarantee sweet dreams and good rest. For that, you need to add comfort and ease of movement.
It is a wise idea to paint the walls and ceiling in the same colour pattern, turning the space into a monochromatic room. This will make it visually bigger, cosier, and more appealing. Another great option is to set up an all white bedroom, as it will give the impression of a bigger space.
Moreover, keep clutter at bay and resist the urge to buy lots of bedroom decor stuff or furnishings to save up some much-needed space. For example, you might feel like you need two nightstands but if you only have space for one, then you know what to do.
Steer clear of a four-poster bed and choose furniture that won't take over the whole room. Get a hanging chair instead of a regular one. Floating shelves will provide more storage in your bedroom.
Here is another bedroom idea: mirrors. Mirrors are of great help in a smaller bedroom, creating the feeling of more space and depth. Since it reflects natural light, it will make the space feel larger. Choose a huge piece if your budget allows it.
As far as light is concerned, you should stay away from big chandeliers. Instead, put accent lighting and dim lights in different areas, not just the ceiling.
With regard to bedroom furniture, you should focus on freeing up some floor space by using floating shelves or wall-mounted vanity tables. Select an ottoman bed or a divan since they offer a clean style and come with no protruding frames. Do not choose a bed with a headboard. It works best in large bedrooms.
More Bedroom Tips to Consider
When picking your furniture, focus on quality.
Accessories are essential; they add a personal touch to the space.
Make storage a priority but don't forget that the bedroom should be easy to navigate.
Use delicate colours and avoid the following colours for painting: purple, black, red, and brown. Your bedroom is supposed to be soothing. If you still want to use bold colours, choose bold cushions and accessories for that.
If you have a tiny bedroom, it's crucial to pay attention to the visual weight that your furniture and other belongings create. Mirrors are considered a negative visual weight since they create the feeling of more space rather than the other way around.
The ceiling is a huge area that is not taken up by any furniture and many people forget about it altogether. But it can be a part of the decorating process. For one, you can make your ceiling a focal point by painting it with vivid colours or wallpapering it. Make it different from the rest of the bedroom so that it can stand out and draw attention right away.
At the end of the day, concentrate on your personal style. Don't put furniture and decorations that don't scream and breathe you. You don't want to end up putting together a bedroom that has nothing to do with who you are as a person. Your bed should be comfortable in the first place. Your furnishings should be able to store your belongings, etc.
FAQ
How do you create an accent in a bedroom?
There are plenty of ways to do that: add a mirror, add colour to the floor, make an accent wall, add a bench under the bedroom window sill, get a tall headboard, bring in some greens, create a private nook where you can read books, mix natural materials with colours, etc.
Is it better to have a bed frame or not?
Bed frames are great bedroom ideas if you can afford them. They will keep mould, insects, and allergens from finding their way into your mattress. Plus, they create support while you sleep. However, they can also bulk up your bed, which makes them unsuitable for smaller rooms. When decorating, always match your furniture and other items with the size of the available space.
Which type of bed frame is best for a bedroom?
If you are looking for something long-lasting, you should stick with a metal bed frame or solid wood frame for your bedroom ideas. Forgo plastics and wood composites because they are not very durable.
What kind of light do I use besides overhead light when decorating my bedroom?
Experiment with your lighting options; don't restrict yourself to overhead lights only. Choose from standing lights, portable reading lights, pendants, table lamps, and scones. If you have a smaller bedroom, consider hanging lamps from the ceiling.
Can you give your bedroom a glamourous look with a statement bed frame?
A statement bed makes a wonderful centrepiece and a focal point in your room, so adding a statement frame is one way to make the space look more luxurious. Other ways to add style and glamour include getting a hanging light fixture, incorporating an expensive rug, using throw pillows and cushions, and resorting to display art.