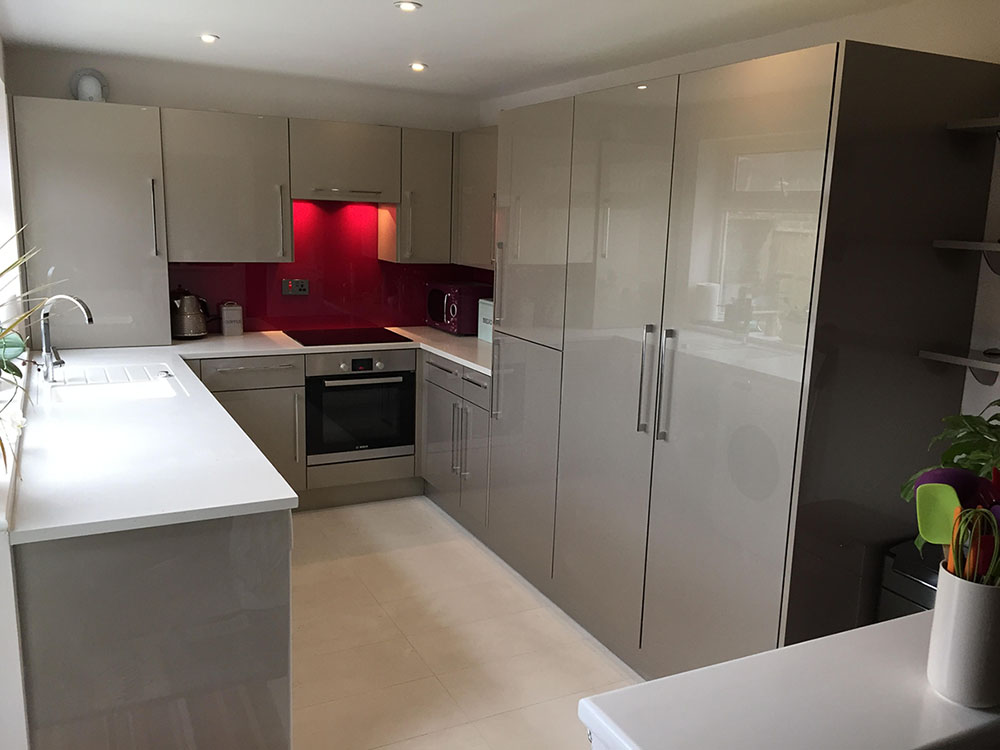 Kitchen renovation in the UK is a daunting undertaking that needs your full attention and some serious forethought. There are important things to consider like creating a budget and ensuring the changes you're aiming for follow the building regulations. Take into account the space you have available and whether you would prefer to make it bigger. Think about functionality.
Any overhaul can be stressful, so it is critical to put together a plan that covers the scale of the project. This will help you to not only roll your ideas smoothly but also keep your sanity intact. You may even finish the task early on. Here is what to mull over before you revamp the heart of your home.
What is the Average Kitchen Remodel Cost?
Setting a budget should be your starting point. What's more important is to stick to the plan religiously. And this is not so easy to put into practice as it sounds. Kitchen renovation cost can be expensive and the work doesn't come cheap. Small to medium projects are capped at £3,000-£5,500 while bigger ones range from £17,000 to £60,000.
You need to find a balance between your wants and the financial resources you have at hand. So, before you embark on this journey, do some rough calculations to see what you can afford to alter.
Next, prioritise the must-haves. These are the items you can't do without - new countertops, wallpapers, dishwasher, you name it. On a separate piece of paper, write down the things you would like to buy if there is enough money left. We're talking about stuff that will take your kitchen to another level but that won't strip it of functionality if not present.
Then, check prices and see how things go from there. Without a clear strategy, you are bound to overspend. The biggest problem with that is you might end up with an impractical kitchen and a huge dent in your wallet. Both will impact your life in the months to come.
Cosmetic or Full Renovation?
Your choice will be influenced by your budget and goals. If your bank account reads poor balance, it is advisable to go with a light touch-up. Some people take personal loans to cover the expenses of their remodels.
However, the latter option does not appeal to everyone. It is in your best interest to avoid credit debt but if the situation calls for it, no one can stop you.
Here are a few reasons to launch into a partial or full makeover:
You are tired of your old kitchen
You want dramatic changes
The cabinets and cupboards are damaged/broken and dysfunctional
You would like to rearrange the furnishings
Your existing appliances are failing you
Do I Need Planning Permission?
Now, most renovation projects within the house don't require permits but it depends on the parameters of the job. Unless you intend to carry out structural changes - knock down a wall or extend the kitchen into the garden - you don't have to worry about it.
Yet, to avoid any misunderstanding (and headaches), do your homework in advance. Note that listed properties might be subject to different rules. Ask your local authority for more information on the topic.
Fitter or DIY Home Improvement?
Before you even get moving, you need to think about who will tackle all the work. Perhaps you want to carry out some jobs yourself to save on cash. Great idea. But make sure you know what you are doing.
For more arduous tasks, especially ones that require a certain skill set, it is wise to call in a professional. That way you'll rest assured every piece is installed properly and not compromising your safety. For example, you had better leave electrical work such as changing lights and outlets to a qualified technician.
Hiring a contractor to handle the entire project is the best choice if you don't want to get your hands dirty. But it's also the most expensive. Its adds some 17% to the overall price.
Is there 20% VAT on Kitchen Renovation in the UK?
Beware any charges that traders will add for kitchen remodelling material and other items. If you are dealing with a supply-and-fit contractor, you will be charged VAT on your appliances only, which is not claimable. (There may be exceptions, e.g. extractors.)
If it just supplies, you can get a refund on everything but the domestic units. If the service is mixed, ask for separate invoices, as this is the best way to avoid any confusion.
How Much Storage Do I Need?
Don't skimp on storage space. There is never enough room for all the pans and pots you own. With a few small exceptions, the kitchen is quite a busy place. Not only do most people cook and eat there, but they also like to spend time in it in general.
With so much action on the daily, it should be able to accommodate oodles of items. For this reason, it pays to be smart with your storage solutions.
Invest in roomy kitchen cabinets. If you wish to keep it frugal, continue to use your existing ones but make a few changes. For instance, you can install several shelves that go over the ceiling. For maximum cupboard capacity, leave all utensils out on display by hanging them on a wall.
What about Kitchen Design?
The design of a place should extend beyond selecting the right colours, style, and materials or making everything match together. The arrangement is equally essential for better performance. Be careful when choosing a kitchen layout, as it will influence how you navigate around the room.

Don't forget about the work triangle. The concept might be clichéd but it's efficient and perfect for lazy people. It goes like this: the fridge, cooktop (stove) and sink should be positioned in such a way that they form a triangle. The total of the three sides shall not surpass 8 metres (26 inches).
Arranging these items close to one another will enable you to prep meals faster with minimal walking.
Other aspects to consider are whether to assemble a kitchen island, step stool, and open shelving, and what lighting options you fancy.
If your budget allows, hire an interior designer to come up with the most functional and aesthetic layout. But if you want to save money, try managing all the work yourself. The Internet is abundant in kitchen renovation ideas. All it takes is a few clicks in your browser.
Conclusion
Transforming the heart of your home is a tedious but rewarding experience. To get the most of it, it is vital to create a plan with all the upcoming changes and details. Check renovation cost in the UK, figure out all the stages, and ensure the alterations you are about to make are legal. The last thing you want is for your kitchen installation to turn into a nightmare. Preparation goes a long way, always remember that.