Kitchen renovation cost - some of the most expensive words you'll encounter on the Internet these days (along with the cost of a new kitchen in general). Things of that nature should always be examined with caution so as not to trigger a mini heart attack. Brace yourselves because we are going to give you a cost breakdown of a kitchen remodel in Surrey and the UK as a whole, element by element. Hopefully, this will prepare you mentally and financially for what will ensue once you launch into a project of this magnitude. May the patience be with you.
How much does it cost to completely renovate a kitchen?
Kitchen Renovation Costs of Popular Services
We'll start with the basic tasks of a kitchen remodel just to give you a clue as to what to expect. The numbers below reflect the hourly rate of each project:
Interior painting: £16
Installation of cabinets: £25
Tiling: £25
Plastering: £20
Tap and sink installation: £60
Plumbing: £40
It almost goes without saying that if you live in an area with a higher cost of living, this will greatly influence the pros' rates and may blow your budget. A smart way to deal with that is to hire experts that operate in smaller, nearby districts as they will probably charge less.
However, keep in mind that if they have to cover a long distance just to get to your place every day, they may increase their prices to compensate for the unexpected expenses. Do ask for quotes to see if the pricelist appeals to you before you get started with the project.
Now, another important factor is the duration of your kitchen renovation. The cost of the labour will be largely affected by timescale. The more time needed, the bigger the final estimate. Here are the daily rates of the most commonly hired tradesmen:
Carpenters usually charge £125 per day. Assuming they will spend five days on the job, you will end up paying a total of £600 for this part of the project. You will probably need electrical work done along the way.
Before you start the actual remodel, first you have to remove the old kitchen units, fixtures, and worktops, i.e. everything you plan on giving a makeover. Demolition work will cost around £200 (and £500 if you want all the waste tackled after that).
An electrician's fees start at £125 per day. Three days' worth of work will be £375.
When it comes to general builders, seven days of workmanship will set you back some £770. Plumbers tend to finish off all tasks within 72 hours, so expect to pay between £125 and £400 altogether.
Now, what about kitchen fitters? Considering that they charge £115 per day, you will be billed around £800 for a whole week.
Your kitchen renovation may require some kind of manual work like plastering and fitting windows. The job is typically executed by labourers. Their fees start at £50 per day.
Kitchen Cabinet Renovation Cost - Average Cost of Cabinetry and Kitchen Units in the UK
If a kitchen were a dish, cabinets would be the main ingredient. Whether you want them to blend into the background or stand out with a defining kitchen design, they are here to give the heart of your home functionality. Not only do they hold all your pots and cutlery, but they can be the stars of the room with their unique appearance and colours.
A new kitchen costs whatever features you add to it. Before you splurge on a new kitchen set though, you need to know that there are three main types of cabinets: custom, semi-customer, and stock (they often come pre-assembled). The latter is the least expensive option while the former is the one that allows you to add features and exact specifications.
Custom cabinets are sold at £400-£1,100 per square metre, semi-custom ones cost approximately £100-£600 per square metre, and stock cabinets will run you £50 to £200 per square metre. The majority of these are flat-pack, meaning they require customer assembly.
New kitchen cabinetry will definitely spruce up the place but it can put an unnecessary burden on your budget. A cheaper way to go about it is to keep the old units all the while swapping the cabinet doors for new. An even better idea is to paint the existing cupboards doors and drawers. If they are in good overall condition, you don't have to replace them.
Last but not least, changing the hardware is another popular option. Drawer runners, door handles and hinges can make a difference to the look and feel of your place without putting a dent in your wallet. You don't have to buy new kitchen furniture if your existing items are in good shape.
Cost of Kitchen Appliances
As with everything else, appliances fall within certain price ranges on the market, depending on the size make, and model. If you shop around, you can pick the most budget-friendly ones. Let's have a look at the basic units a kitchen needs.
Dishwasher
Dishwashers run anywhere from £300 to £1,800. If you want one that cleans dishes relatively well, then you don't need to squander your profits on a high-class one. There is no bad dishwasher on the market. Pricier ones just have more features like a third rack, foldable tines, Tupperware clips, and adjustable parts. Well, in most cases that's the only difference.
Of course, you have to keep in mind that budget models might come with stiff, noisy racks but they will still do a good job at cleaning.
Another possible expenditure to account for is installation (in case you don't want to get involved in this). The fees vary between £200 and £500 per unit. The more complex the task at hand, the greater the cost.
Fridge/freezer
A refrigerator can set you back some £7,000-£10,000 if you want to splurge and a minimum of £400 if you are on a budget. Machines on the higher end of the segment typically offer functions that can keep the veggies, fruits, and meat fresh and odour-free for a long time. They boast a built-in icemaker for when you need good quality cubes.
Another distinguishing feature is they look luxurious and often contain French doors. They also have lots of storage and drawers that extend out and to the sides. Aside from that, you will notice that the materials used are sturdy and nice to the touch.
Installation fees are capped at £150-£250.
Microwave Oven
Microwaves are some of the cheapest appliances to get. They start at £50. Steeper models offer features like a fan, auto cook, turntable, individual popcorn button, child lock, etc. They run £150-£200.
The installation price goes something along the lines of £100-£200.
Stove & Range
Stoves and ranges come with a price tag of £400 to £7,000. If you are looking for features like a gas connection, induction cooking, and smart capability, you will have to fork a considerable £1,000-£2,000.
The installation price of stove & range is similar to the previous appliances: £100-£200. Mind you that gas stoves take more time and effort to assemble if a gas line is non-existent in your house.
Range Hood
Range hoods are pretty affordable, starting at around £50 per unit. Higher-end items cost some £2,500. While budget units are easier on the wallet, they may not work as efficiently as you would expect.
What sets great range hoods from mediocre ones is a good venting system. You need something that provides adequate airflow to keep bad odours and fumes out of the house. That being said, you can find a decent model for less money.
The fee for installation should be accounted for as well. It runs £300-£600.
Cost of Kitchen Flooring
Since we're talking about a complete renovation of your kitchen, we shouldn't forget about the flooring since it plays an important role. It has to be sturdy enough to tolerate all kinds of spills and scratches, as well as heat. Next on the list of requirements is easy to clean and resistant to stains, among other things.
Come to think of it, it also should be long-lasting because you never know when the next makeover will be and you definitely don't plan it for next year.
And sure enough, if you could have all the money in the world, you would get the flooring that checks off all these criteria. But if that's not the case, here is a pricelist of the most common options so you can pick a budget-friendly one.
Bamboo: £5- £8 per square foot
Natural stone: £3-£10 per square metre
Linoleum: £3-£8 per square metre
Ceramic or porcelain: from £0.50-£3 to £35 per square metre
Vinyl: £3- £8 per square metre
Hardwood: £6- £12 per square metre
Cork: £2- £12 per square metre
Keep in mind this does not involve kitchen installation prices. Lucky you if you have a small kitchen. You can definitely save money on this step (even when you add the fees of a kitchen fitter, this statement is still valid).
Cost of Kitchen Worktops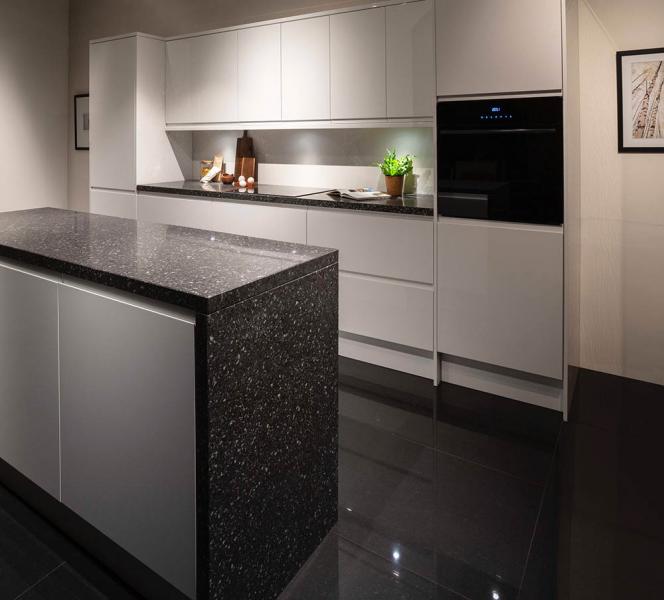 And finally, if you are considering altering your worktops, you might want to have a look at this. Without a shadow of a doubt, this is one of the most exorbitant parts of any renovation project. If you don't want to break the bank, you have to consider the least pricey one.
Marble: £230- £1,500 for a standard size of kitchen worktop
Oak: £200-£550 for a standard-sized piece
Stainless steel: £100-£190 for a standard-sized piece
Granite: £400-£2,500 for a standard-sized piece
Corian: £1,200-£1,500 for a standard-sized piece
Laminate chipboard: £80-£150 for a standard-sized piece
It's not much different from a new kitchen cost. That is, whether you are renovating or building a new kitchen from scratch, the price of your kitchen worktop space will be pretty much the same.
Considerations to Make Before You Modernise Your Kitchen
As you know, planning is key. Here are some tips to go by before you embark on your kitchen renovations journey. Giving them some forethought might be a saver.
Strive to create more storage
Let's be real here, there is never enough room for all the kitchen stuff you own. You constantly wonder where to keep utensils and cookware. Now is the perfect time to set a plan that includes expanding the storage area in the heart of your home.
For instance, you can opt for cupboards that go to the ceiling so you use up all that vertical space. You may also think about buying smaller appliances to instantly make the area roomier.
Go energy efficient
An initial splurge at the time of renovation, looking at the energy efficiency of your new kitchen is an investment that will pay off in the long term. Everything from light bulbs to appliances should come to mind. There are options aplenty as long as you are willing to give it serious consideration. The good news is that technology has advanced so much lately that the majority of new models are energy efficient by default.
Contact a designer if you want a high-quality project and optimum results
If you have the money for it, partner up with a designer to help you with the layout of your dream kitchen. They will suggest some tips and tricks to make the most of your redo in terms of visual appearance and spacing.
Not to mention, they will create all the drawings and technical specifications you may need. That said, this step will add an extra £1,000 to £2,500 to the project.
Stick to your budget
Whether you like it or not, your project can be as big as your budget allows. It's simple as that. A lot of homeowners make this mistake of not referring to their bank account when they think of the things they want to buy.
Before you even begin, check your finances and see how much money you can allocate for your kitchen redo. Let the numbers be your guide. If they are high enough, you can treat yourself to luxurious items and materials.
But if you have a limited budget, you will have to be very precise about your purchases and goals. Make sure to get only the stuff that you absolutely cannot live without and focus on functionality rather than appeal. That's not to say you should overlook the design. Just try to put an emphasis on the practical side of things.
Get quotes in advance
A great way to stick to your budget is to contact all the contractors you will need and get free quotes on the workmanship. They will walk you through the process and list all the things they do. With this information at hand, you can go on and choose the one that has the best deals.
Bottom Line: Total Cost of Kitchen Renovation in the UK
Now, let's wrap up with some rough calculations on the final kitchen prices. Small kitchens will definitely cost less.
Average kitchen price - £1,700
Minimum cost - £800
Maximum cost - £3,000
Is a new kitchen installation more expensive than renovating an existing kitchen? In most cases, yes, but that will depend on the changes you want to make. Since you have the foundation from which to build on, you will save money on stuff like windows, building regulations, etc.
How much does a new kitchen actually cost, you would ask? On average, it runs between £5,000 and £6,000.
Disclaimer
Use this article as a referral guide every time you need to calculate the overall cost of your dream kitchen renovation project, but don't take out word for it. We try to be as accurate as we can but there is only so much we can do. Companies charge differently and we don't have control over that. There is no guarantee that the rates displayed above will be exactly the same when you book a service.
What we have demonstrated in the article is ballpark figures that will get you going. The final cost will be largely affected by various aspects like location, competition, job parameters, and materials used.  But you can still use the numbers herein to get an idea of how far you can go with your remodelling fantasies. Just get quotes on every service you want to make sure you stay on budget.