Throughout centuries, various trends have dominated the design of kitchen cabinet doors - and, oh, do we love it! It's gotten from dramatic and full of elements to simple, nothing over-the-top. Quite naturally, the use of materials has seen drastic changes, fluctuating between linoleum and stainless steel, until today we have his majesty hardwood. 
Another thing that's improved is functionality. The space is larger, not to mention there are more drawers and pull-out sections than ever.
That's right, we're in the era of diversity. Here is why to say that the kitchen cabinet door is not important would be a straight-up lie. In truth, every detail matters. So, if you're looking to reface or refurbish those old cupboards but have no clue where to start, check out the most popular kitchen styles herein.
Flat
If you want to pull off a minimalist appearance, this is the best style to select for your kitchen remodel. For one, it's elegant, it has a contemporary vibe, and it soothes the eye. What more could you ask for? Since it's so simple, chances are it will never go out of style.
What's interesting is, the majority of flat doors are made of decorative wood or laminate, the latter option being more affordable. This opens up plenty of opportunities for the design. For example, you can pick from a number of sheens and colours to being with. Not to mention, the style goes well with all kinds of hardware, so don't be afraid to experiment with the handles.
Louvered Style
You've probably seen this on interior doors and windows but what you may not know is that it's not uncommon to use it on cabinet doors. That's, of course, if the heavy price tag doesn't bother you. The name kind of says it all: horizontal wood slats are laid down together in perfect symmetry. The main benefit of these is that they allow for natural ventilation and the good news is that even closed, they still let air in and out freely.
Louvered cabinet doors work greatly for narrow spaces as they tend to make rooms appear wider. 
Shaker Style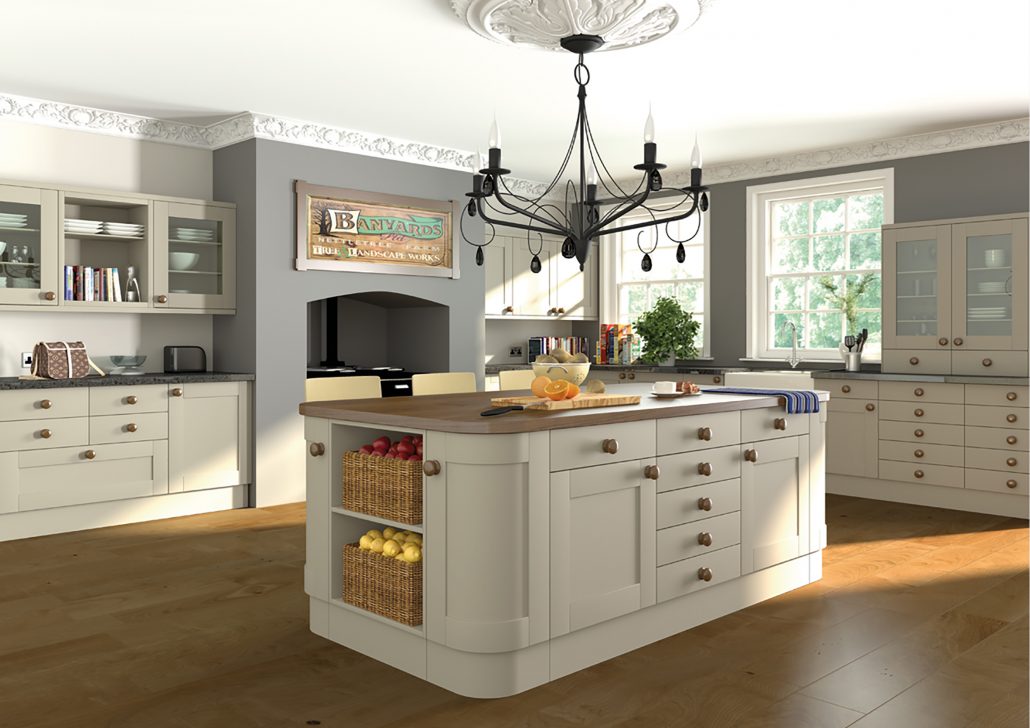 This type of kitchen cabinet door is usually made of five pieces where the central part sits flat into the construction and the other four form a frame around it. Of course, it comes in many variations. Depending on the type you want, you can have some edge detailing embedded into the panel or a simple and clean design. 
The name is derived from the popular Shaker furniture style, although there are few similarities between the two. 
The diversity of colours, stains, and wood species lends the style indisputable charm, making it easy to match any kitchen design. This explains why it's so widespread. And to be honest, it is a great option when you can't think of any other ways to doll up a room this busy.
Another reason a large group of people stick with Shaker cabinet doors is that they are easy to obtain. Also, it's quite a budget-friendly option.
Glass
Here is another option that may not be as affordable as you wish, but it's worth every penny. Glass is capable of turning any ordinary room into a stylish piece of heaven because it adds elegance and depth. Besides, it has the added bonus of making a kitchen appear larger. 
The downside is that it will show the contents of the cabinet which means you need to have some fancy kitchenware to show off. Unless that's the case with you, you should stay away from the glass door style.
Custom Style
Now, who said the heart of your home should resemble everyone else's? If you like to express your creativity in unique ways, try designing your own cabinet doors for an interesting twist. When we say custom, we don't mean you have to start from scratch. Pick an element and add a personal touch to it. Remember to put it in a central location within the room where it will be getting the views and compliments it was destined for. 
A disadvantage of this option is that it may get expensive. Yet, the biggest gain is having the cabinet doors exactly to your liking without compromising one feature over another.
Beadboard Cabinet Style
We're leaving this at the end of our post because we feel like it should be your last resort. Yes, beadboard cabinet doors look good. Okay, maybe some of them do. Otherwise, we can't really figure out why they're still in vogue to date. But what they'll never tell you at the store is that these present a huge annoyance when it comes to cleaning. Meaning, you'll have to give them a wipe or two every day. Not cool.
If you're wondering where the style originated, we shall feed your curiosity. For those of you who are too young to remember, the so-called beadboard was once used to cover walls halfway through. We're talking about the days when paint and plaster weren't mainstream. Basically, that's how they decorated rooms back then. Thank God, things have changed, but that shouldn't deter you from using it for your cabinet doors if you want. It's your kitchen after all and when you think about it, it's a smart way to bring back a pinch of the old times.
Takeaway
The design of your kitchen cabinets can complement the rest of the room or represent a focal point. Whatever you choose, it is important to achieve cohesion. That is, some elements might be different from the others but don't forget that they still need to fit into the overall picture.
The kitchen door is clearly the most visible part of it all and the one that needs to be aesthetic. If you want a distinctive look when you're renovating your kitchen, you don't have to replace the existing cabinets. Instead, you can swap the old doors for new and it will still make a difference - and what a difference at that! Read our full breakdown on how much kitchen renovation costs in Surrey, UK.