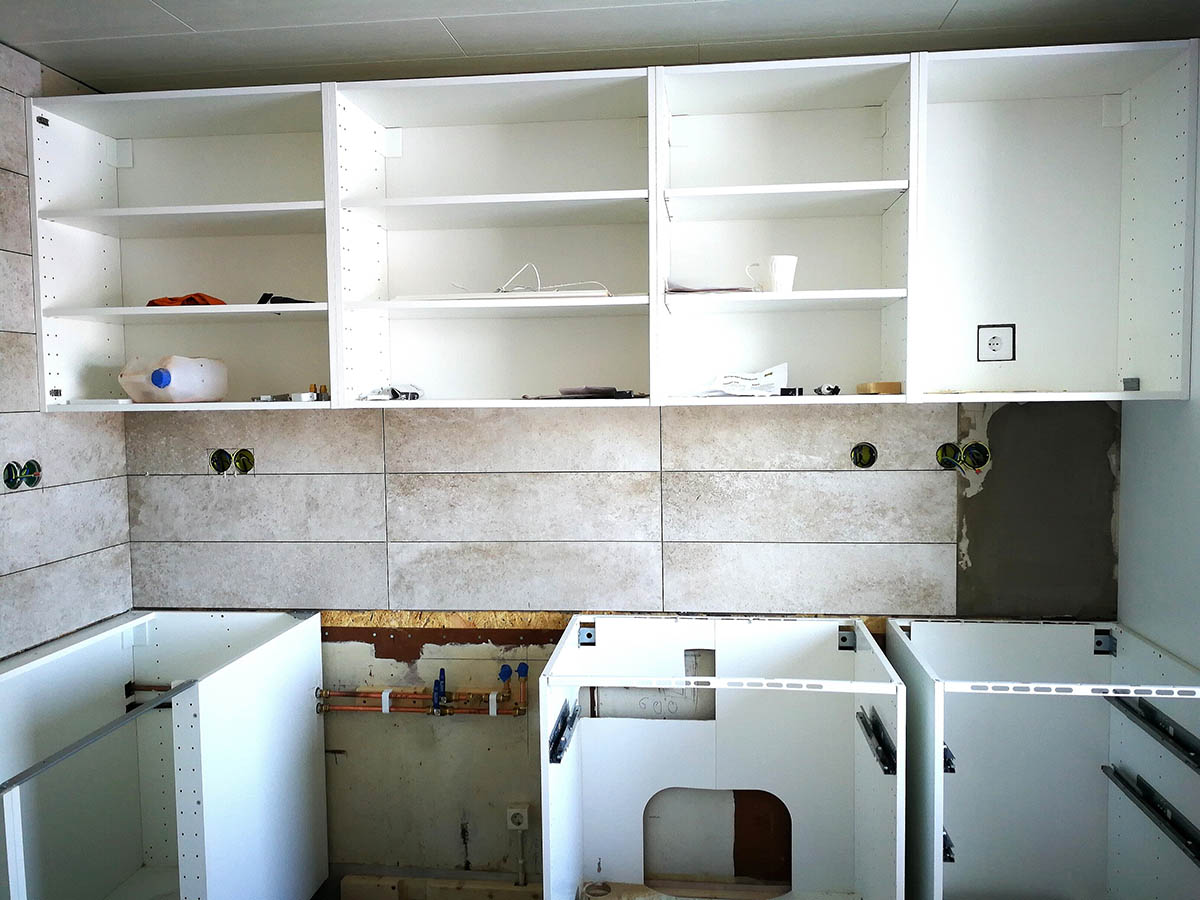 The kitchen is a room where we spend a lot of time. As a result, it is getting to be used not only as a spot where food is prepared but also as a place for gathering with family and friends as well as for relaxing. For this reason, the old kitchen interior sometimes becomes boring and you want to update the atmosphere with new interesting elements. Unfortunately, kitchens renovation in the UK often entails lots of money. The best way to tackle this problem is by keeping the existing layout and renovating only the most conspicuous things of your kitchen such as worktops or cabinets. Here we will focus cabinets refurbishment.
You can do many things with your cabinets to get a new and fresh appearance - from repainting to replacing the doors. In this article, we will list some inspirational, affordable and easy ideas on how to refurbish kitchen cupboards.
How do you refurbish kitchen cupboards?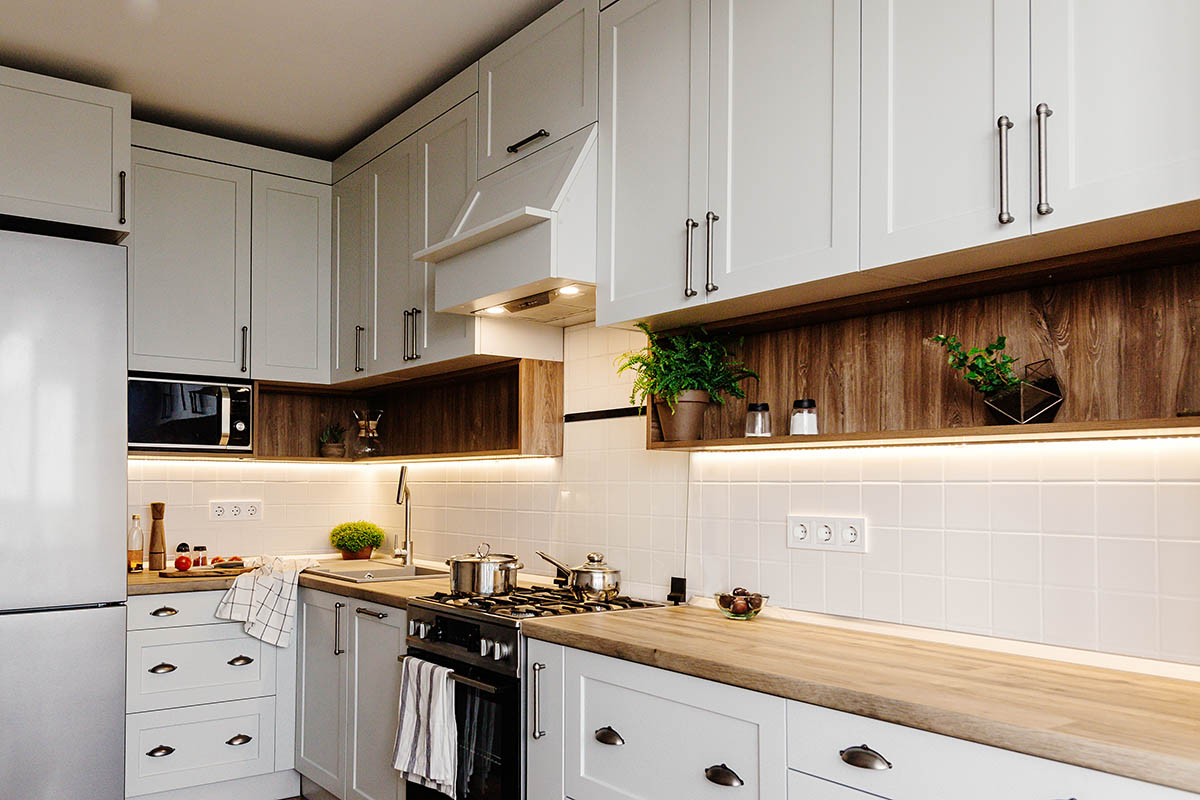 Refurbishing of old kitchen cupboards can be done in several stages. The interior of the cabinets can be covered with wallpaper, foil or it can be painted. The shelves also can be decorated at your discretion. The old kitchen door can be replaced or painted. You may also consider adding cabinets on top of the old ones or removing some of the kitchen doors.
Here are some great ideas on how to refurbish the cabinets and give your kitchen a new lease of life.
Installing a new hardware
Installing new cabinet hardware will give uniqueness and individuality to your kitchen. The hardware of the cabinets involves knobs, hinges, pulls and handles. You can change the old handles with new decorative ones or accentuate the knobs. These little items can have a big impact. Just use a little bit of imagination.
Repainting the cabinets
Repainting the cupboards is probably the cheapest and easiest way to renew your kitchen. You can just renew the doors by painting them in the same colour or you can choose a new different paint colour to create a brand new look. Don't forget to match the paint colour of the cabinets with that of the worktops.
Black and dark grey shades look elegant and can be a good choice for large kitchens. For small kitchens, it is better to combine light and dark colours. If you want to step out of your comfort zone and try some non-traditional kitchen design you can paint the cabinets in different colours.
Refacing the cabinets with Veneer
Refacing the old cabinets with veneer is a really easy way to refresh your kitchen at an affordable price. It will look like you just put new cabinets.
However, you need to understand that refacing kitchen door with veneer is not that simple and if you don't do it properly it will look awful. So you have to be careful.
Adding architectural elements
Adding architectural elements will incorporate traditional look to your kitchen. It will also add luxuries look to your kitchen instantly. All you need to do is just to get a few architectural elements, for example, corbels, and attach them on important spots in your kitchen.
Adding cabinets on top of the old ones
It is another interesting idea to update your kitchen. Adding cabinetry on top of the existing cupboards will not only change the appearance of your kitchen but it will also add some extra storage space. It is best to find an experienced contractor who will finish properly this job.
Removing some of the cabinet doors
Removing part of the cabinet doors is a simple and cheap way to achieve a distinctive look of your kitchen. Open some shelves and decorate with nice baskets or storage jars. This is one of the ways to get those modern open shelves design without actually having to repair the kitchen.
Can you just replace doors on kitchen cabinets?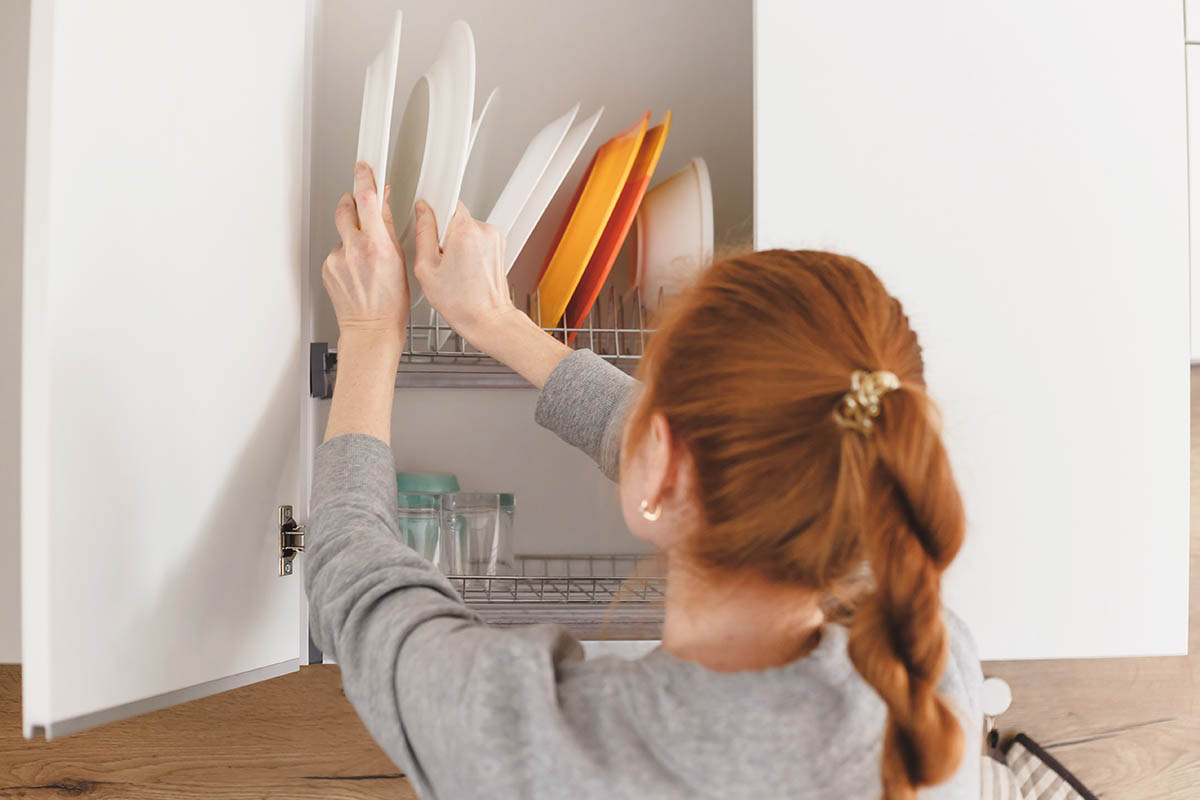 Certainly, you can just replace kitchen doors and drawers. It is a great idea that will give your old kitchen a complete makeover at an affordable price. How you can do this? Here are the basic steps that you need to follow in order to replace the kitchen doors:
checking the number of hinges, handles and other items you need;
buying new cupboard doors;
fixing the handles;
fixing the hinges;
fitting the doors.
How much does it cost to replace kitchen cupboard doors?
The cost of replacing kitchen doors can vary widely - it may start from £400 and goes up to £1000. The price depends on so many things such as the size of your kitchen, the material and the type of the doors, the handles you choose and so on. So it is difficult to determine a certain price for replacement kitchen doors. For more information on prices read Kitchen renovation cost in the United Kingdom.
Cabinet door styles
Once you have decided to replace your kitchen cabinet doors you will need to think about the style of the front surfaces. Here are the options you have:
Full inset kitchen doors. The doors form a flush surface with the front face of cupboards when they are fully closed. This flush inset type is considered a kind of high-end furniture look. From an installation standpoint and from a manufacturing standpoint that is the most discerning look in cabinetry.
Full overlay kitchen door. This is by far the most popular overlay. It gives a more European look and it has tight lines. Full overlay type definitely needs hardware cabinet poles and knobs to get them open. It basically fully overlays the face frame of the cabinetry. The frameless is going to give you the most interior usable space especially when it comes to rollouts and width of your door boxes.
Partial overlay kitchen cabinet. That is kind of more traditional cabinet style. Partial overlay means that the front doors and the doors drawer fronts partially overly the face frame. It means you are going to see a little bit of face frame around it. One of the advantages of the partial overlay is that you don't need cabinet hardware. This style gives your kitchen a kind of country look.
If you want to know more about the latest trends in kitchen cabinet door styles and the range of options for your replacement doors read our post on popular kitchen cabinet doors and styles. We also offer a wide variety of kitchen styles you can browse and take inspiration from.
How to paint kitchen cabinets - give your units a whole new look
To paint kitchen cabinets and give your units a new fresh look follow the steps below:
Mark the kitchen doors and drawer fronts and then start removing them. First, you will need to mark each kitchen door with a numbered piece of tape and then you can start removing the doors. Nowadays, most of the kitchen hardware is simple so it shouldn't be a problem for you. You need to remove all hardware from all of the surfaces.
Clean the entire cabinets very well. If you want to paint the cabinets properly without any subsequent complaints, you should prepare the surface very well. You need to eliminate all splashes and oils so that your paint stays on a tidy surface.
Fill any holes with wood filler. Check the surface for any defects such as holes or scratches and cover them with the wood filler. Leave it to dry and then continue with the next step.
Sanding the wood. Sanding kind of "opens" the wood so that the primer holds better to it. It is good to use a mask, while you are sanding as it raises a very fine powder, which is not good to breathe.
Priming. It is important to choose the right primer. For example, wooden cabinets will need a different type of primer than laminate cabinets. In case you have any doubts you can always ask for a professional opinion at your paint store. Also, you need to make sure your surface is clean enough otherwise the primer will not work well and you may notice some bubbles on the top.
Painting in a new colour. Clean the primed cabinets with a wet cloth. Wait until the surface dries well and then start painting. If necessary, cover with a second layer of paint with the same colour.
Painting your kitchen cabinets will increase the value of your house as well as extend the life of the doors. You need to understand that there a lot of different kinds of cabinets and drawers, the doors can be made of a different material (laminate, MDF, solid wood, etc.), so all different kind of surfaces need to be treated differently when you are painting your project. Wood is usually the most appropriate surface to paint. To get the best results it is better to hire a kitchen renovation company than do it by yourself.
What is the best paint to refurbish kitchen units cupboards?
When it comes to painting any kitchen cabinets a gloss, semi-gloss and matte finish are considered some of the best options.
Gloss finish. Gloss finish usually gives a nice and elegant appearance of the surface. It is one of the most popular and most sought finish for kitchen cabinets. When used on any flat front cabinets gloss finishes work very well.
Matt finish. This is another great choice when it comes to the painting of the kitchen door. Matt finishes have become very popular in the last few years. They work perfectly with a traditional type of kitchen cabinets as well as rustic style.
Semi-gloss finish. If you hesitate whether to pick a shiny gloss finish or classic matt finish for your kitchen cabinet, you can always work for something in between such as a semi-gloss finish. This finish has the benefits of both gloss and matt finish.
Whatever you choose make sure the paint colour match well with your kitchen and suit the backsplash, worktops, as well as the flooring and so on. You have to choose the paint very wisely.
DIY kitchen cupboard refurbishment or professional company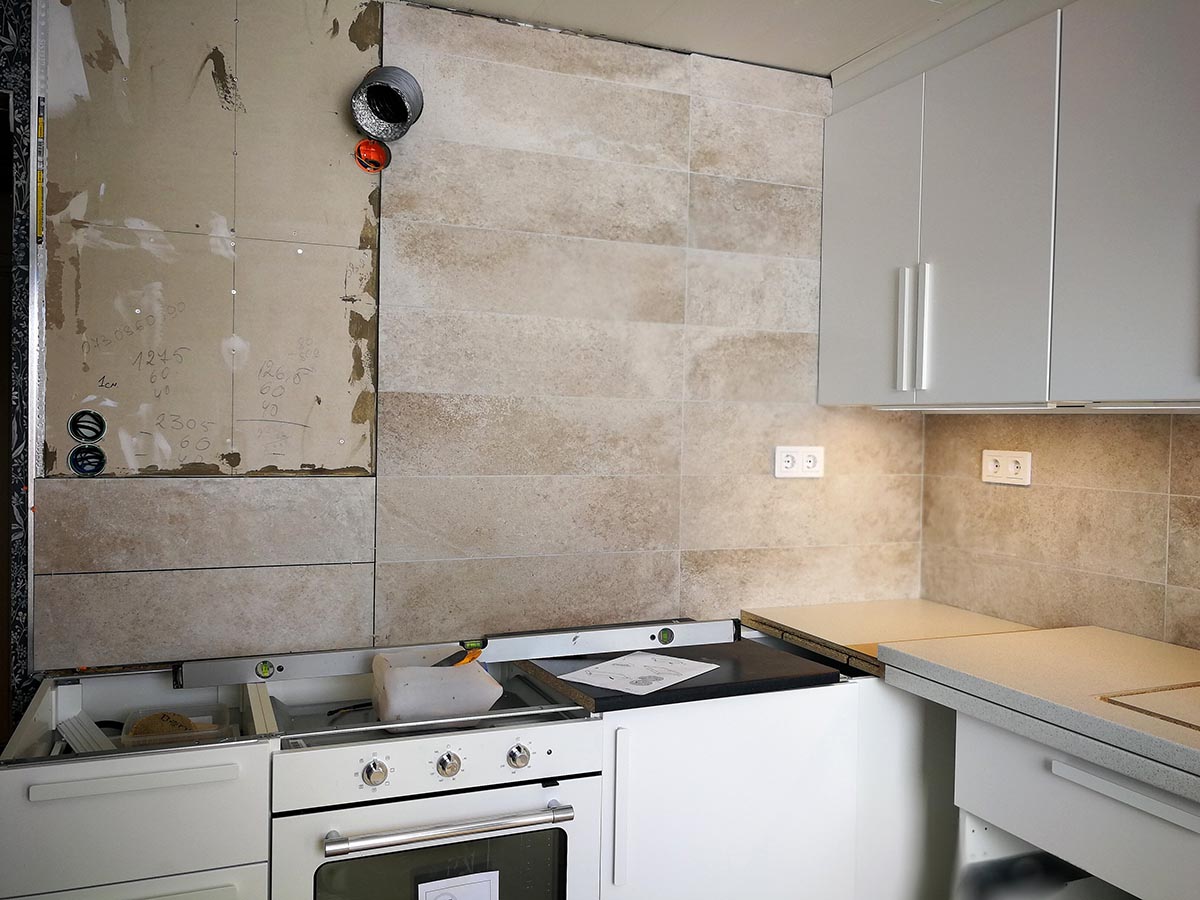 In case you want to paint your kitchen cabinets or replace the doors the best option is to hire specialists in kitchen renovations. They will create full technical drawings, they will take the required measurements and they will give you some ideas and recommendations. Here are some other reasons why it is better to trust an experienced company kitchen fitting company:
This job seems to be super simple on Pinterest. In reality, painting kitchen cabinets is a project that definitely has many potential pitfalls. That is why it is best to be done by a specialist. With professionally painted kitchen cabinets you will end up with an updated kitchen you can't wait to show off.
Hiring contractors will save you time and money. People often think they can paint the cupboard doors just for a weekend. However, if you paint your kitchen by yourself it will take you at least 5 to 7 days or even longer.
Replacing the kitchen cabinet doors looks a simple job - a base of all units usually come in standard sizes so door draw fronts are normally interchangeable. However, if you want to do it yourself you will have to check all measurements carefully before you buy new doors. If your kitchen is very old or non-standard it probably will be a hard job for you and you are more likely to make a mistake. In addition to the measurements, you will have to consider the installation. For example, things like pelmets, end panels, frames should match the new doors. Thanks to kitchen renovation companies you don't have to worry about these things.
To conclude
When it comes to decorating and refreshing the rooms in the home, the kitchen is definitely the biggest challenge. While the living room can be easily refreshed by rearranging some of the furniture or adding some decoration, the kitchen makeover is usually associated with huge costs, which leads many enthusiasts to quit such a project or postpone it. The truth is that a complete makeover of the kitchen costs at least £4000.
Fortunately, there are a number of tricks that can help you make your kitchen look like a whole new space without shaking your financial stability.