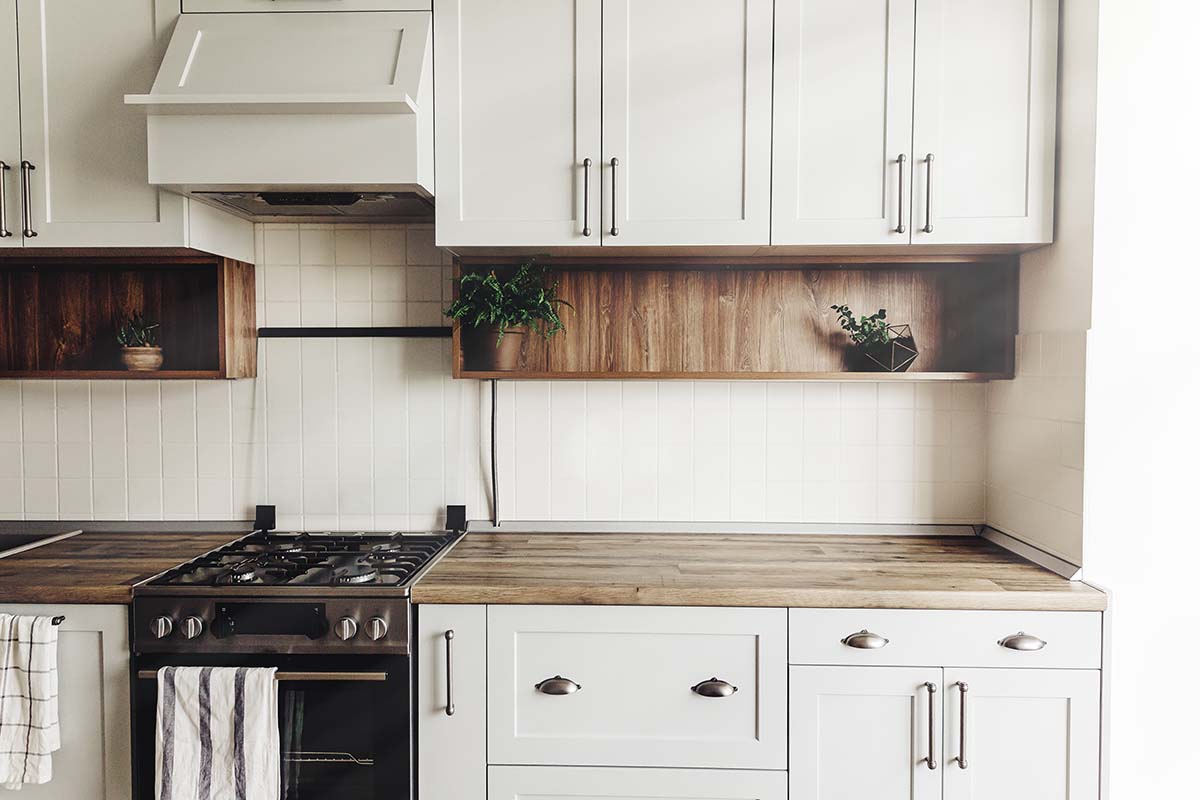 The kitchen is the most frequently and actively used room in every home. Given the leading trend of an open concept in the modern interior project, the kitchens now are much more than a place for cooking. Kitchens are an integral part of the area for active communication and entertainment, a place from our home where we like to spend time, alone or with family and friends. So, if you are about to renovate or you are looking for inspiration and innovative kitchen ideas, here you will find useful information that will help you optimize this area in your home.
From where to start designing a new kitchen, to the latest trends in kitchen design, in this article, you will find everything you need to build your dream kitchen. We will also give you some information about different kitchen styles and the cost of kitchen designers in Surrey. Take a look!
Where to start designing a kitchen?
1. Consider the kitchen floor plan
Think about the room layout as well as your needs. You are going to live with this kitchen for many years so it is important it suits your lifestyle and even your future lifestyle. Think about what do you like in your existing kitchen, what would you keep as well as what do you hate about your current kitchen. It will help you clarify what you want from a new kitchen. It is also good to visit a local kitchen showroom where you can see different ideas - kitchen styles, layouts as well as to get a better idea for the different designs, materials and combinations.
2. Think about what is your style
The choice of appearance is most important when designing a new kitchen. Based on it, you will make the necessary calculations, measurements and decisions at a later stage. You need to have a basic plan that will guide you in your journey. We will give you an example to understand exactly what we mean. If you want to build a minimalist kitchen design, it means you will need more space and a minimum amount of furniture, clean colours, etc. But if your home is not too big and doesn't have enough space, the implementation of such an idea would be quite time-consuming. Therefore, first, you should determine the appearance or the style of the kitchen you want.
3. Have a consultation with a kitchen designer in Surrey
When designing your kitchen, the interior designer will pay attention to detail, to your layout preferences and "adjust" them to fit the size of your kitchen perfectly. In fact, every corner can be well utilized. To achieve it you will definitely need a home visit consultation with a professional kitchen designer or architect. So don't skimp on kitchen design service.
4. Set your budget
Budget is an important factor that should be specified at the beginning of planning. Kitchens tend to be expensive in the UK especially if you are looking for a higher quality kitchen. Consider everything you will need, from start to finish - you will have to buy all materials, appliances, accessories, new countertops, units and a lot of other items. However, don't forget it is not just buying the kitchen but also the installation. Talk to your design consultation company, tell them exactly what you want - you will be amazed actually how much you might be able to afford it. If you are going to hire professionals for fitting and designing your kitchen, make sure let them know your budget during your appointment discussion with them.
To get a better idea of the prices of kitchens in the UK you can read our article on kitchen renovation cost in the UK.
5. Choose appliances, cabinets, worktops, backsplash as well as accessories and fixtures
Here is an important moment form the design process because you need to decide what you want to be the main colours and style in the kitchen. Think about the designs of the kitchen cupboards and doors as well as the interior furniture. How many drawers do you need and where they will be located? Do you want to have open shelves or glass doors? Consider the different types of kitchen countertops to choose the right match for your new kitchen design. Make sure you choose high-quality items especially when it comes to worktops and cupboards (alternatively, you can just refurbish your current cupboards). We've written an extensive guide on different types of kitchen worktops.
6. Find kitchen fitters in Surrey
Once you have chosen the layout, the appearance, furniture and colours of your kitchen, the next step is installation and project implementation. It is essential to find a good team of expert kitchen fitters who will do the installation work properly, from start to finish. A kitchen renovation company usually offers a wide range of services - from cupboards and worktops installation to plumbing and electrical.
To find a good contractor in Surrey with experience in building, you can ask friends and family for recommendations. You can also do research for a reliable customer service company in Surrey simply by looking up on Google "kitchen design and build near me". In order to find a team who has a good experience in the field, you may want to read some clients reviews and check the online reputation of the kitchen company before you decide on setting an appointment with them, otherwise you may go with a bad choice and have not so good of an experience working with them.
7. Visit a kitchen showroom in Surrey
If you haven't visited the local kitchen showrooms yet it is time to do it! Visiting the showroom is a good experience and really helpful for you to make sure you get the very best outcome. You will find the process better and have a lot more clarity about your choices and your future kitchen project. You will find a number of different design ideas. You will see components that you like, that you can bring together, you will see a wide range of door styles and colours.
How much do kitchen designers cost in Surrey?
Hiring a professional kitchen designer in Surrey will cost you anywhere between £30 to £80 per hour. Some kitchen designers charge their clients a percentage of the total cost of the project, which is usually around 10% depending on your area. So if you are planning to use help from a professional design service you will need to add around £1000 - £3000 to your budget.
Choosing the right kitchen designer who has great attention to detail and experience in the field is really important. You need to work in a team with a professional that's going to understand what you want to achieve in order to have a good experience working with them.. The designer will listen to you and advise you on how to organize your kitchen space in the best possible way.
How to design a kitchen layout?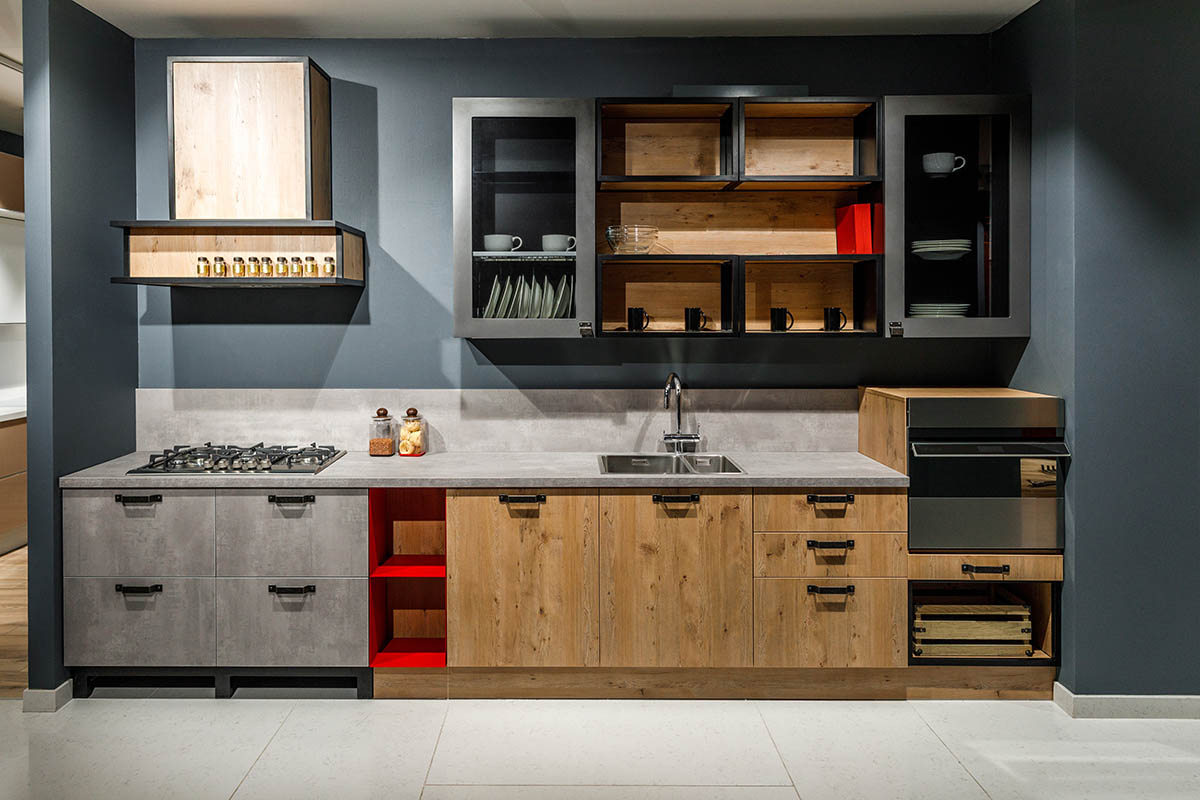 You have to identify what kind of activities are happening in the kitchen (obviously it's always cooking). Determine on which wall/walls you will install your kitchen and the work area. The rest of the room will probably be set aside as a dining room. Depending on the space and your desire, the dining area can be combined with a living area. The cooking process is usually as follows - taking the products out of the fridge, washing, cutting, baking/boiling.
Therefore, it would be convenient for the work area to be designed in this way - refrigerator - sink - worktop - oven. Ideally, the sink is located in the middle of the work triangle, and it is best to be 1 to 2 meters from the refrigerator. For the location of the refrigerator, it is good to choose one of the corners of the room so that it does not take up much of the work area.
Popular kitchen design layouts
Here we will look at some of the most popular kitchen layouts.
One wall kitchens - One wall kitchen is definitely a space saver, it is cheaper if you are building it and it is very functional. Why it is functional? Because all of the functions are on one wall and it is much easier to move around there and it definitely gives out for extra circulation. So if your space is small one wall kitchen might be a good idea. But if you want a one wall kitchen with extra function then you may want to consider an island. If you have an island then you have an extra counter space that you can work on.
L-shape kitchens - It is one of the most popular kitchen shapes. It gives you a lot more storage space so you have a lot more cabinets and you have a lot more counter space than the one wall kitchen. It takes just two walls and you can definitely add an island for the same exact reasons as the one wall.
U-shape kitchens - This type of kitchen has a lot more storage than the L-shape and it is also the optimum layout for a team of chefs. So if you know there are two people cooking then the first thing that you consider (if you have space) is to build U-shape kitchen.
Galley/ Parallel kitchens - It will save you a lot of space because it is taking two walls but it is leaving you some space in between to have some circulation. You have to remember if you are designing a parallel kitchen you need to leave at least 120 centimetres just to give that extra space for moving.
What is a contemporary kitchen design?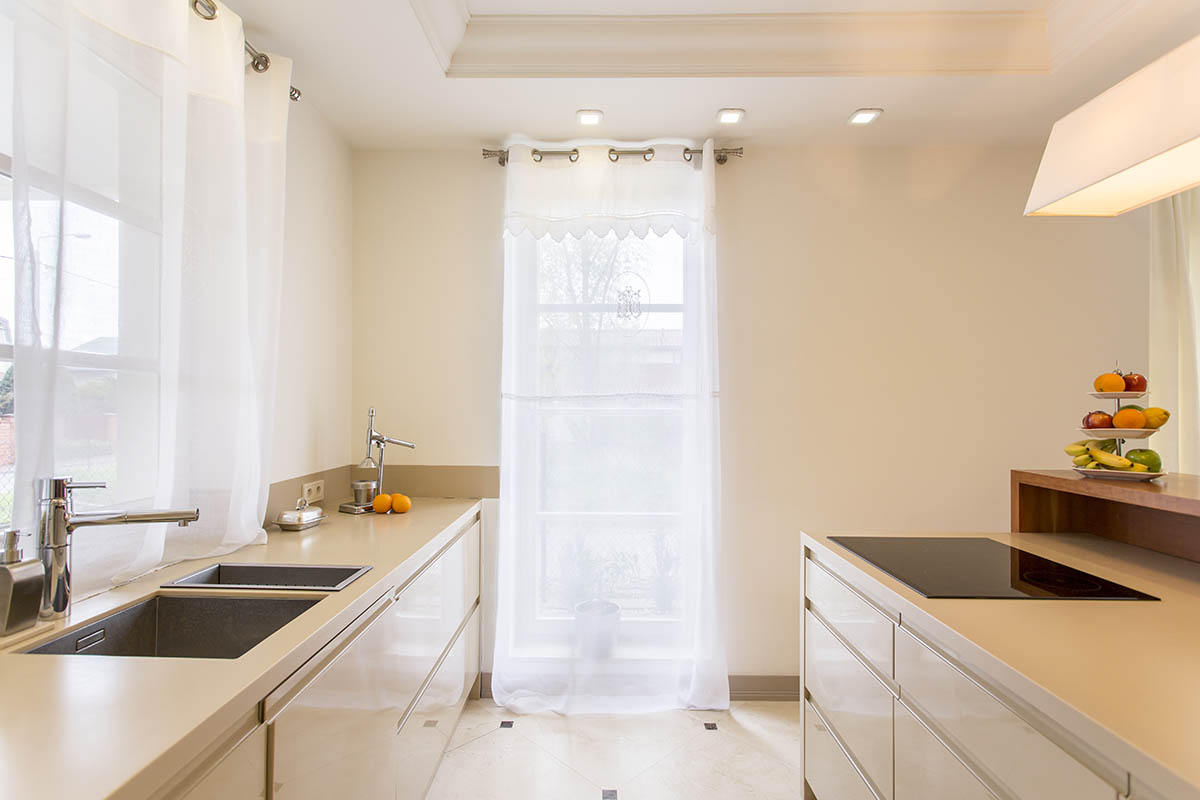 Contemporary kitchens are characterized by a clean and minimalist design. In this style, designers and their clients can easily find the motives of different styles like modern, high-tech, loft and so on. Contemporary kitchen cabinets usually have minimal ornamentation and simple but stylish hardware and no other decorative accents. In terms of colours, contemporary kitchen cupboards may often have a monochromatic colour scheme - black, white or grey. These colours give a clean appearance which characterizes contemporary designs.
This clean appearance and minimal details are perfect to be used when the kitchen shares the space with other areas like your living room or dining room. The simplicity of the cabinetry can match better with all the contemporary decor and furniture that conform to space.
Islands are a crucial element when it comes to contemporary kitchens. Island tend to become the gathering spot in the kitchen and especially if there is seating. It can keep the family engaged and connected so it is very important to make your island work properly for your needs.
What is a modern kitchen design?
A modern kitchen design is related to an era that has passed. It is characterized by wooden or earthier components. In terms of colours, modern kitchens often have shades like brown, rust and olive green.
A modern kitchen has straight lines and it is usually similar to contemporary kitchen design.
In kitchens with modern style practicality and usefulness prevail. That is why they are always distinguished by their simple appearance and layout. The most important thing is that the space in this design is absolutely useful and free.
One of the main attractive elements in a modern kitchen is that it allows you to combine almost any type of material in its decoration - from the most classic materials, such as wood, granite or marble to other more original and innovative.
Why bespoke handmade kitchen Surrey is always a good idea?
Bespoke handmade kitchens Surrey are highly durable and quality kitchens that comply with the highest sustainability standards.
Bespoke kitchens can really improve the happiness and functionality of your life.
Bespoke handmade kitchen can be in the size and shape that you want.
Fitted kitchens don't look like everyone else's.
Bespoke handmade kitchens Surrey are individually tailored to exceed your expectations.
To get a high-quality bespoke kitchen make sure you find a good renovation company in Surrey.
What are the latest trends in kitchen design?
In recent years, global trends in kitchen design are consistent with the dynamic life of people and guided by it, more and more customers prefer the open plan, where the kitchens become the heart of the homes and smoothly flows into the rest area. Interior designers are trying to transform the large open space into a place where the neat kitchen, elegant dining room and welcoming living room allow homeowners to turn cooking time into a pleasant activity, part of the common activities and conversations of the family. And this is really valuable!
Metal textures combined with contrasting coloured surfaces - Designed in granite, marble, or wood accents, kitchen surfaces are perfectly complemented by metal accents. They are often used in the construction of a kitchen island. In some cases, the metal is used as a finishing lining for all kitchen cabinets, which is really impressive.
Visually lightening the top row of kitchen cupboards - Pastel tonalities, muted greens actually any variation of greens - from the blue-greens of the sea to the graffiti and greyish tonalities with a delicate green hue are highly acceptable for this season kitchen design.
Fresh colours - In recent years we have seen that matte black has been a favourite in contemporary kitchen designs. Apparently black came to last a long time as a favourite so it is time for colourful lovers too. Fresh colours like green and blue in both vibrant and light tones are the trend at the moment. These cool colours create a beautiful contrast with the wood and warm metals like gold and this is why it is one of the most used combinations for kitchens.
Statement Backsplash - The backsplash is a fundamental part of the kitchens. As backsplashes allow is of keeping it clean on the other hand they are crucial elements to determine the space's style and add colour and texture. We see the trend in contemporary kitchens is reusing the same material used in the countertop for the backsplash. Having the same materials on both surfaces allows for a cleaner, more minimalist and elegant style. To achieve a modern look these surfaces usually have textures that contrast with neutral colour units and minimalist styles.
To conclude
The kitchen is one of the most important spaces in our homes, and planning it, is not an easy process. It requires patience and attention to detail. To get the best outcomes it is essential to have a plan and good preparation. Adding a kitchen designer and kitchen fitters to your team will definitely save you a lot of headaches, time and money because they will take over the whole project management. If you are looking for a team of kitchen renovation specialists in Surrey call us to book an appointment. We have the expertise to help you build your dream kitchen.
If you've enjoyed reading our tips and advice on kitchen design, feel free to check out our kitchen renovation tips article as well.