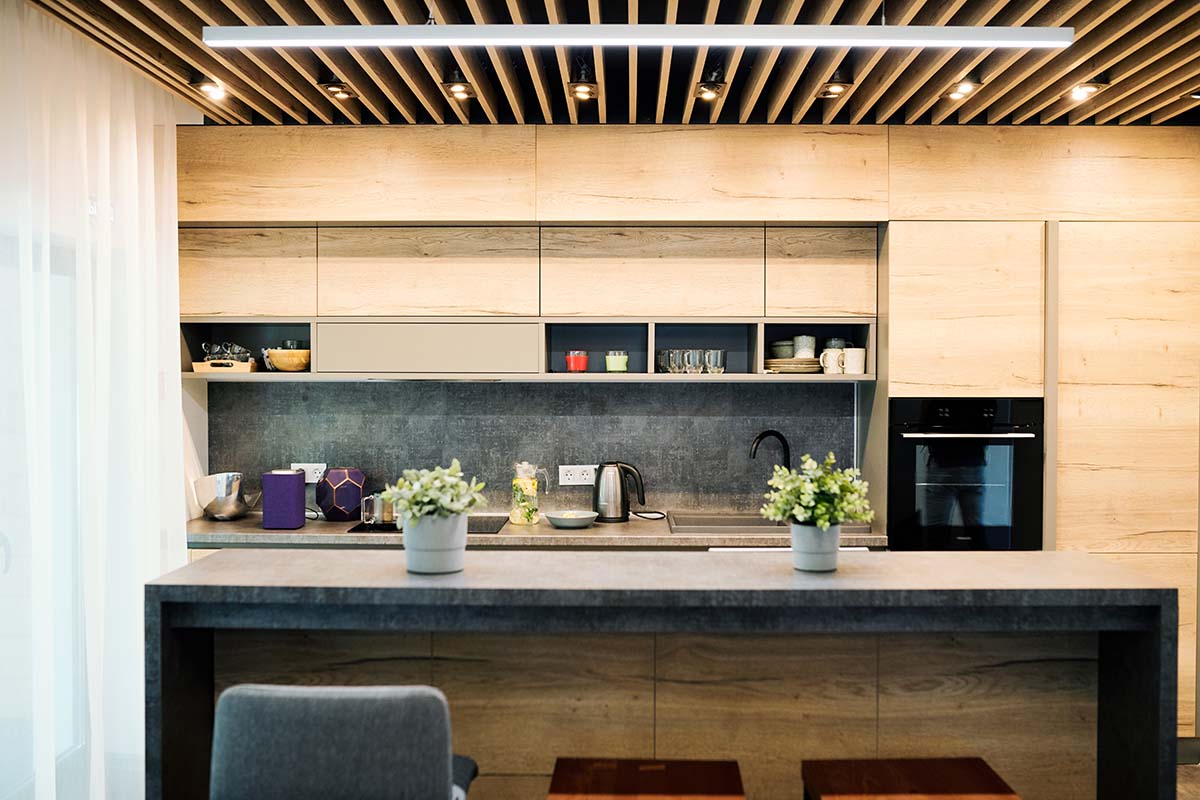 When furnishing and repairing our house or flat we usually have to consider so many things and make a lot of important decisions. And when it comes to kitchen renovating we are certainly on the fence and we don't know what to do. After all, its design is extremely important especially if we treat this room as the "heart of the house". And you know, if you make the wrong choice you will have to "bear" the consequences for at least 10 years until it needs to be renewed. So it is absolutely necessary to choose the right kitchen that will work brilliantly for you and for a long time. And here is the tricky situation. Should you go for a standard modular kitchen or maybe it is better to get a bespoke handmade kitchen designed to make your needs and dreams come true?
In this article, we will take a closer look at what it means to have a bespoke handmade kitchen, what is the average cost of it in the UK and what are the pros of having a bespoke kitchen in Surrey.
What does a bespoke kitchen mean?
A bespoke handmade kitchen is one that is created and designed entirely according to the client's preferences. Each and every project is handmade and individually designed for the client. With a bespoke kitchen, you can implement both modern and traditional designs into the room. In addition, there are no set sizes and every product can be made specifically for your space and individually for your preferences.
How much does a bespoke kitchen cost in the UK?
The costs of bespoke handmade kitchens in the UK can range from £20000 - £60000 and does not include any costs for appliances, furniture and installation. That's a huge range and it is difficult to determine an average price. Where you will be, on the lower or higher end of the spectrum, actually depend on how your kitchen is designed and what level of individuality you are prepared to invest. The costs also depend on how far you want to go and how big you want to be your kitchen. If you are looking for a smaller size galley style kitchen you are most likely to be at the lower end. But if your goal is to create a floor to ceiling wall of cabinets then you will have to pay more money.
Certainly, most people would always prefer a bespoke kitchen design to a standard modular kitchen. But yes budget does come into play. If you are not ready to invest in an expensive bespoke handmade kitchen you may want to consider just toning down the number of specialist units and just homing in on the ones that are important to you. Because this way you might just find there is a bespoke handmade kitchen that doesn't cost that much more than the top end mass-produced kitchen.
Set your budget and share your ideas and expectation with the kitchen design company. They will advise you about where you invest in your new kitchen and where you can save money. When you have an initial kitchen design you may find out that you can actually afford that ideal kitchen you want.
How to get a bespoke kitchen on a budget?
If you are looking for a kitchen on a budget it is good to spend money on the areas that matter most such as countertops, cabinetry, cabinet hardware.
If you take a standard cabinet size and opt for a simple layout, the costs can be cut further.
Try to save from all the little costs. For example, a kitchen design with only one or two drawers can help you save money. Likewise, drawer boxes, runners, and inserts can quickly raise the price of your cabinetry.
Appliances can be expensive. If you prioritize the quality of your kitchen cabinetry over the latest appliances and pay attention to sales, you can still make your kitchen look amazing.
Bespoke handcrafted kitchens are the better choice
Handmade kitchen built to fit a room
The biggest advantage of a bespoke handmade kitchen is that you have absolute freedom in creating its final look. You are not limited by walls or corners and you have the full opportunity to design the final layout of your dream kitchen. Installing a bespoke kitchen will help you optimally use all the available space in the room and will provide you with maximum comfort.
No two kitchens are the same - there is a wide range of designs and styles
With bespoke kitchens, you will definitely get a unique kitchen. There will be a team of craftsmen working with kitchen cabinet makers, furniture makers, working with the designer to create a work of art just for you. You can get anything from a traditional kitchen, classic farmhouse kitchens, contemporary kitchens you can even have a beach themed kitchen design and so on. You can also choose between many different materials. So if you are into stainless steel, granite or solid wood you can have your kitchen made of these materials that you want and they will weave them into your design.
You can mix and match your favourite colours
The other good thing about bespoke handmade kitchen designs is that there will be a host of paint colours and styles but none of them will be set and you will have the opportunity do to it because this kitchen is built from the ground up. You can achieve coordinated colours, for example, the tabletop in the dining room can match the wall kitchen cupboards in the background or you may want the worktop to match the colour of the cabinet doors, etc. You have the chance to incorporate your individuality into a kitchen design that not only makes that design work but look better too.
Bespoke kitchens are durable and quality kitchens
While mass-produced kitchens are usually just a temporary solution, bespoke kitchens are long-lasting and comply with high sustainability standards. You will be able to choose the materials, worktops, cabinets, paint finishes as well as to individualize the kitchen to suit your taste and personality. However, if you really want to have a high-end kitchen you need to find a good kitchen renovation company. Check for top reviewed kitchen companies near you in Surrey.
To conclude
If your goal is to create a luxury kitchen that is absolutely unique, your idea is to feature a lot of bespoke furniture, quality and durable elements and materials then a bespoke handmade kitchen design should definitely be your choice. Feel free to get in touch with us and we can discuss a range of styles that would fit your needs and tastes for designer kitchens.