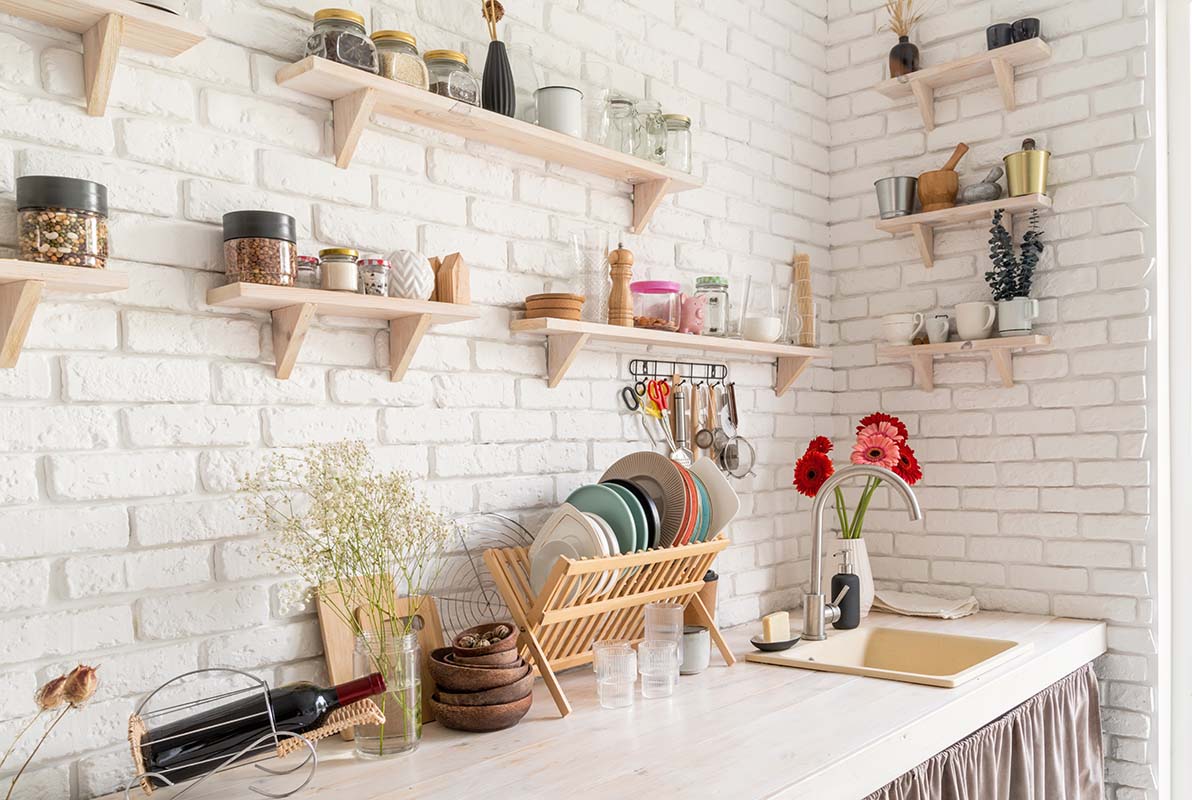 A rustic kitchen design brings certain warmth and charm that is hard to replicate. The rustic design is well-regarded for creating an informal space that feels relaxed and comfortable. But the rustic style has definitely evolved and now there are plenty of modern rustic kitchen design ideas that can make this room the focal point of the entire home. If you want to create a rustic chic and still have a contemporary kitchen, you can do that. 
The rustic kitchen design 
Rustic kitchen style is all about embracing the feel of natural materials with an understated colour palette. The best rustic feel is most commonly accomplished with natural wood (could be a mix of wood), stone, and metals (powder-coated metals, steel, brushed brass),. These are all rustic materials that make the heart and soul of rustic style kitchens, even kitchen ideas for small . Mixing and matching textures is the key to creating a solid rustic foundation, upon which you can later expand on with stainless steel appliances or other features of a contemporary kitchen. The most important thing to remember is there are strict rules to how you want the heart of the home to feel like. 
Think about the layout of a rustic kitchen 
According to bespoke kitchen design experts, the layout of your rustic kitchen is the most important thing to consider. It largely determines what elements go into the design of the space, along with the functions and features that you will want to incorporate. Kitchen size is a major factor in this regard. That is not to say that you can't achieve rustic ambiance and rustic charm in a small kitchen, just that you have to work smart with what you have. 
You should think about your lifestyle and the requirements you have when considering what to include in the design of a traditional rustic kitchen. For example, you may be a person that values cooking amenities over any other kitchen features. Or perhaps you like to socialise in there and not think so much about traditional kitchen functions. When you know what you want the room to achieve. 
Let's talk about some of the most important elements of your kitchen and how you can make the most of them. 
Rustic kitchen shelves
The always-defining piece of kitchen decor that defines the rustic style is open shelves. You can never mistake the pared down feel of closed lower white cabinets and open shelving on top. There is so much potential in the open space to allow you to display the unique rustic kitchen decor that is so defining of the style: the decorative plates, mason jars with dried herbs, cast iron pots, wooden utensils and everything else that gets that touch of country feel. Open shelving also has the advantage of opening up a kitchen and can really brighten a rustic kitchen. Consider kitchen organisers, as they just make life so much easier. Even inside cupboards, it is better to keep your dried foods in storage containers and jars. 
Rustic kitchen table
The table in a rustic kitchen is a central point of interest that should have inspiring kitchen presence. If the place allows it, you want a large kitchen table made of solid wood. Nothing speaks rustic better than a country-style wooden table. A simple style piece made out of reclaimed wood is a great option. You can further emphasise the unique quality of it by adding hand wax finish to lift the grain. Simplicity is the goal you should be pursuing here and a wooden table is a great way to inject the right style addition to the area. If you want to further highlight the raw and unique quality of wood, add wooden dining chairs to the table. 
Rustic kitchen island
Much like the rest of the kitchen, solid wood makes the best choice when it comes to adding a kitchen island with a rustic feel. While it is true that normally islands can be found in sleek colours and materials, you should go with solid wood for a country home feel. You can still paint it a afun colour to add to the colour theme of the place. You can enhance the kitchen by creating a central area with the island and dining chair, or just add utility with a farmhouse sink and a touch of country style with some butcher countertops. 
Rustic kitchen lighting
Rustic pendant lights can enhance the look of cabinets, the island and keep your kitchen warm and welcoming. An interior design expert will recommend replacing the sleek fixtures of your kitchen with rustic pendant lights to not only highlight the island, but also to that rustic appeal overall. Rustic pendant lights come in a variety of shapes and sizes. Whether you have a fitted kitchen or stay true to the rustic style, you must not forget about this important element of the room to make the space feel better in every way. 
Rustic kitchen tiles
In order for the kitchen to be even more reminiscent of nature, you can have rustic tiles on the floor and backsplash areas. Instead of going with the usual porcelain and granite, you can opt for patterns that mimic stone and mosaic. It keeps the kitchen looking rustic, all the while keeping things useful all around. The good thing about rustic tiles is they come in various colours and patterns that fit any style of a new kitchen. 
Rustic kitchen cabinets 
A rustic kitchen can have modern features and still retain the overall feel. This can be especially true for cabinets, which can be used to craft a theme not just with the material they are made of, but also their colour. Dark wood cabinets are one of the most classical options that make a rustic kitchen. Wooden panel cabinets are a top pick for a natural look and allow for various additions to be made that won't break the character. For example, black countertops often provide that vibe the room needs to stand out while working in great synergy with glass-fronted cabinets for a bit of a modern look. Shaker cabinets are also a common thing to consider. 
Rustic kitchen accessories
In many rustic kitchens, the best pieces of decor are accessories in line with the style. For example, cast-iron pans and pots make wonderful display pieces. Every accessory can add rustic touches to a kitchen if it has some synergy with the rest of the room. Because the rustic ethos celebrates natural materials, they should be at the core of the design. For instance, you can really add character with a stone sink that is both beautiful and hardwearing. You can also add focal points, like a freestanding dresser full of vintage finds. That way you can introduce some weathered feel, without overpowering the room. 
How to create a rustic farmhouse kitchen look? 
In order to make a kitchen with a farmhouse feel, you need to consider it is all about mood. Here are some kitchen ideas to get inspiration from: 
The sink - to capture that 'old-world' feel, you can opt for a large double basin or a butler sink. You can further add a sink skirt to make the kitchen or pantry more colourful. 
Rustic beams - exposed beams create a solid foundation of a rustic farmhouse feel. Weathered wood beams contribute to the overall theme with their natural appearance, especially when paired with a stone floor and stone walls. 
Hardwood flooring - this one is a classic for many kitchens of this style. It is good because it fits any kitchen layout, including an L-shaped kitchen. Warm tones on the floor provide freedom to experiment with other colours in other areas of the kitchen. 
The backsplash - the kitchen backsplash is an instant attention-grabber. Enhance the look of a farmhouse kitchen with rustic tiles, which can be in perfect synergy with cabinetry and marble countertops. 
The island - a kitchen island can be the most prominent feature in the entire room. It can also be tailored to suit a farmhouse style by adding wooden stools to it. 
Always remember that a rustic kitchen can easily retain that weathered feel and still be considered a modern addition to a home with great utility and visual appeal. Whether it is a white kitchen or one where the colour palette sways elsewhere, there are plenty of design choices and tips to use to introduce that rustic feel of raw nature and beauty. 
How can I make my kitchen look rustic?
You can define the space with a rustic island, add interest to the walls with reclaimed tiles, and create a feeling of an organic space by rejecting the calculated symmetry of the room. Painted cabinetry also adds rustic charm and appeal to any kitchen. You can also add period charm with vintage cabinets and open shelving. 
How do you mix elegant and rustic styles?
One of the things to remember to achieve this goal is to keep pieces within the same colour palette. Accent pieces must be placed carefully with focal points in mind. Bear in mind too many stand-out pieces in the room can detract from the overall appeal, instead of adding to it. Check your local thrift stores for unexpected finds. 
In conclusion, a rustic kitchen design can add warmth, charm and character to any home. By embracing natural materials, understated color palettes, and mixing textures, you can create a space that feels relaxed and comfortable. When planning a kitchen renovation in Surrey, it's important to consider the layout of the space and what elements you want to include based on your lifestyle and requirements. Whether it's rustic shelves, a wooden table, a farmhouse sink, or rustic tiles, there are plenty of design choices to make your kitchen look rustic. Remember, you can easily mix elegant and rustic styles by keeping pieces within the same color palette and placing accent pieces carefully. So why not give your kitchen a rustic makeover today? Start planning and create a space that exudes warmth, comfort, and character.