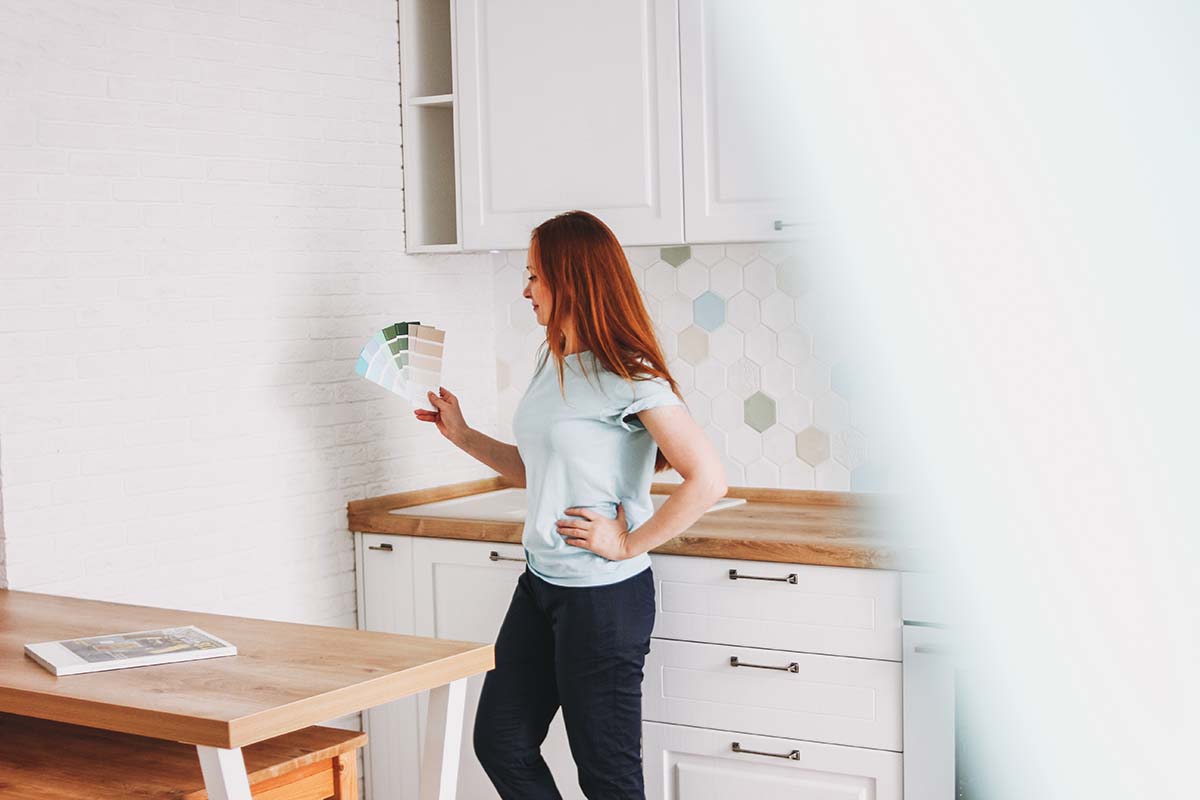 The kitchen is the most social part of most homes, a favourite place for family gatherings, and, without a doubt, the space with the most movement in the entire house. Given all that, designing a kitchen is no walk in the park and as such there are certain things you should keep in mind.
You want to consider the comfort and usage you want to have in your kitchen, which depends directly on the layout you choose. Thus, you have to be very careful and assess every option. This post will give you a few kitchen layout ideas that fit your square footage. We can help you create a kitchen floor plan and more. Whether you're planning a kitchen renovation or building a brand new kitchen from the start, you will find useful and interesting tips. At AceKitchens, we can help you with any kitchen makeovers in Surrey. Keep reading.
Key Takeaways
There are different kitchen layouts such as L-shape, U-shape, Galley, Island, etc.
No matter which kitchen layout you choose, you should strive to create an efficient workflow, as well as have enough worktop space
If you don't know how to go about your kitchen layout, consult a kitchen designer
U-shaped Kitchen on Three Walls
These generally require large spaces; otherwise, they can be a bit overwhelming. By using three adjacent walls, movement around the kitchen is more comfortable since the distances are shorter.
The U-shaped kitchen generally employs the principles of the work triangle and is extremely practical. This makes preparing meals a piece of cake. Plus, it lets you do all the cooking all the while being part of everything that's going on in the adjacent room.
In the U-shaped kitchen, any corner furniture that you want to put in must be taken into account, since a bad choice can mean that you have a lot of wasted space. This will result in a kitchen that is not functional. For the most part, modules with rotating or extractable fittings are the most suitable for a U-shape layout, but they also come with a higher cost.
L-shape Kitchens and Floor Space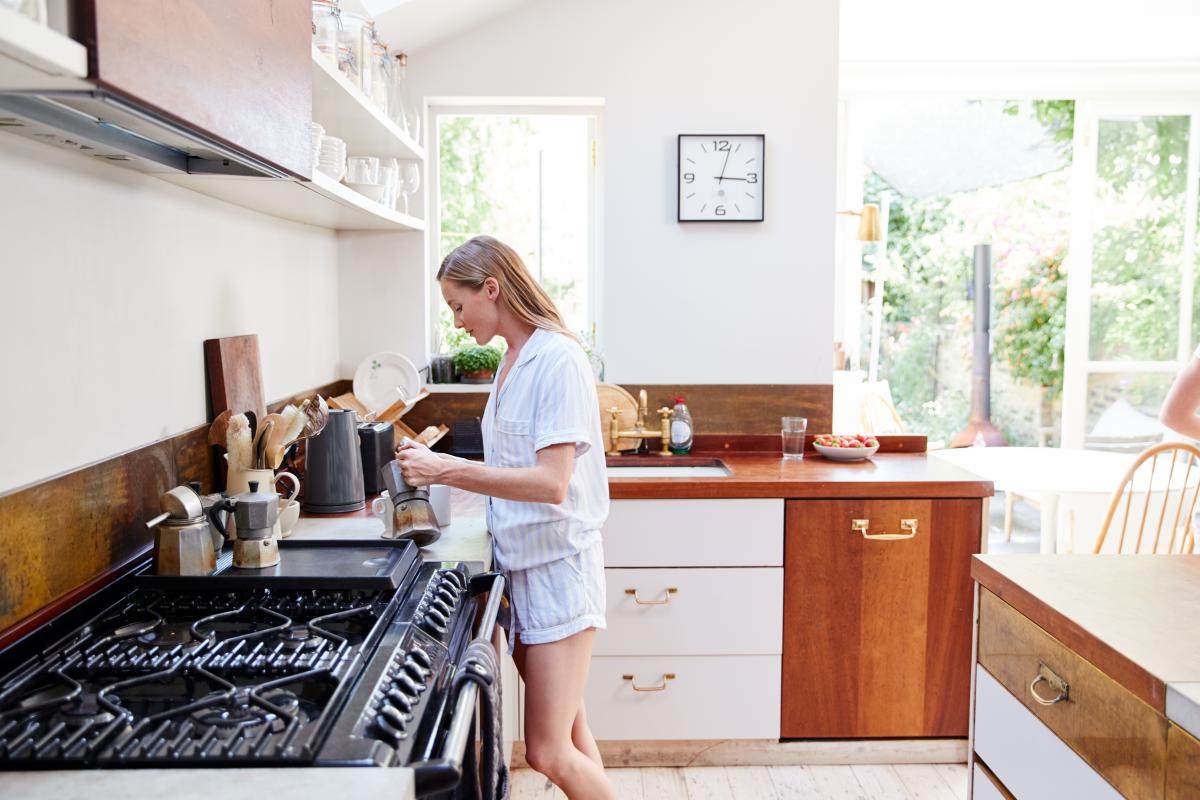 The L-shaped kitchen is one of the most common types of kitchen layouts. It's ideal for a family kitchen because it makes it easy to set up a table and chairs for a daily dining space. The greatest advantage is that it creates more flexibility and less space.
Without a doubt, the L-shaped layout can make a good working triangle if you aim for it. Plus, you can achieve more workspace without overloading it too much. A dining table can be placed near the free wall.
The L-shaped kitchen design is applicable to any size of kitchen. It offers great comfort since it creates a workspace where with a few steps you have everything within reach, gaining in agility and speed. There is more flexibility when it comes to the placement of major appliances. It also works great for built-in appliances.
Linear Kitchens
This is the simplest layout of all. It is the ideal kitchen layout for long and narrow kitchens. Here, there is more movement and in general, the cleaning and cooking area are located in the middle, with the storage and fridge on the right or left depending on whether you are left-handed or right-handed. There is no work triangle here.
Island Layout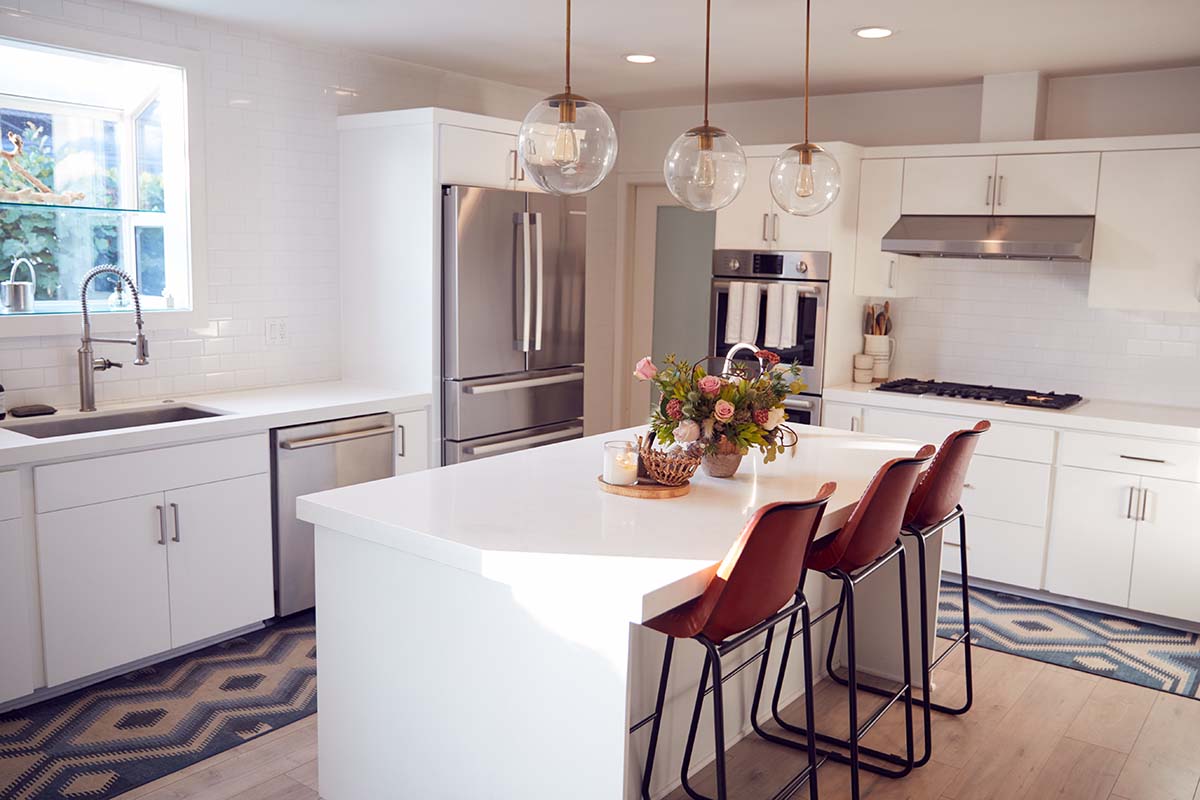 They are the ones that require the most space, since the goal is to ensure at least 90cm for free movement around all sides of the island unit. It can also be a great social area where family members interact between meal preparation and actual meals.
The kitchen island makes everything from a workspace to a dining space, according to the needs of each project. It is a very open design, so it offers the benefits of good conditions for communication and traffic, and also facilitates cleaning. The kitchen island can be a part of a working triangle.
An island kitchen will make do if the space you have is extra large; it basically lends an additional surface to prepare food or have breakfast. Consider adding barstools along the opposite side so you can have space for casual dining. And by embedding drawers and cabinets into it, you will get more storage space.
Peninsula Layout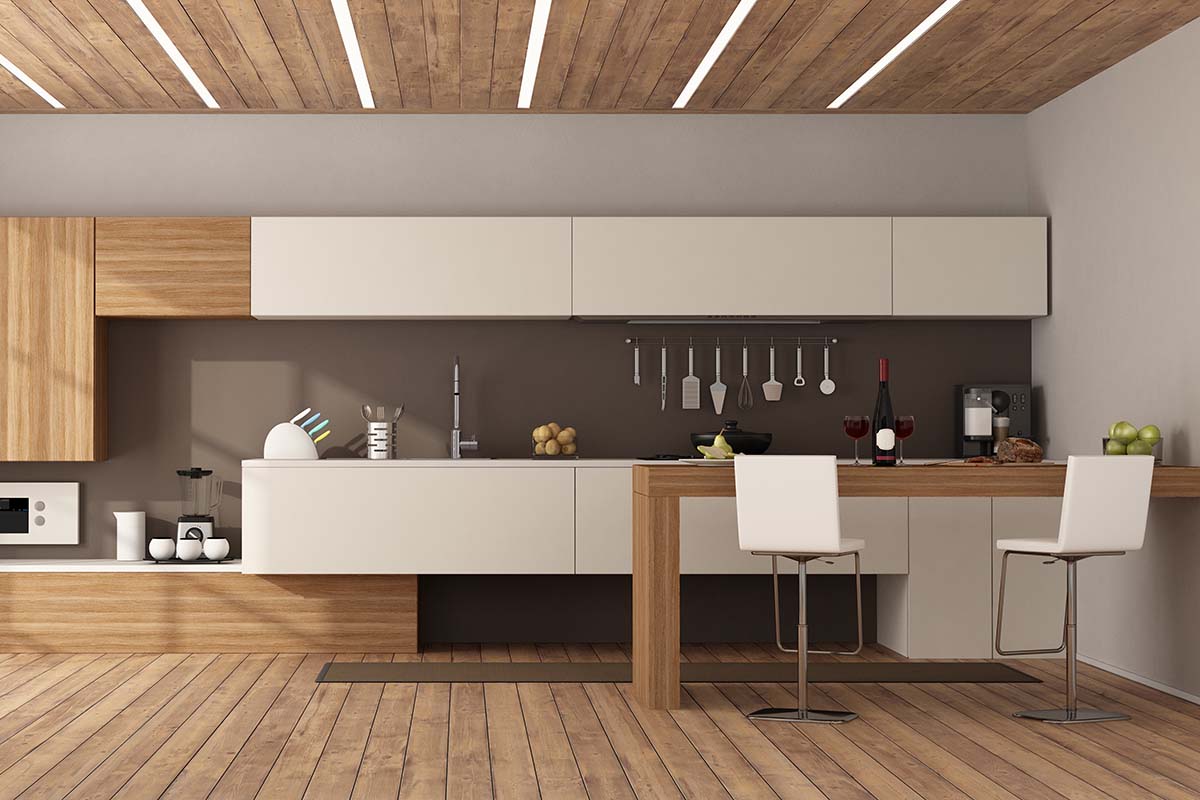 This is similar to the island kitchen layout but the difference is that it is not a free-standing unit. Rather than that, the Peninsula, or the G-shaped kitchen, extends from the cabinets and counters. It's an expansion of sorts that creates additional counter space.
Mind you that such a layout might create traffic jams in the kitchen. However, if your kitchen space doesn't allow for a kitchen island, then a peninsula layout is more suitable for you.
Parallel/Galley Kitchen Floor Plan and Storage Space
With the Galley kitchen floor plan, all units are placed on the perimeter of the kitchen. If you have a tiny space, the kitchen equipment is positioned along parallel walls so you have enough space to go from one area to another.
In a very small kitchen, the Galley kitchen is the only option that your space allows. Make sure the counter space is positioned near the appliances that you use the most so as not to close the Galley kitchen floor plan in. Now, if you manage to create a seating area, you will be able to enjoy family meals.
The One Wall Kitchen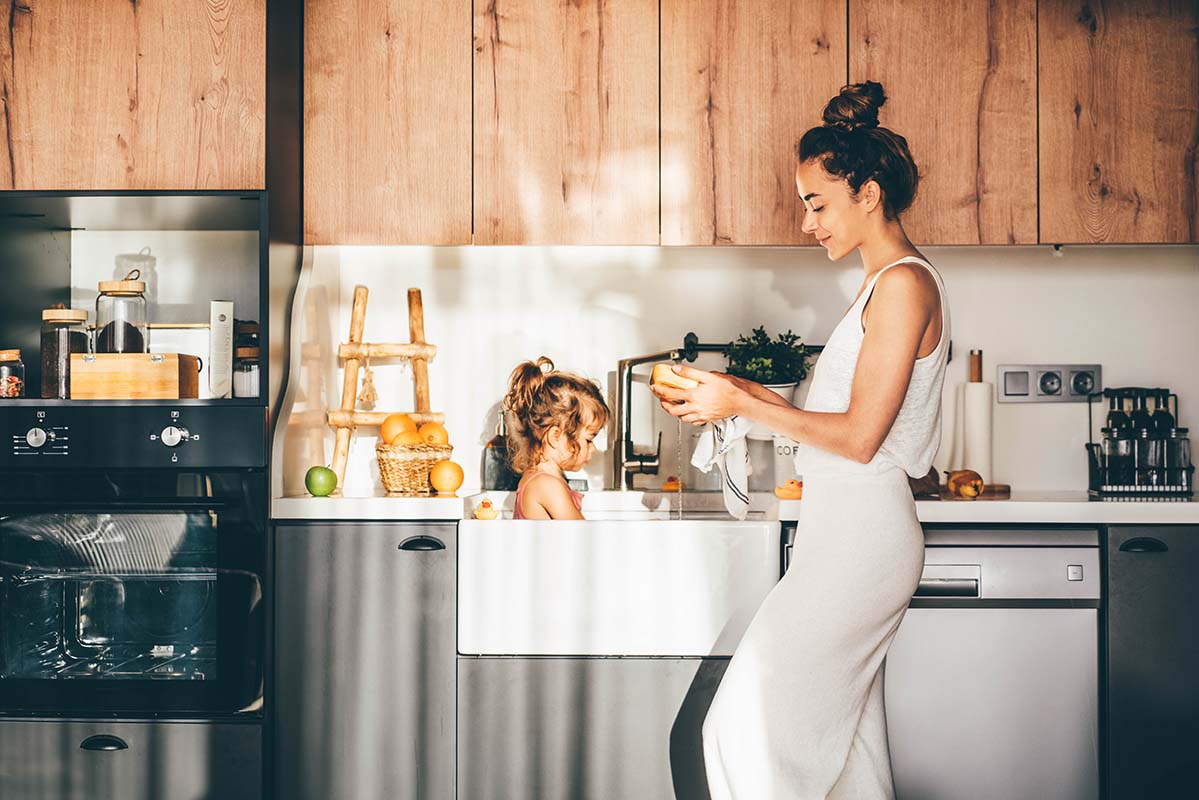 You will find such layouts in condos, rental flats, and detached homes but if you have a small kitchen, it will benefit you too. As the name suggests, all the cabinetry, appliances, and work surfaces are located against one wall.
This means a kitchen island is not suitable for a one-wall kitchen. You should definitely try to maximise your vertical storage if you want this design to work. On that note, cupboards that go all the way to the ceiling are super convenient.
The One Wall kitchen is similar to Galley kitchens. It is usually found in living rooms or dining areas that merge into a cooking area. A key aspect to consider here is where to place all the cookware and how to get a good work surface. You should also think about a room divider.
Open Kitchen Layout
Actually, any kitchen design can be transformed into an open plan space by knocking down a wall. This means there will be more space for a cooking and dining area.
However, this means that you need to obtain certain permits if you want to put this idea into action. Besides, it's going to be an expensive undertaking and it's going to take longer to complete. So it's definitely not for everyone.
On the other hand, this is the ideal kitchen interior design to receive guests. It also works to maximise small spaces. If even with these considerations it seems difficult to choose, make it a point to consult a professional, since success will largely depend on the correct design of your kitchen.
Kitchen in Dark Tones
Aside from the type of layout, you can also make a stark difference in the way your kitchen looks by choosing a great colour scheme. Although it is not common, kitchen designs in dark tones are really impressive and flattering. These kitchens can be modern, or on the contrary, less modern and somewhat more retro, whatever you wish to make them.
Kitchen in Various Colours
Life isn't always black and white, so why should your kitchen be? Take a risk and introduce that colour that you like so much. The result may pleasantly surprise you.
Opt for green for the cabinets and also for the wall tiles, the latter must be in a darker tone to contrast. Try the same strategy with different colours. Or choose some knobs for the kitchen cabinets with the same tone as the material of your countertops.
Pick a mono-color for the kitchen furniture to give it a unique and special feel. You can highlight the work triangle by picking one colour for the elements in it and another for the rest of the room.
Tips and Tricks To Keep in Mind
Try built-in sliding doors, as they create more space and enable you to use the wall for a piece of furniture.
Find a focal point in your kitchen and work around it.
Hanging lamps provide ambient light, while recessed spotlights increase direct light where you want to highlight.
Updating the curtains is a simple change you can make. Your open plan spaces will look cosier this way. Roman blinds adapt to the measurements of the windows and allow lighting to be controlled. It is vital that the chosen fabrics are easy to wash and resistant. If you are bold, go with a colour that matches that of the work surface.
It is recommended that the food preparation and cooking area is located next to a window to allow natural light to enter. This way, you can also expel bad smells out of the window as you are cooking.
Provide landing space next to the oven. You are aiming for at least 380mm. You can also create available space opposite to the oven (not higher than 1200mm).
Don't overcrowd the space. Too many details will make everything look messy and overwhelming. Instead, you should try to create a spacious feel by going minimalist with the design.
If you have corner cupboards, think about some clever ways to provide access to all the stuff inside such as lazy Susans.
Tall cupboards are great for dry food storage.
If it is big enough, the island can easily transform into a dining table. But it can also accommodate the microwave oven and coffee machine.
Other Things to Take Into Account for Your Kitchen Layout Ideas
To begin with, you should consider the number of people in your household. That will dictate the ideal size of the kitchen.
In addition to being functional, the design must ensure that the kitchen is more comfortable, safe and hygienic.  You can think about the colours, units and fixtures, etc. but you have to have one major priority: the kitchen, above all, must be practical and functional.
Another guideline that will benefit you economically is to make the most of every corner. It is also necessary to understand the limitations of the shape and space of the premises, as well as to avoid forcing a type of kitchen design into a space in which it does not fit.
Further to this, you should strive to make your kitchen more ergonomic. An ergonomic kitchen design means placing each piece with comfort and effectiveness in mind. For instance, it makes sense to put the dishwasher near the sink. Consider a special place for all smaller appliances like coffee machines, kettles, and toasters.
The basic principle you and your family can go by is that you need to expend the least amount of energy to complete the most tasks in the shortest time possible.
FAQ
What are the 4 basic kitchen plan layouts?
The four main kitchen layouts are G-shape (Peninsula), U-shaped kitchen, L-shaped kitchen, and Galley layout.
Is there an app that lets me design my kitchen?
Yes, there are plenty of apps that allow you to draw a kitchen floor plan and design your kitchen. This helps to get an idea of how each element will fit. Go to your app store and type the words "kitchen interior design ideas" or "kitchen layout". See what options pop up and give it a go.
How do I design my kitchen layout?
There are various kitchen layout ideas that you can use for this. In case you don't know which way to go to come up with an efficient layout, you might want to consult a kitchen designer or another expert.
What are the rules for a kitchen layout?
The rules for a kitchen layout are as follows: it should provide easy unpacking of all your groceries; it should be easy to clean, functional and optional; it needs to have a work triangle. Whether you want a simple layout or a more extravagant one, there are a slew of kitchen layout ideas.
What are the 6 types of kitchen layouts?
The 6 types of kitchen layouts are Open, Parallel, U-Shape, Island, Galley, Straight, and L-Shape.
What is the best way to layout a kitchen?
The best way to layout your kitchen will depend on the size of your space, as well as your wants and needs. You should by all means try to improve traffic flow to make cooking faster and easier. If you have a kitchen island, it should be positioned not too far or too close to the other units.
In addition, the sink is a crucial area, so you should place it first. And don't forget to avail of vertical space. This is one of the most underrated aspects of the layout.
What is the most functional kitchen layout?
Without a doubt, the most functional layout is the L-shape since it's adapted to the majority of kitchen sizes and it's the most functional option to this day. The biggest advantage of this shape is that it facilitates movement and makes cooking more efficient.
What is the work triangle?
This is a type of layout in the kitchen that focuses on the three main appliances that every household uses: the sink, the stove, and the fridge. It keeps everything in the cooking zone tightly ordered. Its purpose is to make the space more efficient by cutting down prep and cooking time.
Final Thoughts
When it comes to décor, there are countless options. We went above and beyond to list the best kitchen layout ideas in this post. Now, it's your turn to take action. Before deciding on one or the other, analyse your space very well. Make sure you can feel comfortable when using your kitchen. That should be, without a doubt, the baseline of your project. You can check out our kitchen decorating if you're interested in learning how to decorate a kitchen.