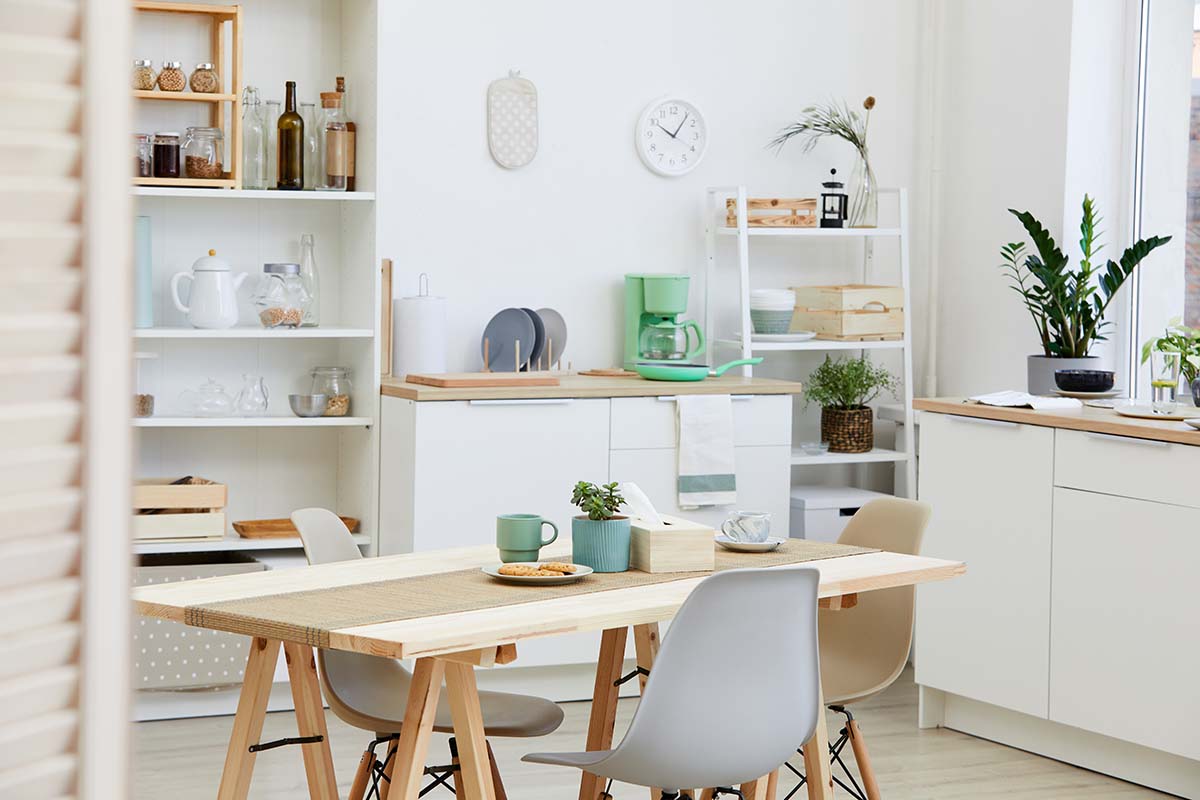 As far as rooms in your house are concerned, it should come as no surprise that the kitchen ranks as one of the most important ones. That is where you prepare and cook food, where you socialise with other family members, and can even do some home office work. Needless to say, when people buy and sell property, the kitchen is one of the first areas they want to check out and ensure that it is up to standard.
A modern kitchen with well-implemented decor can be both functional and aesthetically pleasing. It can also make you feel good coming into the room and using it day after day. The most important thing is to follow some clever design ideas, which can make this living space of your home a real gem in the crown. In this article you will find great ideas on how to decorate a new kitchen or your old one after a thorough kitchen renovation.
How do you implement the best kitchen decor ideas?
A big kitchen is not always better, especially when it comes to implementing fresh and interesting kitchen decor ideas. After all, space and design ideas are not exclusive to bigger rooms. As long as you have the vision and work with a knowledgeable designer, you can have great results in a small space.
Working on kitchen ideas with a designer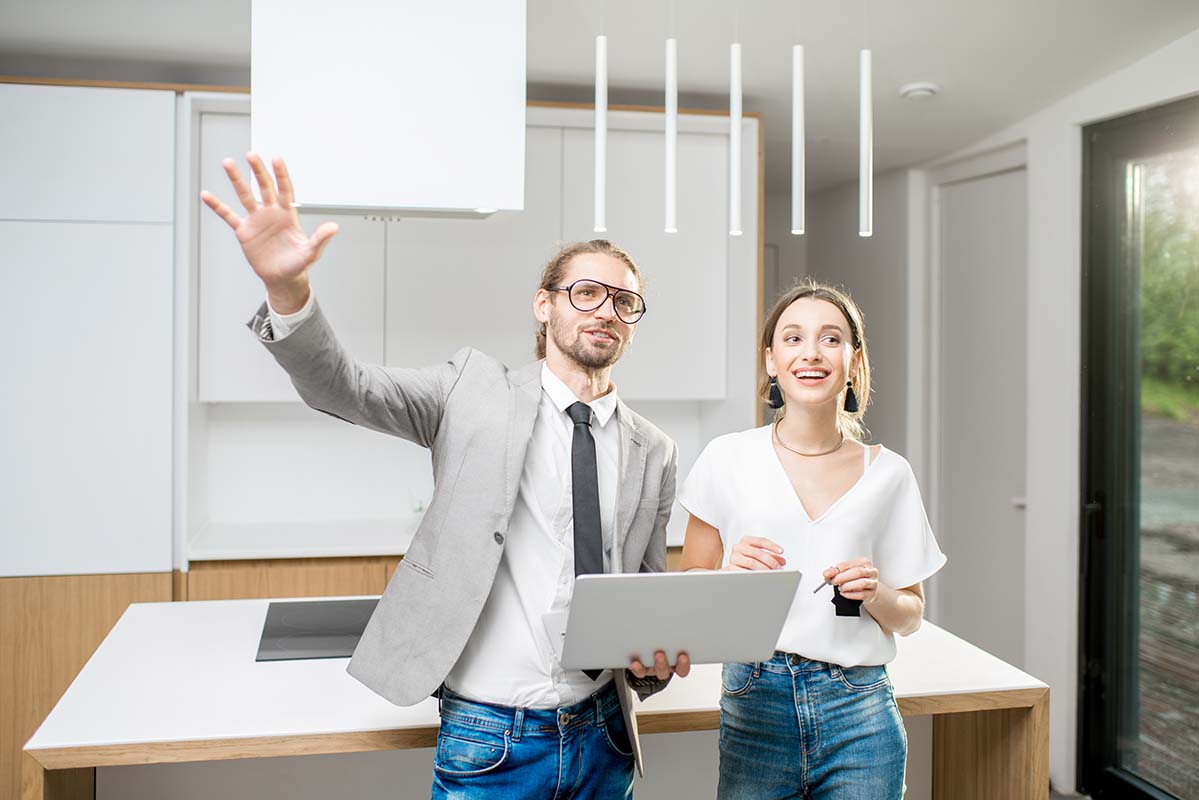 If you are after the best small kitchen decorating ideas, you may want to consult with a designer on what the best approach to some of the elements should be. Whether you want to make a cooking heaven in your home, need some ideas for added interest, or perhaps wonder how to make the most of the lighting and paint colours, you should search for an interior design expert with experience.
A designer can turn your kitchen ideas into reality, share their knowledge to improve them, and work with you to change things for the better. Interior designers have a keen eye for details, they can minimise visual clutter and introduce an outstanding focal point. Even if you have a small kitchen, such an expert by your side can make a huge difference by sharing clever kitchen ideas.
Here are a few bright small kitchen decor ideas that can transform the place:
Deal with clutter
Clutter in the kitchen is a sign that you lack sufficient storage space. But contrary to popular belief, the solution is not just to get more storage. You should first think about downsizing. Take inventory of the contents of your cabinets, shelves, and drawers. Remove anything you are not using often, even if seems useful. Sometimes you just accumulate items that you are not using at all.
Once you are done with the hidden clutter, assess the visible clutter. Those are items you keep in sight, on the countertops and open shelving. Think about what should remain there, based on what you are using in your kitchen activities. You can donate and sell the rest.
Store utensils on the walls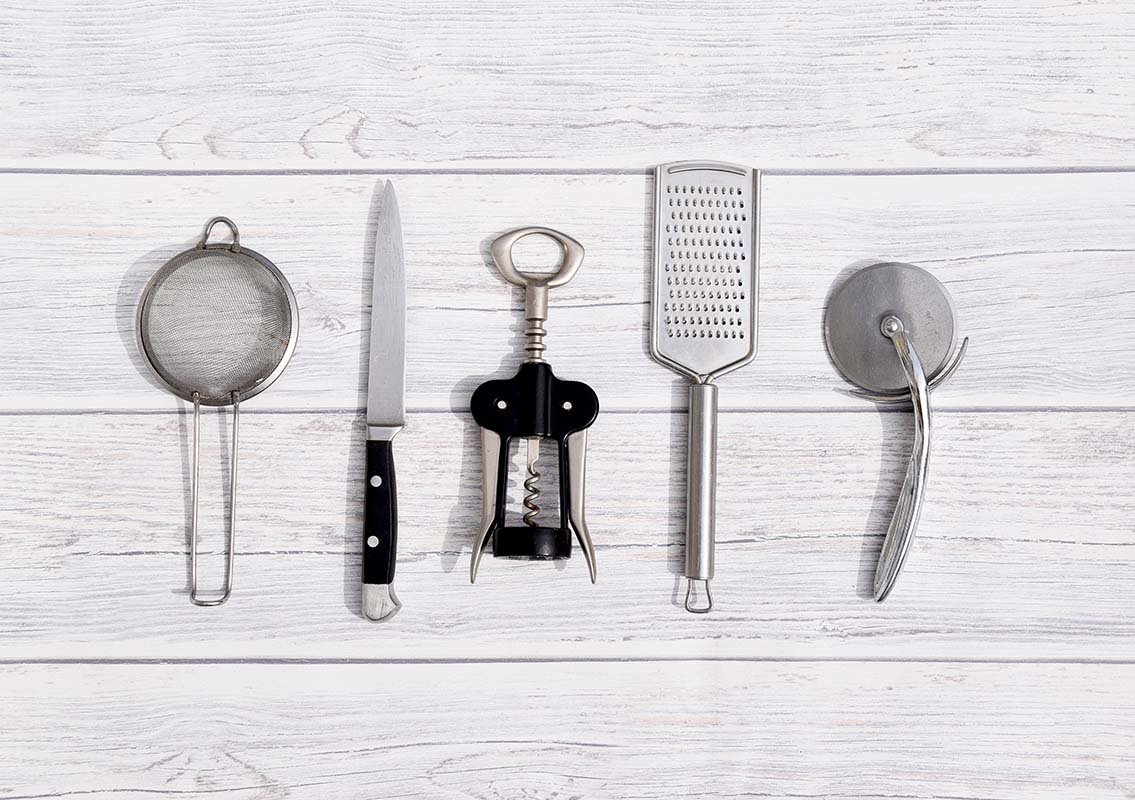 Many of the busiest restaurants make perfect use of wall hardware and storage for their vertical space on the walls. You can follow the same strategy and go with a rack for utensils. It can be as simple as a bar with hooks to keep items within easy reach, not even hanging from the ceiling. You can also hang a pegboard or wall magnets for storing your collection of kitchen knives for display and use when you need them. It is both practical and aesthetically pleasing.
Extra counter space
Most contemporary kitchen ideas feature uncluttered counters. It provides a modern look and also improves the utility of the space, especially a small kitchen. First, you need to put away all of the small items and appliances that are currently on the counters. Then, if you have a gas range, you should put a cooktop cover that you can use for food prep and other tasks. If you need more counter space, get a rolling butcher block or cart. You can freely wheel it in and out when you need it and by adding a few stools you get yourself a nice breakfast bar.
Additional shelving for storage
You can look for space to add extra shelving for storage if more cabinets are not the way to go. For example, if you have a kitchen island, you can add a row of narrow shelves for storing cookbooks. You can also use corners or the space over the counter for extra space.
Hide furniture
To make your small kitchen as functional as possible, you should create spaces with more practical furniture items that can be moved and stored out of the way. For example, consider backless island stools you can tuck away when they are not in use. Wall-mounted drop-down cutting boards or kitchen tables also work well.
A backsplash makes all the difference
Doing something as simple as swapping out the backsplash can completely reinvent your sink area. For example, you can match baby blue and white patterns with open shelving and white cabinet hardware to get an open and airy feel in the room. Not to mention that such a backsplash serves as a fantastic focal point painted blue with a wall colour that works well with it.
Adding a showstopping backsplash has the potential to make even a small kitchen sink area sing with joy. Whether it is in blue or other vibrant paint colours, a backsplash should be a major consideration among kitchen ideas.
Do checkerboard floors
Checkerboard floors are always in style. They give off a retro vibe and a sense of texture, even in a small kitchen. When paired with an interior theme of crisp white kitchen walls, you get yourself a beautiful design that immediately draws attention.
Use bold cabinet doors to make a statement
If you and your kitchen designer are thinking outside the box, you will have some fun with the colour of cabinetry doors. Any modern kitchen benefits greatly from a pop of colour, be it blue, green, or white. Picking a timeless hue like blue or green adds personality to the decor and creates a wonderful display of colours, as well as allowing light to bounce off the surfaces.
Make upper cabinets stand out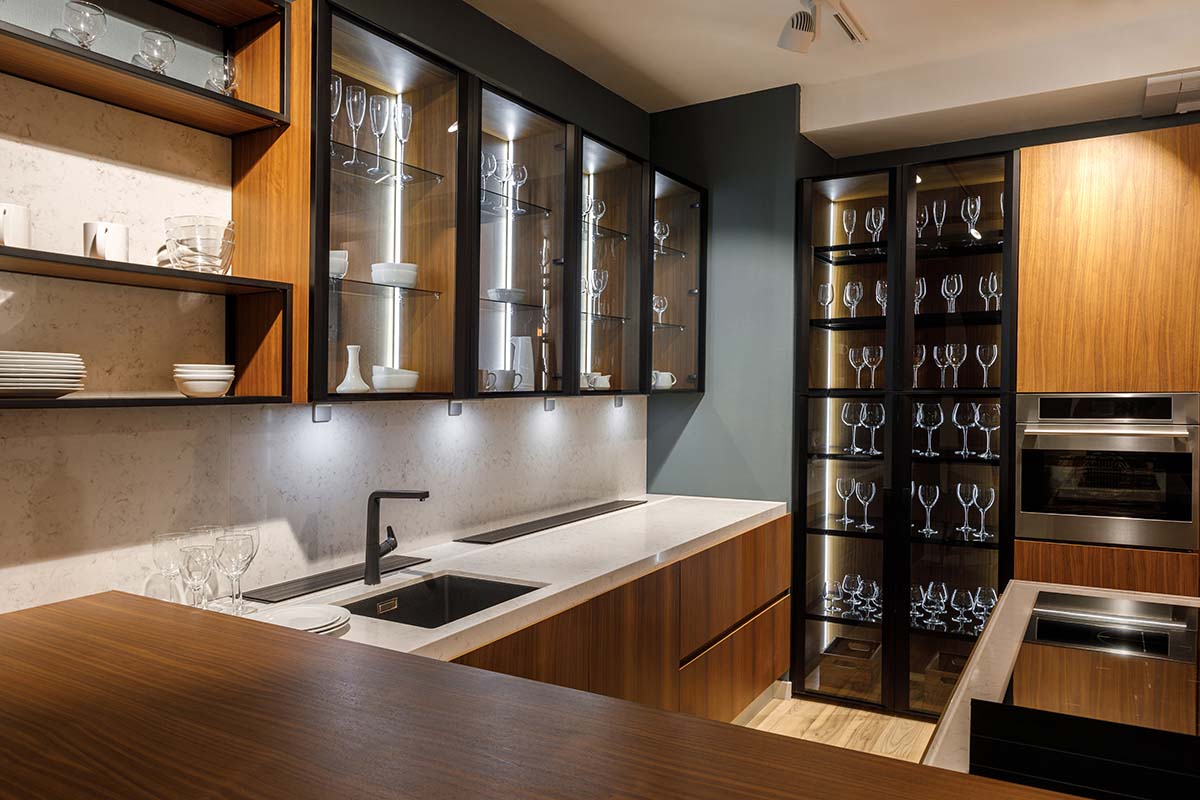 Kitchen cabinets don't have to be that imposing element in the room that takes up all of the space. Instead, you can have them painted in a blue hue to create the illusion of outdoor space as well as reflect more light. Adding glass doors to the cabinets is another great strategy to make the space feel bigger. If the room is small, you can also trade upper cabinetry for open shelving for an even better feeling of open space.
Add style with light fixtures
You need sufficient lighting in a small kitchen, to conduct your cooking and also make sure the space doesn't look caved in. Any stylish small kitchen needs overhead light fixtures with a good shape to capture interest. Pendant lights are also a great idea because they can make the room feel sophisticated and open. Remember that pendants are like the jewellery of the kitchen. You can have colourful blue pendants hanging from the ceiling over an island or any area of the kitchen to tie the whole look and complete it. Not only is this important for added lighting, but also to help draw the eye upward toward the ceiling.
Whether you use the room to cook, socialise or work from, you have to always prioritise good lighting. Without sufficient light, you will not have a good time in the kitchen, not to mention miss out on an important element of the decor.
Display small collections
Sometimes you can make the most of kitchen decor ideas by displaying cookware and other items on open shelves in front of a window. Putting simple shelves between the cabinets in front of the window creates the ideal spot for storage plus a point of interest and it reduces clutter in the form of countertop items just lying around.
Implement a breakfast nook
Even in a small kitchen, having a gathering spot near the window to create a feeling of indoor-outdoor look is a worthy goal. Sometimes it could be an island that serves the purpose of a breakfast nook, or perhaps even a small table and minimal counter space can make this possible.
Place your bet on marble countertops
When you are in search of durability and visual beauty, you can always consider marble. The material is not only scratch resistant and strong but also adds to the stylish kitchen feel of the room. Marble is a timeless material that is great for a kitchen island or any counter.
Go with tiered floating shelves
If you have a dead space in the kitchen, don't be quick to add cabinets there. Cabinetry may not always be the best fit, especially when you can substitute it with open shelves. They are much less bulky than a cabinet and allow for clever usage of wall space.
Add an area rug
Another one of the cool kitchen idea that add warmth and flair is to place an area rug. It can be a colour that synergises with the paint colour of the cabinets and other elements. Or you can add an area rug that adds a striking accent.
A pattern in tile makes a difference in wall accents
If you want a striking backsplash on the wall, you can add patterned tiles. They add interest and movement to the sink area, especially if you have a white kitchen. Even a classic black-and-white pattern adds style and looks beautiful as a backsplash.
A classic white is always a safe bet
If you are worried that a white kitchen or a neutral one will be bland, you are mistaken. Some of the most beautiful kitchens out there have a white or neutral theme. With the aid of your designer, you can weave in some marble, natural stone, textured accessories and brass to make a full remodel of the place. With the addition of some kitchen decor ideas, the place will feel less utilitarian and more like a great area of your house.
Painted floors bring a big change
Of all the interior design kitchen ideas, painting the floors with a fresh coat of colour will probably be your favourite. Having the floor in a colour that you like that works together well with the cabinetry and other elements of the kitchen will change up a small kitchen. Pick among your favourite paint colours and never have a boring floor again. Check out our post on painting and decorating tips for more information.
An island may not always be the best solution
It is understandable if you want a kitchen island, but sometimes you just don't have the space to work with. It might be better to incorporate smart furniture solutions, like a fold-out table. There are many ideas for smart and space-saving solutions that can work in a small kitchen instead of an island.
All of these kitchen ideas work for a small space just right. Knowing how to decorate a kitchen after renovations will help you transform the place and turn it into the best area of your home. If you're interested in a bespoke and custom kitchen made for you in Surrey, make sure to give us a call.