Many people will probably agree that kitchen renovation can be a physically demanding and challenging undertaking. However, updating the look of your kitchen doesn't necessarily have to be daunting. There are a number of ways to alter the floor or wall tiles for a fraction of the cost without putting in much effort. In fact, you don't even have to remove the old tiles.
This article walks you through the different materials and ideas you can use to put that plan into action. Keep reading to find out how to update kitchen floor tiles without removing them.
Key Takeaways on How to Cover Kitchen Tiles Without Removing Them
One of the best ways to update the look of your kitchen is to go with decorative panels - you don't need to remove the existing kitchen tiles
If you are looking for a quick and effortless kitchen update, do take into consideration tile painting and temporary tile stickers - the designs are plentiful
Other options to consider are covering tiles with beadboard or updating the grout
Additional ideas to explore include carpet tiles, wooden cladding, imitation concrete panels, and 3D panels for structure
Some of these options can be used everywhere in the kitchen such as the backsplash, floor, and wall tiles
Decorative Panels over Old Tile Material
Decorative panels can be manufactured using a slew of style designs, which makes them quite a versatile option for your kitchen redo. Here are some popular material choices that will go well in your kitchen and bathroom.
Decorative stone panels
There is nothing that can beat natural stone in the durability and aesthetics department. We're talking real stone that gives your kitchen a natural look. Every piece comes with a unique texture. It looks great and can serve you in the years to come.
You can get both floor and wall panels depending on the alterations you want to make. Note that it's waterproof but it may not be watertight.
Imitation brick panels
Unlike real brickwork, imitation brick panels are lightweight and easy to lay out. They are made from polyurethane and look quite realistic and authentic.
3D panels
3D panels will really make a difference if you want to add some depth to your kitchen floor or walls. In most cases, these are water-repellent and hypoallergenic. They create a healthy environment and can fit in any space. The good news is that you don't need any specialists to install them. 3D wall panels can also be soundproofing. It's fair to say they pack lots of benefits. We've also written a detailed guide on how to tile a kitchen if you want to do the work yourself.
Imitation concrete panels
Imitation concrete will be a nice addition to your kitchen if you are especially looking to get an industrial look. Not only are there plenty of designs, but the panels are lightweight so they are a breeze when it comes to installation and painting. Keep in mind that this may not be a great option for a backsplash.
Wooden decorative panels
As with everything mentioned above, wooden decorative panels come in many different colours and designs. Another plus is, they are easy to install on wall tiles or floors. If you are trying to achieve a simple and natural look, that's your best bet. Just make sure to get the ones that match your kitchen style. The lighter the panel is, the easier it is to work with it.
Covering Your Existing Flooring or Walls with Temporary Tile Stickers or Wall Papers
If you want to update kitchen tiles without removing them, a relatively easy option is tile stickers. Needless to say, they are available in an array of colours and designs, making them an amazing choice for the picky buyer.
Plus, they are easy to apply. Removing them is a cinch as well, which means it's safe to use them if you live in a rental property.
You can replace stickers with peel-and-stick backsplash. There are many modern patterns available, it's easy to find one that is suitable for your kitchen.
Painting Current Tile Structure with Tile Paint
If you are too lazy to swap out the kitchen tiles with new ones, then you can simply add a fresh coat of paint to save time. Painting tiles will instantly breathe new life into the hub of your home. And the best part is, you can pick from a bunch of colours.
Don't worry, it works on a shiny finish as well. Not to mention, it can be done to ceramic tiles too. However, you have to choose the type of paint carefully and remember to add primer. This way the paint will stick to the kitchen tiles.
Don't forget to get waterproof, mould-resistant paint to cover the material. Whether you are doing this on a countertop, concrete tile or wood material, or the backsplash, you should always think about lifespan.
Covering the Floor or Wall Tiles with Beadboard
Beadboard is an inexpensive flooring option that allows you to purchase large sheets and paint them a colour of your choosing. This material is commonly used in both commercial and domestic settings since it offers a great visual texture that draws the eye.
Be careful, though, as traditional beadboard might be a little tricky to lay out. Also keep in mind that if you experience any overhead plumbing issues, they may damage the material.
Updating the tile grout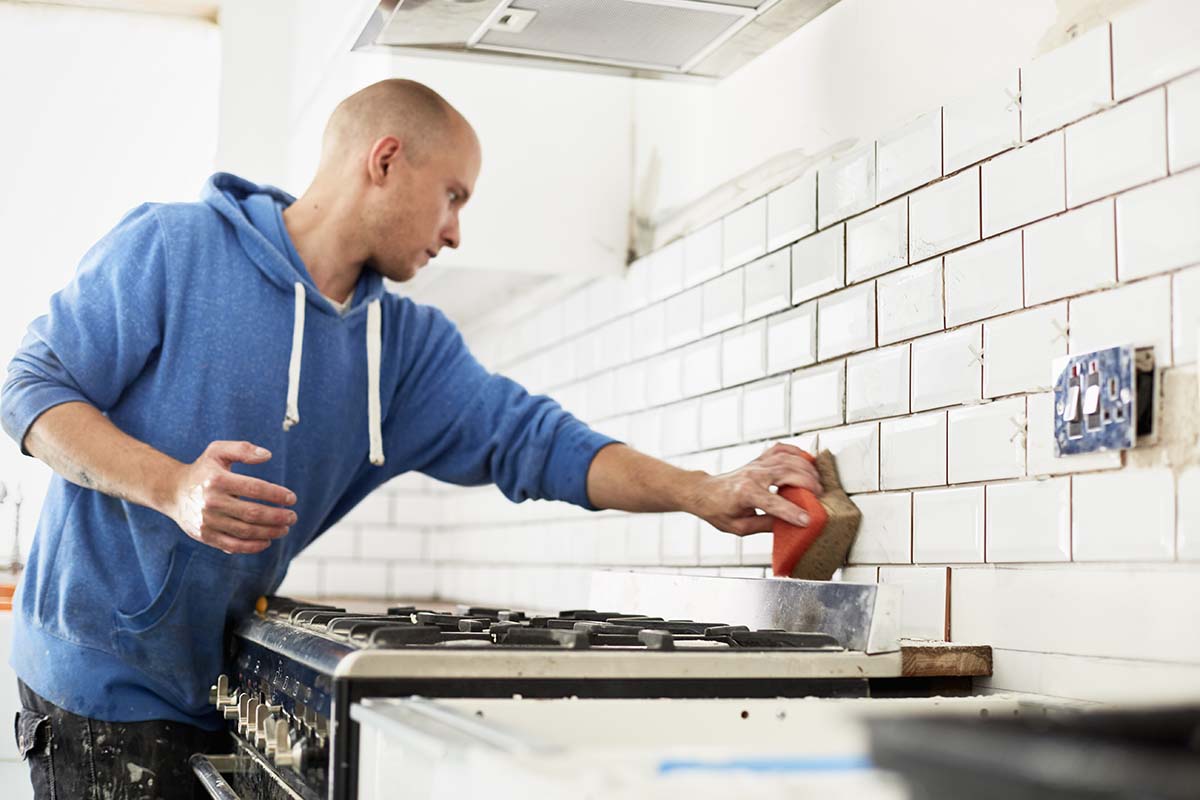 Sometimes your kitchen tiles are in superb condition and it looks like they can last you a few more years before they need to be replaced. However, if the grout looks old and unsightly, this can be a wonderful opportunity to update it.
One way to do this is to simply remove the old one and add new grout instead. The other way to go is to use a pen grout to refresh the colour of the existing grout. It doesn't take as much time as retiling. The process can be faster than painting the whole floor.
Wooden Cladding for a Rustic Effect
If you are after a more natural look for your kitchen, you should definitely consider wooded cladding. You get the opportunity to paint it whichever colour you want, which means you can have a different floor every few months.
Another thing worth mentioning is that it's easy to attach doors, mirrors, and shelving to wood cladding.
It's important to note that you shouldn't install wooden cladding near wet areas, so keep it off the sink area. If it absorbs moisture, it can expand.
Peel-and-Stick Carpet Tiles
Carpet tiles are another cheap option to spruce up your kitchen. While they are often used in commercial environments, you can still have them installed in the heart of your home.
They require basic maintenance and come in a variety of pattern colours and looks. Plus, the material is durable. The best part is, they are easy to install. However, they also have their limitations, one of which is the risk of disfigurement.
If you look to renovate your kitchen in Surrey, give us a call and we'll give you the best quote.And if you'd like to learn more about tiling, read our guide on how to tile a wall properly.
FAQ on How to Update kitchen tiles Without Removing Them
Can I cover over ceramic tiles?
Yes, you can cover ceramic tiles with other decorative elements such as the ones mentioned above. For example, you can apply carpet tiles, beadboard, stencil, a decorative panel, or tile stickers on top. Each of these can greatly improve the look of your kitchen without hurting your wallet.
The best part is, the process doesn't even involve removing your existing tiles, which will save you tonnes of effort, time, and cleaning afterwards. That being said, you need to ensure the surface is smooth before you proceed to apply any of these materials since proper adhesion is key to success.
This rule applies to every room in your house. It doesn't matter if you want to revamp your kitchen or bathroom tiles. Sometimes you are going to need quick-setting cement for the job but there are other options available depending on the material you choose.
How can I change the colour of my kitchen tiles without replacing them?
The best way to go is to update the grout. You can either replace it with new one or paint it a different colour to save time. This is a very cost-effective solution that won't blow your budget.
At the same time, it will still provide small changes to the heart of your home that will make a big difference in the overall design of the room. What is more, you don't have to get rid of the current tiles.
Before you begin, get some primer and paint that are made for the task at hand. You might find a grout pen useful.
Can liquid nails be used on tiles?
Yes. Liquid nails are suitable for any DIY project that involves tiles. You can use other types of adhesive such as quick-setting cement.