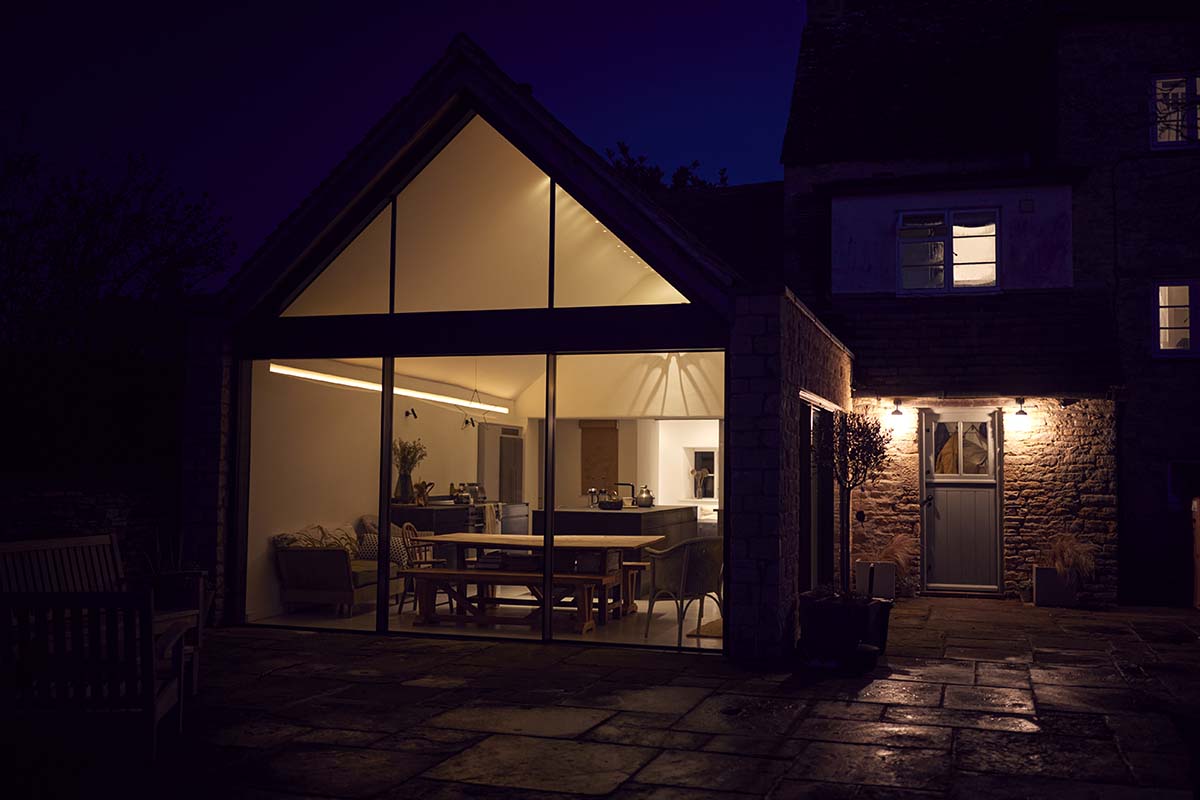 Whether the number of your family increases or you just need some extra space in your home, a kitchen extension is а great solution that comes with many perks. The kitchen is often the central gathering area so extending it allows you to maximize its full potential. However, this is usually a significant improvement project demanding considerable effort and a notable financial investment. Therefore, you have to plan, budget and execute carefully.
You can start looking around your kitchen and consider what to do to expand your cooking and dining space. Whether it is turning a side-return, backside, unused space in the garden or even an unused garage space into a kitchen - there are abundant sources of inspiration to draw from. Do you have anything in mind?
In this blog post, we'll uncover a multitude of kitchen extension ideas to suit various tastes, budgets, and architectural styles. Furthermore, we will provide you with a rough estimate of the costs associated with such a home renovation. Now, let's embark on this delightful exploration of inspirations that will revitalize your culinary space and elevate your home to new heights of style and functionality.
How much do kitchen extensions cost in the UK?
The cost of kitchen extensions in the UK can vary significantly, ranging from £30,000 to over £150,000. On average, most UK homeowners spend between £20,000 and £70,000 for this type of improvement.
Breakdown of kitchen extension costs
A basic kitchen extension, which involves essential construction work like adding walls, windows, and a roof, may cost around £20,000 to £50,000, depending on the size of the expansion area. For a mid-range kitchen extension that offers more design and customization options, you can expect costs ranging from £22,000 to £65,000. If you desire a high-end improvement with premium materials, luxurious finishes, and bespoke features, the price can exceed £70,000.
Obviously, this is quite a broad price range. However, it is to be expected given the numerous factors affecting the overall kitchen extension cost.
What affects the price?
Size and scope of work. First, when it comes to a kitchen extension, you have plenty of options - you can extend the space towards the rear of your property, convert your garage, or even utilize an orangery area. Each project will require a different amount of work and hence will cost differently. The greater the size and complexity of the extension, the higher the price.
Material and level of customization. Aside from size and complexity, the materials used and the level of customization will have a considerable impact on the final kitchen extension cost. In general, high-quality materials, luxury finishes, speciality fittings, and custom-made pieces will raise the budget.
Building regulations and planning permission. Building regulations approval usually entails submitting designs and specifications to the local authorities or an approved inspector. Depending on the size and complexity of the kitchen extension project, building regulations fees might range from a few hundred pounds to over £1,000 or more. Additionally, you may need planning permission, which usually comes with an application fee and any extra fees for professional advice.
Location of the property. The location can indeed have a significant impact on the cost of the kitchen extension in the UK. Generally, areas with higher property prices and higher demand tend to have higher construction costs. For example, kitchen extensions tend to be more expensive in London compared to other areas in the country.
Contractor and professional fees. The total price of your home improvement project will be also influenced by the fees charged by a contractor, architect, designer, structural engineer and other professionals. Please note that more reputable and experienced professionals may have higher rates.
It is best to consider your budget during the early planning stages so that you can set realistic expectations for your kitchen extension project. It will help you make informed decisions about the different options, the materials to be used, and the level of customization you can afford. We have a great guide on kitchen makeover on a budget that may interest you.
Creative ideas for a kitchen extension
In this section, we will share with you some stunning kitchen extension ideas that will not only add valuable square footage but also enhance the functionality, aesthetics, and overall ambience of your culinary haven.
Extend your kitchen towards the rear of your house
Do you have any spare space in your backyard or rear garden? So why not make it useful? The ground floor rear kitchen extension, also known as a single-storey extension, is a popular alternative for homeowners who wish to expand the size and functionality of their kitchen while improving the connection to outdoor living spaces.
The rear extension can provide a larger area for kitchen appliances, cabinets, and work surfaces, allowing for increased storage and workspace. It also gives you the opportunity to create an L-shaped layout with a wrap-around extension to maximize both functionality and aesthetics.
Furthermore, rear extensions allow for the introduction of more windows or skylights, which bring in ample natural light. You can incorporate glazed doors or any other kind of bespoke glazing to create a visual connection to your outdoor space.
As you might guess, turning your backyard or garden space into a kitchen is a quite large extension which will take you a considerable amount of time and will be on the pricier side. However, the advantages it provides make it a very worthwhile investment.
Incorporate glass elements into your kitchen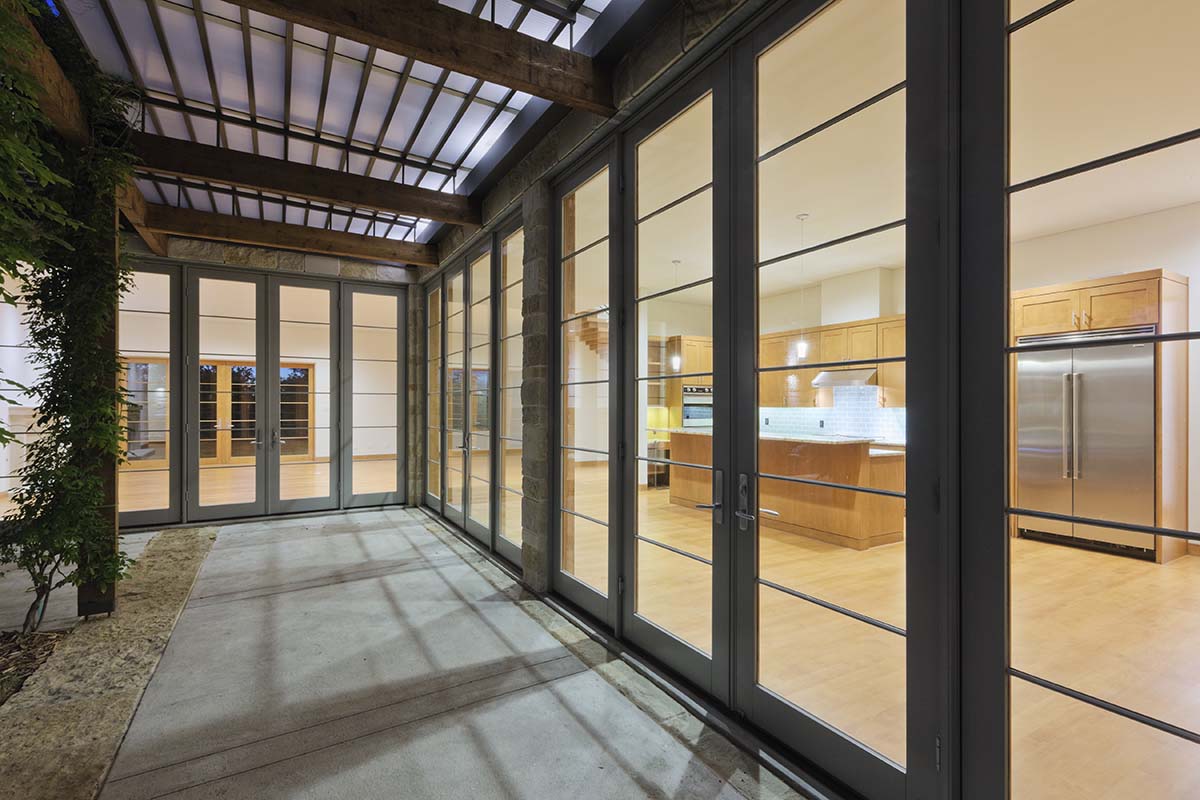 What do you think about the wonderful sensation of cooking in the open air? You may achieve this effect with a glassy kitchen extension. It's similar to a rear extension, except instead of a concrete roof, you use glass to add not just extra light to the kitchen but also a lot of new space. Adding glass elements such as roof lights, skylights or glass sliding doors is a great way to create a visually appealing and modern kitchen environment.
The windows can provide panoramic view of the open sky and the surrounding areas. A well-designed contemporary glass extension can also add a sleek look to your kitchen, making it a focal point of the house. The transparency of glass can visually expand the space, giving an illusion of more room.
One potential problem that may arise with this type of kitchen extension is temperature control. While glass elements allow sunlight to enter, they may also contribute to heat gain in the summer and heat loss in the winter. This is especially true if the windows are not insulated properly. So, if you consider incorporating large windows into your kitchen space be sure to choose energy-efficient glazing.
Consider side return kitchen extension
Side return is another great alternative option for extending a kitchen. It allows you to expand your space without sacrificing any existing outdoor areas. It can also help you improve the connection between indoor and outdoor. You can incorporate some windows or rooflights to introduce an abundance of natural light and create a bright and airy atmosphere.
Although side return extension is smaller compared to rear extension it can still bring in the benefits. Even just slightly widening your kitchen area can help you improve the flow as well as achieve connection with other living spaces, such as the living or dining area.
One potential downside of this kind of extension is the challenge of seamlessly integrating the design with the existing structure. Achieving a cohesive and harmonious aesthetic between the extension and the rest of the house requires careful planning and expertise in design. Always work with reliable and knowledgeable professionals who can give you the best recommendations based on your specific case.
Convert your garage into usable space
If you don't want to add more room to the house, why not focus on something you already have, like a garage? Since the garage is already connected to the house, the transition to the kitchen area can be relatively seamless. It provides an opportunity to create a seamless flow between the kitchen and other areas such as dining or living space.
Additionally, converting your garage can be a more cost-effective option compared to building a brand-new extension. However, such a project would require additional work and effort. First, you will have to decide where to install the plumbing, gas pipes, and electric system. You will also need to replace the garage door and add some windows. Basically, the size of your garage and your house design will determine the model and the number of doors and windows you need.
Use any awkward spaces around your home
Is there any space under the stairs in your house? Have you ever used it for anything? Converting it into a functional and practical kitchen extension can actually be a great idea. It can make your house more unique. There are plenty of ways you can transform this awkward unused place into something more practical.
Depending on the size of the area, you may install cabinet units to keep some kitchen essentials there such as dry goods, small appliances, or cookware. If there is not too much room, open shelving is a fantastic approach to maximise space and make the area usable.
If the under-stair area is large enough, you could create a cosy breakfast bar by installing a small table and chairs. This can be a charming and intimate space where friends and family can gather round for casual dining or socializing.
Budget-friendly kitchen extension ideas
Wondering how to make your kitchen more spacious without spending a fortune? Well, we have some budget-friendly extension ideas for you!
Build a square room with a simple pitched roof
Building a square room with a simple pitched roof can be a more affordable option for a kitchen extension compared to complex or custom designs. The design can be easier to plan and execute, requiring less time and labour compared to more intricate designs with multiple angles or unconventional shapes. You can incorporate a roof lantern into the construction of the roof for your kitchen extension. Such a window will make the room more spacious and provide you with a beautiful view of the outside space.
If you want to further enhance the extension you may opt for an open-plan layout that integrates the square room with the existing space, allowing for a cohesive and spacious cooking and dining area. Adding a kitchen island is another exelent way to improve the functionality of your kitchen space. The island unit can provide extra storage and countertop space, or serve as a seating area for casual dining or socializing.
Reconfigure the existing kitchen layout
Instead of adding new square footage, you can consider reconfiguring the existing layout of your home to create a more spacious kitchen. This might involve removing walls, optimizing storage, or repurposing underutilized areas. For example, you can remove a non-load-bearing boundary wall that separates the kitchen from adjacent rooms to create an open-plan space and a more spacious kitchen. In case you have a galley kitchen you may consider transforming it into an L-shaped. Such configuration can create a more open and fluid traffic flow within the kitchen. It eliminates the narrow corridor of a galley kitchen, making it easier to move around and access different areas of the kitchen.
Repurposing existing space is often more cost-effective than constructing a new extension. You can avoid expenses associated with foundation work, exterior construction, and roofing. However, you should also understand that this budget-friendly option can only provide a certain level of expansion. If you require a significant increase in kitchen space, a new extension may be a more suitable option.
Consider adding a conservatory or orangery
Adding a conservatory or orangery to extend your kitchen can be a creative and visually appealing option. In the past, conservatories were typically connected to the main residence and served as spaces for cultivating plants, while orangeries were magnificent structures designed for nurturing orange trees in historical properties. Today, the concepts of conservatory or orangery extension have largely converged, representing additional rooms seamlessly integrated into the main house. These versatile extensions offer excellent opportunities to create a dining area or expand the lounge, providing valuable extra space.
The cost of constructing a conservatory or orangery can be lower compared to traditional brick-and-mortar extensions since they typically involve lightweight structures with glass walls and roofs. In addition, these types of extensions may fall under permitted development rights, meaning you may not need planning permission. This can help save time and costs associated with obtaining permits. However, it's important to check with your local planning authority as regulations can vary.
How to create your dream kitchen?
Although kitchen extension projects are typically expensive and require significant labour, undertaking such an improvement can help you finally create the culinary space you've always desired. With careful planning, attention to detail and professional assistance you can achieve the perfect design of your sleek new kitchen extension. Here are some design ideas you may want to consider.
Choose unique and eye-catching light fittings. It is a great and inexpensive way to add a touch of personality to your new space. Pendant lights, chandeliers, or modern LED fixtures can serve as functional and decorative elements, enhancing the overall design aesthetic.
Combine different materials and textures to create visual interest in the kitchen extension. For example, blend natural wood wall units with sleek countertops, incorporate textured tiles or exposed brick walls, or introduce contrasting finishes to add depth and character to the space. You can also opt for a dining table that showcases the same combination of materials and textures to create a seamless and cohesive look that ties the entire space together.
Design the kitchen extension to seamlessly transition to an outdoor patio or garden area. This can be achieved through large sliding patio doors or a wall of windows, allowing for easy access and creating an expansive entertaining space.
Opt for bespoke furniture. With bespoke kitchen units, you have the opportunity to design a kitchen that perfectly fits your space, preferences, and requirements. You have the freedom to create a kitchen that reflects your personal style and taste. Whether you prefer a contemporary, traditional, minimalist, or eclectic look, bespoke furniture allows for customization in terms of colours, finishes, materials, and decorative elements. This enables you to achieve a kitchen that is truly one-of-a-kind and aligns with your aesthetic vision.
Seek help from professionals specialised in kitchen refurbishment. By working closely with a professional kitchen refurbishment service, you can be confident that your kitchen extension will be tailored to your unique requirements. Their expertise, experience, and attention to detail will help create a functional and beautiful space that reflects your lifestyle and enhances your overall kitchen experience.
Remember, these are just a few ideas to spark your creativity. The design of your kitchen extension should reflect your personal style, functional requirements, and the overall aesthetic of your home.
To conclude
When it comes to kitchen extension ideas, maximizing all the available space is key. By carefully planning and utilizing every inch, you can transform your kitchen into a spacious and functional area that meets your needs. Whether it's extending into the backyard, utilizing the space under the stairs, or reconfiguring the existing layout, there are various ways to optimise the space. With creative design and strategic thinking, your kitchen extension can provide ample room for cooking, dining, storage, and even a cozy nook for relaxation. Don't let any corner go to waste - explore the possibilities and unlock the potential of all the space within your reach.