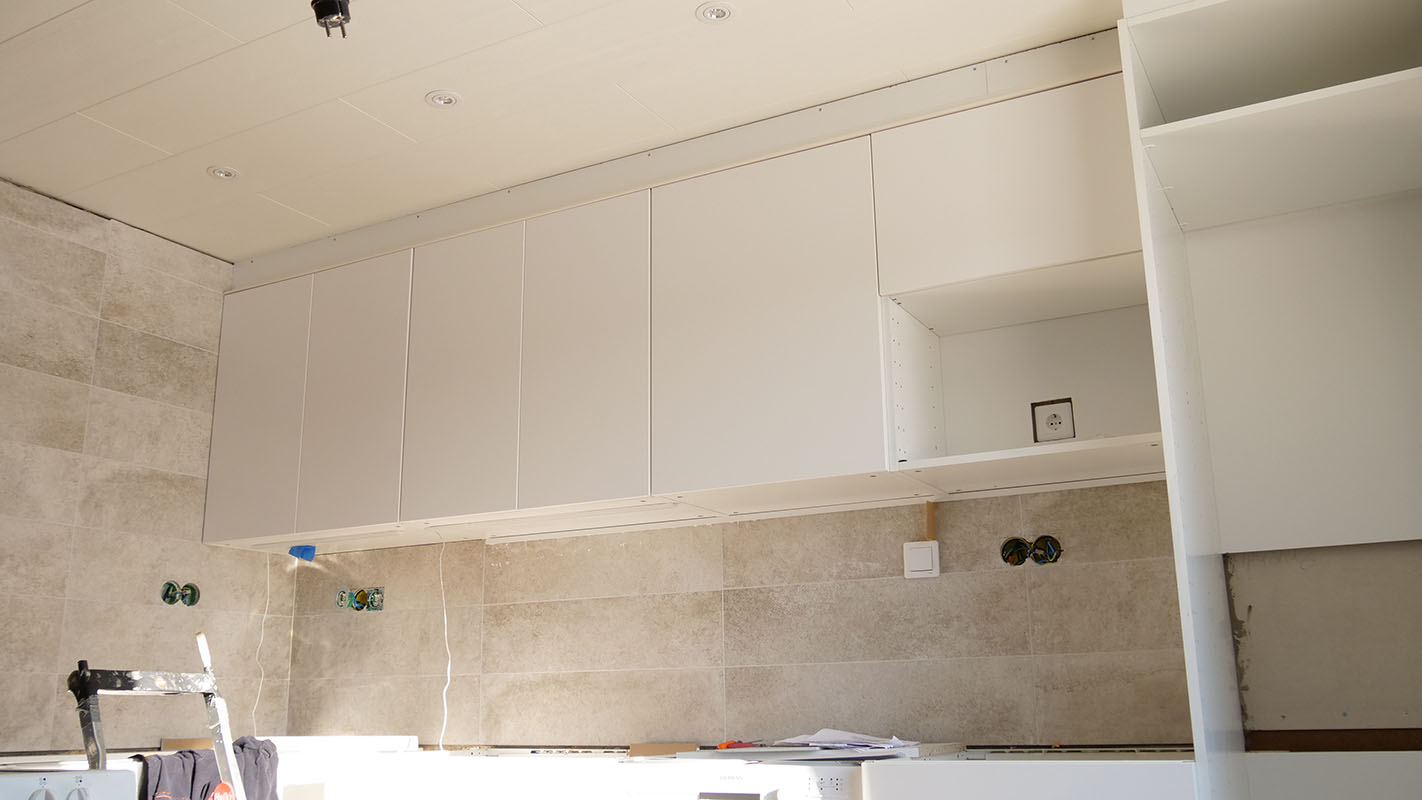 Kitchen makeovers in Surrey can have unimaginable costs. Some people go small with their projects because they don't want all the hassle that makeovers bring other than the price itself. So, they resort to products that can give an upscale finish to the units and call it a day. Others dream big and are looking for ways to make more alterations for less money. Whatever your case is, here are some pro tips on how to do your kitchen makeover on a budget. 
Basic Changes to Consider in Your Kitchen Layout: 
Painting kitchen tiles and kitchen doors. It can make a huge difference from the start. Instead of booking a kitchen spray-painting service, do the job yourself to save some pennies.
Painting kitchen cabinets. Any colour kitchen cabinet will take a central role in the design; transforming them will have an impact on the entire room.
Dressing the cabinet doors with kitchen vinyl wrapping.
Upgrading the look of your backsplash with an affordable kitchen backsplash project. You can paint it or glue a vinyl stick-on material on it. You can also install laminate flooring on it.
Replacing the lighting. Just by adding more light to the room you can highlight certain areas that you like more and take the focus off other areas.
Swapping the taps on the kitchen sink for new.
Going for matte finishes or retro style if your budget doesn't allow stainless appliances. Appliance makeovers are quite common these days.
Joinery products may be exorbitant but they add a personal touch to the room and also tend to have a long shelf life. So, if you can afford it, buy one such unit to use as a focal point in the room. It will be your little gem.
Searching for kitchen island tutorials online for more ideas on sprucing up said unit. This way you will end up with your personal kitchen makeover design without paying regional designers to do the trick for you. A design service can be exorbitant.
Adding some eye-catching wall art. This will be your feature wall that will draw people's attention when they enter the room. It can complement a stylish kitchen décor or whatever design you are going after.
Checking out Pinterest for cute breakfast bar ideas on a budget.
Replacing your entire kitchen will cost you a fortune, that's why try shopping for your stuff from the likes of eBay, thrift stores, antiques shops, or charity shops. 
Colour Charts for DIY Budget Kitchen Makeovers
Without the shadow of a doubt, colours are the first thing you need to think about before you commence your project. Going for a different shade will give your kitchen a wholly different look. You don't even have to replace the various units and fixtures you possess.
If you, like most people, are clueless as to the colour patterns you can use in your kitchen, consider getting professional advice on colour combinations. With a little bit of help and some clever ideas on their part, you will get the most of your kitchen makeover and also keep up with your budget. Sticking with the right combo will save you lots of money in the long run all the while giving the heart of your home a timeless appeal.
If hiring kitchen companies about this step is a no-no, here is another way to go: try one of those apps that help you visualise your paint colour. There are many of them.
You may want to avoid trend colours unless they are something that can stand the test of time. The reason for this is you will easily get tired of them once they go out of fashion, taken over by the next craze. Bespoke kitchens don't necessarily count on trendy items and décor.
It is generally accepted that kitchen cabinets are the main dominant colour since they take up so much kitchen space. So, when you go for the complementary colours around the room, you should think about what will suit or contrast with the cabinets best and work from there. There are different ways to go about it.
A neutral colour on the walls will allow the furnishings to stand out without creating a chaos of shades. But if you want to have an accent piece, you may choose to have a feature wall. Paint it a different colour to match certain elements in the kitchen (and the cabinets perhaps).
One last thing to consider is if you are going for a complete colour change or you are fine with the patterns your kitchen is currently showing. Truth is, the options are plentiful. It is a good idea to check out kitchen designs online and pick the one that speaks to your soul. You don't even have to pay for it. The Internet offers an abundance of websites for this kind of job.
Type of Finish for a Budget Kitchen Makeover
A new coat of finish can work wonders on both your kitchen cabinet doors and surfaces as well as the walls. Instead of replacing the existing worktops and cupboard doors, you can give them a paint job for a cheap kitchen makeover. Paint finishes come with different sheens, which refers to the glossiness of the product. The more shine you want, the higher the sheen should be. Each type has its use and practicality, as long as you know where to apply it. You can learn how to measure kitchen doors in our article sections.
Starting from flat paint, which is stripped of shine, we have the in-betweens which are eggshell, satin, and semi-gloss. And the last category is a high-gloss finish which is self-explanatory. All of these come in a wide range of paints to help create your dream kitchen.
The benefit of a matte finish, as opposed to a sheen finish or gloss colour, is that it hides scratches and stains far more easily. When it comes to paint for kitchen, opinions are mixed on whether one should have glossy finishes or not. This is a high-traffic area. The kitchen worktops are in constant use, so it makes sense that they are durable and easy to clean. Taking this into consideration, semi-gloss or high-gloss finishes appear to be more suitable.
However, you should keep in mind that the more sheen you want in your paint product, the costlier it gets. In that sense, flat paint finishes are the most affordable. The eggshell finish falls in the middle of the price range.
But what about rustic wood finish? It's quite popular. You may have come across it at designer showrooms and kitchen companies. Well, you should note the difference in the cost. It can give your kitchen units a nice weathered effect but it's more expensive than other products of the same kind. Of course, if you want your work to last, it pays to go with clever products.
Whatever you opt for, be it a shaker door finish or slab door finish, it's easy to do it yourself. Find the finish you like, disassemble the cabinet doors, and get started. You need to sand the wood to remove any scratches and imperfections. It may also have to be stained. Then, you are going to put a coat of the finish of your choosing and let it dry. Repeat. Once you have done all these steps, what's left to do is attach the doors back to their designated places. Make sure to use sturdy materials for quality kitchen facelifts.
Window Frames for Bespoke Kitchens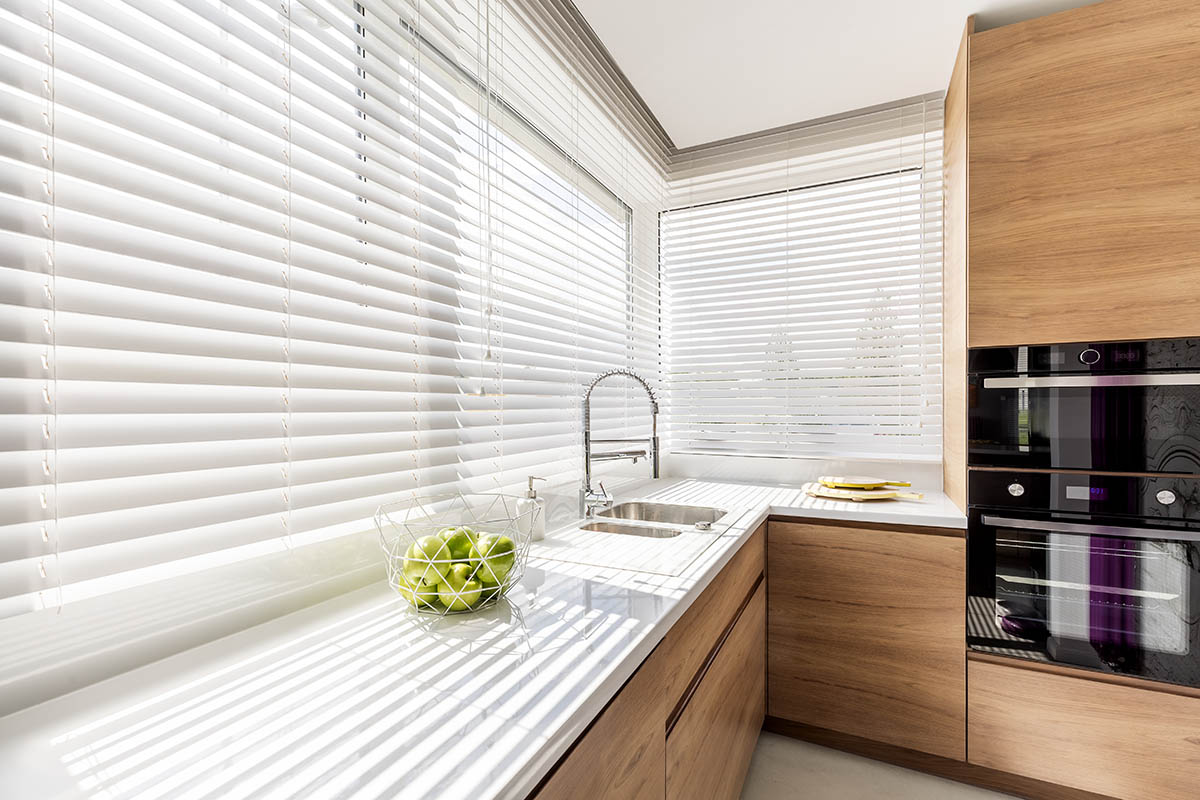 If you are going for frugal window coverings, blinds seem to be the most economical option so far. Roller shades are another cost-effective alternative. They can transform your windows and enhance the look of your kitchen all the while giving you privacy from the outside world. At the same time, they could be rolled up which means more natural light will enter the room.
And while we're still on the topic of blinds, here is another cool option for kitchens: cellular blinds. They will block the harmful UV rays as they hit your windows and further prevent them from ruining your furnishings. Plus, they come in a wide range of colours.
Lastly, if you want to insulate your kitchen from the cold that makes its way into the room through the windows, invest in high-quality thick curtains. Thermal curtains have one more benefit - they can block the noise coming from outdoors. They may come in a bit expensive at the beginning but you'll see that the investment will pay off over time.
Replacement Doors and Replacement Worktops for Rigid Budget Kitchens
Another wise idea to quickly and thriftily implement your kitchen makeover ideas is to replace the worktops and cabinet doors. This step will create a dramatic look for a fraction of the price as compared to replacing said units. If you don't feel like giving your old surfaces a professional finish but still want to use some affordable kitchen makeover options, this is definitely the road to take. The majority of kitchen cupboards and kitchen doors come in a standard size, allowing you to replace them easily and get fantastic kitchen facelifts.