If you wish to upgrade your kitchen, whether you're looking to sell the home, or have a better version of the room, then replacing the doors and cabinet fronts is probably one of the best ways to do it. Getting a new kitchen worktop and kitchen cabinets changes the room's surface and are often less expensive than changing some of your appliances. Also, don't forget that these are surfaces that see the most wear and tear over time. If you're interested, check out our kitchen worktop styles collection.
It is possible to replace your kitchen worktop on your own. Kitchen worktop replacement as part of a DIY project is possible and can still give your kitchen a whole new look. It may be better to work with a fitter if you lack the expertise.
Can you replace kitchen worktops?
If you are looking for new worktops that are durable for everyday kitchen use, you can definitely get replacements. The most important thing is to find a supplier that offers a huge range of replacement kitchen worktops to suit your needs and your budget. When you want to replace a kitchen worktop with a new worktop you can include that as part of a kitchen makeover that adds value to your home. New worktops are available in a wide variety of styles. You can about this task by hiring a professional who can supply a wide range of services to renew your kitchen countertops. Alternatively, you can follow a DIY route and still end up with worktops that look great. If you want to try on your own, without resorting to kitchen fitters, here are the steps you should follow:
Measure up the space
The first thing you will have to do is measure up the space. Make sure you are very accurate! If you are only replacing the old worktop with one of the same size, then you will just have to measure up the old one. If the project is more complex than that and your goal is to have a new shape and size of the worktop, then you have to be extra careful. You need an even overhang along the front edge of the kitchen cabinets. At a minimum, 10-20mm are needed.
Scribe the wall to fit the worktop
If the wall you are fitting the worktop against is uneven, you will have to fill in some of the gaps. The process is called scribing or trimming the worktop. Follow this process:
Place the worktop against the wall, while keeping the overhang the same along the way
Measure the gap between the wall and the back
Cut a piece of wood that is the same size (called a scribing block)
Stick masking tape along the back edge of the worktop
Start at one end and run the block against the wall, marking a line along the tape
The mark is essentially a copy of the wall shape to guide the trimming process
Use a jigsaw to cut along this line
Check to see if the worktop fits, while keeping the overhang even
We've written a detailed guide on how to fit a kitchen worktop if you want to do it yourself.
Cut the worktop length
As you cut the worktop, each end needs at least a 25mm overhang. First, mark the line to be cut with a pencil. Cover this line with see-through masking tape. Score a groove with a knife by fixing a ruler to the line. Then use a jigsaw to follow the groove. You can smooth off each end with a plane.
Join lengths of the worktop in a straight line
It is possible to join lengths of worktop without a joining strip.
Cut the pieces and scribe them
Use a fixing plate to secure the two pieces from underneath
Apply some glue to the edge of one worktop and push it to the other
You will need at least 3 fixing plates for a secure fit
Turn a corner with a joining strip
If two lengths of worktop have round edges, you can use a joining strip to join them together when going around a corner.
Mark the length of the join on the joining strip with masking tape
Cut the joining strip to length with a hacksaw
Smooth off the edges with a metal file
use silicone sealant on the edge of one of the worktop pieces
Push the strip in and secure it in position
Apply sealant to the other top and butt it up against the other worktop
Secure the worktop to the kitchen cabinets
Securing the worktop on the cabinets will likely require getting some help. First, attach it with fixing brackets and screws. Clamp the front edge to the rail at the front and screw to the underside. Secure the back edge with fixing brackets as someone applies pressure from above.
Finish the exposed edges
Any unfinished edges on solid wood worktops should be sanded. You can then apply stain-proof oil. To get the best seal, you should follow the manufacturer's instructions. Laminated worktops feature finishing strips. You should cut them to the appropriate length and put adhesive on the strip and edge of the worktop. Fix it and leave it to dry.
If you ever face any difficulties with any parts of this process, don't hesitate to contact us today.
How to replace kitchen worktops cheaply?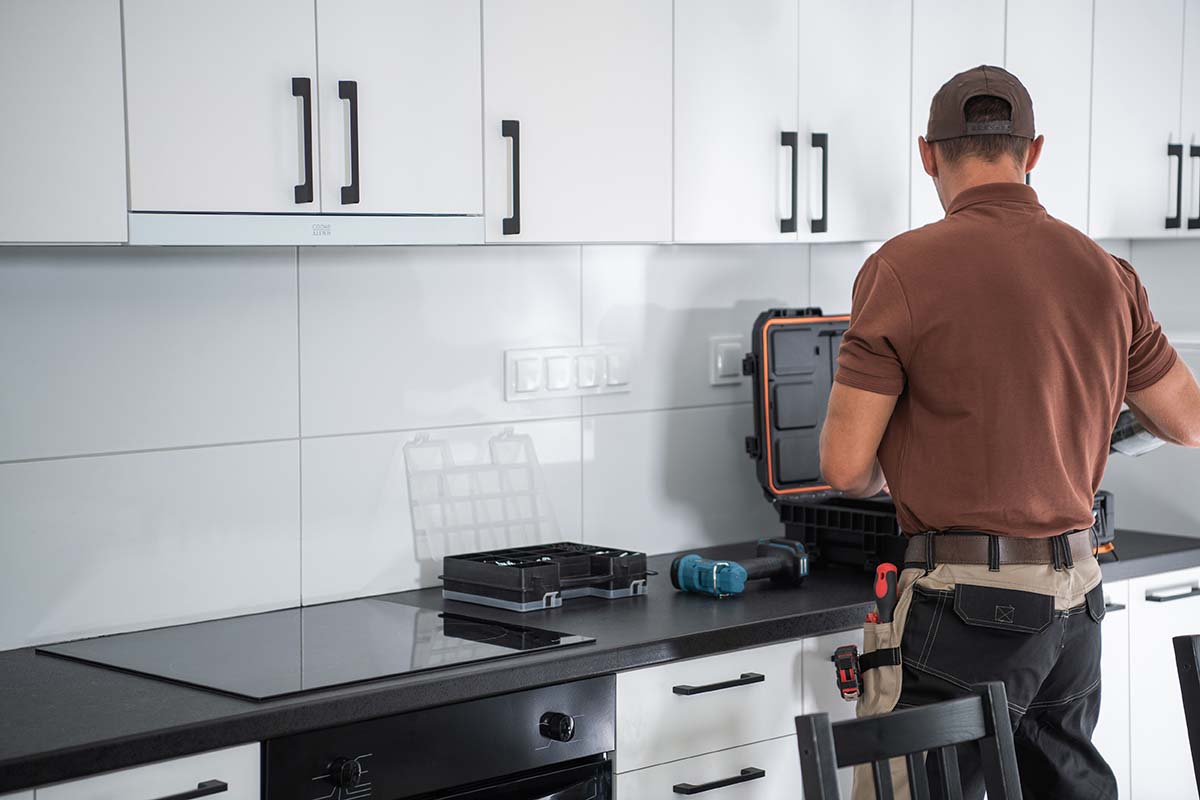 Instead of buying new solid surface worktops, you can approach this task from a different angle. Much like getting replacement kitchen doors, getting new worktops can cost you a small fortune. Here are some alternatives that you can consider:
Revarnish a wooden worktop - a new coat of varnish on your wooden worktops can freshen the kitchen. The good thing is you can use a different varnish than the one you normally use to experiment with colour a little.
Contact paper - realistic contact paper has the potential to transform your surfaces and make them look like brand-new marble worktops. Look for a marble-effect contact paper and see just how much of a difference it can make on your kitchen units.
Laminate the worktops - laminating the countertops of your kitchen is nothing new. It is a great way to save money as well as choose from a wide range of colours.
Paint the worktops - this works best on wooden worktops. You'd follow the same steps and prep work when you paint cabinets. It is an easy enough task to undertake on your own.
Overlay kitchen worktops - you can get the look of quartz worktops by purchasing the right material to fit on top of your existing worktops. Not only is it cheaper, but also very similar in looks.
Give them the industrial glow-up - this is a more complicated procedure, which requires more knowledge and skills. The idea is that you can wrap metal sheets around your existing worktops, granted you have the tools. This idea works particularly well for kitchen islands. It works on worktops made from different materials, but it is a more advanced project.
Tile the worktop - if you can tile a splashback, then you can tile your worktop as well. When your worktops get worn out beyond repair, it is an option you may want to keep in mind. You can tile over a backer board to put on top of your worktop for the best results. You can also tile directly on top of your worktop.
DIY upstand - when you are painting or covering the worktop with a vinyl sheet, you can use the opportunity to add an upstand. Sometimes this can be as simple as covering one wooden panel and stretching it over the end of the worktop. Don't forget to secure it to the wall after that.
How much to replace kitchen worktops
Replacement kitchen worktop cost might be higher than you like. After all, this is among the most exorbitant parts of a kitchen renovation. Replacing kitchen worktops cost a lot, especially when getting new kitchen worktops in place. How much does replacing kitchen worktops cost? Depending on the type of worktop and worktop materials, the average cost can vary from £80 for laminate chipboard to £2.500 for marble and granite worktops, which are premium countertop materials. Read our guide on kitchen renovation cost in the UK for more information.
How can I update my kitchen worktops without replacing them?  
Instead of giving your kitchen a complete makeover, you can focus on the worktop space. There are many expensive worktops and the cost of fitting can add up to a lot of money. That is why resurfacing is an alternative to paying the cost of replacing kitchen worktops. Here are some alternatives to consider if you don't want to replace your worktops:
Paint them - one of the cheapest ways to improve the work surface and give the kitchen a makeover is to paint the surface. You can cut labour costs because painting is easy when you use gloss and semi-gloss paints.
Cover them - if new kitchen worktop prices are scaring you off, you can cover your worktop instead of replacing them. For instance, fabrics make a good option for an added layer on wooden kitchen worktops.
Refinish them - instead of replacement worktops, you can refinish your wooden worktops to suit your preference. A fresh new coat of finish can make a country style kitchen look great.
Laminate them - a laminate worktop is a great way to get a hard-wearing surface that suits both your budget and your own unique tastes for a contemporary kitchen.
Overlay them - you can purchase some quartz and install it directly over your existing countertop. The end result looks like a quartz worktop for a fraction of the price.
Whatever worktop you choose, you can always choose to restore it and add finishing touches yourself to restore it or make it better. Not only can you save money, but also end up with an impressive result.
FAQs
Can you put new countertops over old countertops?
You can overlay pretty much any type of counter, as long as it can support the overlay itself. Whether your countertop is laminate, stainless steel, tile or wood, it can be a good idea to put an overlay on top as a way to restore it and cut some costs.
Can you replace kitchen worktops without damaging cabinets?
It is possible to replace kitchen worktops without damaging your cabinets. You have to be very careful in removing the old countertop and replacing it with a new one, but it is definitely doable.
Can you cover existing kitchen worktops?
Worktop overlays work in most situations with any kind of worktop. The main condition is to have a stable and strong worktop. If that is the case, you can easily fit recycled glass, quartz or granite surfaces on top.
Can you put new countertops over old countertops?
Yes, it is possible to put a new countertop on top of your existing one. As long as the foundation is strong and stable, there is no issue in doing so.