Cabinets, drawers, handles, appliances...these components are absolutely essential for a beautiful and functional kitchen. However, there is one more element that greatly influences the design and attractiveness of the kitchen - the worktop.
Worktops take a central place in the kitchen. Of course, for optimal results, it is necessary that the material chosen by you for a worktop meets a number of requirements, guaranteeing functionality and comfort. It is important to choose a durable surface, which is also easy to maintain. This way you will have both a strong and beautiful work surface. In addition, it is also essential that the worktop is installed correctly and very precisely, otherwise it may ruin the look of the whole room.
In this article, we'll go over some tips and instructions on how to install a kitchen worktop on your own. If you are unsure or inexperienced with DIY worktop fitting, it is always a good idea to hire professionals in kitchen installation and renovation in Surrey.
Can you fit your own kitchen worktop?
In some cases, you might be able to fit a kitchen worktop on your own. However, it greatly depends on your skills and experience. If you have never installed worktops before then it might be quite challenging to attempt this task. In addition, fitting the surface incorrectly can not only ruin the appearance of your kitchen but also be a costly mistake. So, before taking on such a DIY project it is important that you are well-prepared and know exactly what to do. In case you have even the slightest doubts then it will be better to hire specialists to do the job for you (check out our guide on kitchen renovation cost).
Before undertaking such a project, it is also important to consider whether you have the time to complete it properly. Fitting kitchen worktops require taking a number of measurements and a lot of precise work. Doing all these tasks on your own will take you much longer than hiring kitchen renovation specialists.
Also, if you are planning to fit your own kitchen worktops you need to make sure you have all the tools that are necessary to finish the project. 
Fitting a kitchen worktop - How to do it yourself
Are you tempted to replace your old worktops and transform your kitchen yourself? Here are a few simple steps to walk you through the worktop installation process.
Gather the required tools and materials
Fitting new kitchen worktops requires not only skills and practical knowledge, but also the right equipment. So, before starting the actual installation it is essential to make sure you have all the necessary materials and tools. Here is a list of items you'll need to gather.
Notepad
Pencil
Tape measure
Utility knife
Masking tape
Spirit level
Small hand drill
Drill screws
A set of screwdrivers
Joining strips
Jigsaw
Circular saw
Sandpaper
Silicone sealant
Safety equipment (e.g. gloves, glasses, etc).
Having the right materials and tools will make the installation process smoother and faster. Also, when shopping for such items be sure to consider not only their type but also their quality. 
Take the necessary measurements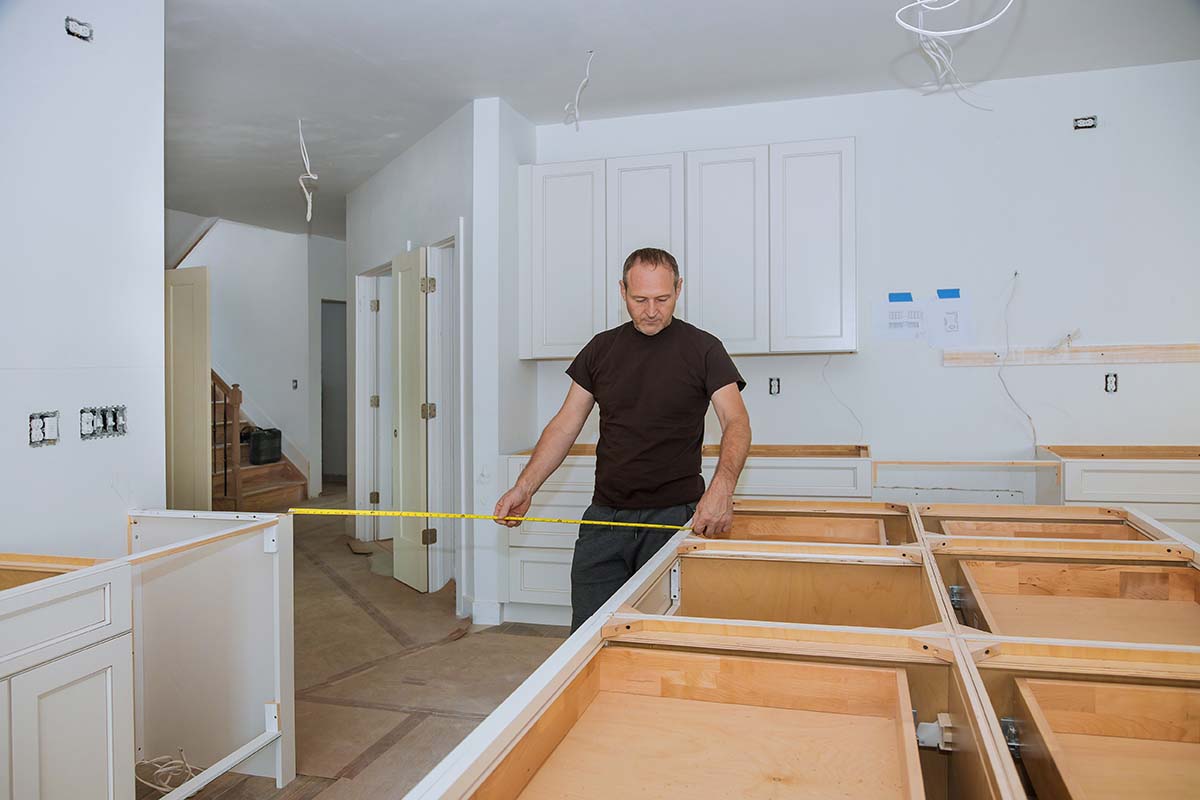 After you've gathered all of your tools, you can proceed to the next stage of the project: measurements. It is an important part of the process because it will help you determine the size of your new worktop. If you buy a worktop in the exact size you require, you can proceed to the next step. Otherwise, follow the steps below.
Measure the length of the work surface starting from the left end to the right.
Measure the width of the work surface where the worktop will be installed.
Measure the width, height and depth of the cabinets as well as the distance between the cabinets.
Measure any cuts or notches required for a sink, hob, or other fixtures
These measurements will help ensure that the worktop is the right size for the space. It is critical to accurately measure in order to avoid having to make costly cuts or modifications.
Mark and cut the worktop
Carefully mark where you should cut your worktop. You can draw the cutting lines with a pencil or use masking tape if working on a darker surface. Then start trimming your worktop using a saw.  A circular saw is usually best for cutting the worktop, especially when it comes to stone materials. However, if you have to cut a wood or laminate worktop then you may use a jigsaw. For more precise lines you can clamp a straight edge to guide the saw. Be sure to trim upside down so that you can hide the cuts against the wall or underneath a joining strip. It is important that the cuts you make are straight and accurate. You may want to practice on a small worktop section first.
To make a cut for a sink or any other fixture you first need to take accurate measurements. You can place the sink over your worktop (make sure it is straight and the bowl of the sink fits centrally) and draw the cutting lines. Be sure to measure and mark the depth of the lip of the sink. That is the overlap required for the fixture to sit on the worktop and not fall through the hole. Then use a circular saw to make a straight cut along the marked lines. To make the holes for the sink use a jigsaw or a hole saw. Sand all cut edges of the worktop to achieve a smooth finish.
Install your new worktop
Apply a continuous bead of silicone caulk to the top edge of the base cabinets. Place the worktop on the kitchen cabinets, making sure it is flush against the wall, and press down to ensure a good seal. Use clamps or screws to secure and fix the worktop to the cabinets.
Once your worktop is in place it is time to fit the kitchen sink. To do so you first need to apply a bead of silicone caulk to the bottom edge of the sink and then position it on the worktop. Press down evenly to ensure a good seal. Make sure to secure the sink to the worktop with clips or screws provided by the manufacturer. Use a putty knife to smooth the caulk and remove excess sealant.
Cover the edges of the worktop
You can use various types of finishing strips to cover the edges of your kitchen worktop. You can use a plastic, metal or matching laminate strip. You may also choose to attach a wooden trim to achieve a more traditional look. For solid wood worktops, the edge can be finished by creating a seamless joint between the worktop and the edge.
The first thing you should do is measure the exposed edge of your worktop. Then you will need to cut the finishing strip leaving a few mm extra. Then apply contact adhesive over the strip and over the free edge. Wait 10 to 15 minutes until the glue is dry to the touch and then attach the strip to the edge of the worktop. Wait for the adhesive to set and sand the excess flush to the worktop.
Finally, apply a sealant or silicone adhesive to the edges and any seams to create a waterproof seal. 
Please note! When cutting and handling the worktop, remember to use necessary safety precautions such as gloves and eye protection. If you are unsure about your ability to install the worktops, it may be best to hire a professional.
How to fit a kitchen worktop corner joint?
Joining worktop pieces together can be done by using a joining strip. You can usually buy them from home improvement stores or online. One of the easiest types to use is aluminium joining strips. You won't have to drill holes if you use such strips because they are usually pre-drilled.
Here is a quick step by step guide on how to connect two worktops together.
Measure the width of the worktop and mark it on the joining strip.
Cut the strip to the desired length.
Attach the joining strip to the worktop with screws.
Put the other worktop pieces into position, then lay the next piece on the supports. The edges should be filed down as necessary.
Get a drill bit whose depth is less than that of the worktop. It is very important to choose a drill bit with the right depth because a long one can damage the top of the worktop.
Make three holes in each support and then connect the supports to the worktop with screws.
Another way to join two pieces of worktop together is through mitre joints. However, this is a quite delicate job because it includes cutting shapes into the worktop's edges with a jig. So, if you choose this type of worktop joint it might be better to call professional kitchen fitters.
How to fit a kitchen worktop without cabinets?
Here are some ideas and tips on how you can fit a kitchen worktop without cabinets. You may be interested in our guide on the most popular kitchen cabinet styles.
Wall-mounted brackets. One way to install kitchen worktops without cabinets is with the help of metal brackets. You can fix them to the wall and then mount the worktop on the top, securing it with screws.
Freestanding legs. To create such a freestanding unit you can attach metal legs to the underside of the worktop.
Countertop supports. These are metal brackets designed to support the weight of a worktop without the need for cabinets.
Island unit. The worktop can be used as a standalone island unit in the middle of the kitchen. This is a great way to create more counter space.
Brace the back. If you want to place the worktop going against a wall, you can brace it with a wooden or metal panel fixed to the wall to provide support.
Make sure the worktop is level and securely attached to the wall or legs to avoid shifting or sagging.
How much does it cost to fit a kitchen worktop?
Installing a new kitchen worktop in the UK can cost anywhere from £300 to £1,000 or more. How much you will pay usually depends on various factors such as the type of worktop, the complexity of the installation, and the location. Keep in mind that it is always better to look for a local kitchen worktop supplier and installer. Average hourly rates for kitchen worktop fitters are around £30 - £40 per hour. It is also possible that they will charge you a day rate, which is normally between £100 and £250 per day.
Even though replacing kitchen worktops on your own usually appears to be less expensive, it requires skill and experience. If you do not complete the task correctly, you may end up spending more money rather than saving it. If you are unsure or inexperienced, it is best to seek help from a company specialising in fitting kitchen worktops. Hiring a professional ensures that the worktop is installed correctly, safely, and to a high standard, and can save you time and money in the long run if errors are avoided.
Looking for a more affordable way to update your old worktop? Here are some budget ideas to inspire you: https://acekitchen.co.uk/kitchen-worktop-refurbishment-how-update-kitche....
How long does it take to fit a kitchen worktop?
The time it takes to update your kitchen with new worktops varies depending on the size of the worktop and kitchen as well as the complexity of the installation. The project can take anywhere from half a day to several days on average. There are several factors that can affect the time including the number of cuts required, the type of worktop material, and the number of joints needed. Replacement of old worktops may take more than one day if you are doing it yourself. Hiring a professional can speed up the process, as they will have the experience and tools necessary to complete the job efficiently.
What are the best kitchen worktops?
It depends on your individual needs and preferences on what type of kitchen worktop is best for you. Among the most popular choices are:
Quartz. These worktops come in a variety of colours and patterns. They are long-lasting and require little upkeep.
Granite. It is a natural stone of exceptional quality and durability. The surface is also heat resistant and simple to clean.
Laminate. If you're looking for a low-cost option, laminate worktops might be a good choice. They are available in a wide variety of colours and patterns and are also simple to clean. One of the drawbacks of this type of worktop surface is that it is more prone to damage.
Solid Wood. It is a natural material that can add warmth and comfort to your kitchen. However, wooden worktops do require some maintenance to stay in good condition. You should also keep in mind that they are susceptible to scratches and warping.
Stainless Steel. It is a durable and hygienic worktop, durable. Nonetheless, it is prone to scratches and is quite expensive.
The best kitchen worktop will depend on your lifestyle, budget, and personal taste. Consider factors such as durability, maintenance, appearance, and cost when choosing a kitchen worktop.
We have a variety of materials to meet your specific requirements. We are also specialized in supplying and installing kitchen worktops around the UK. If you need help or advice do not hesitate to contact us. Our team is always happy to assist you.