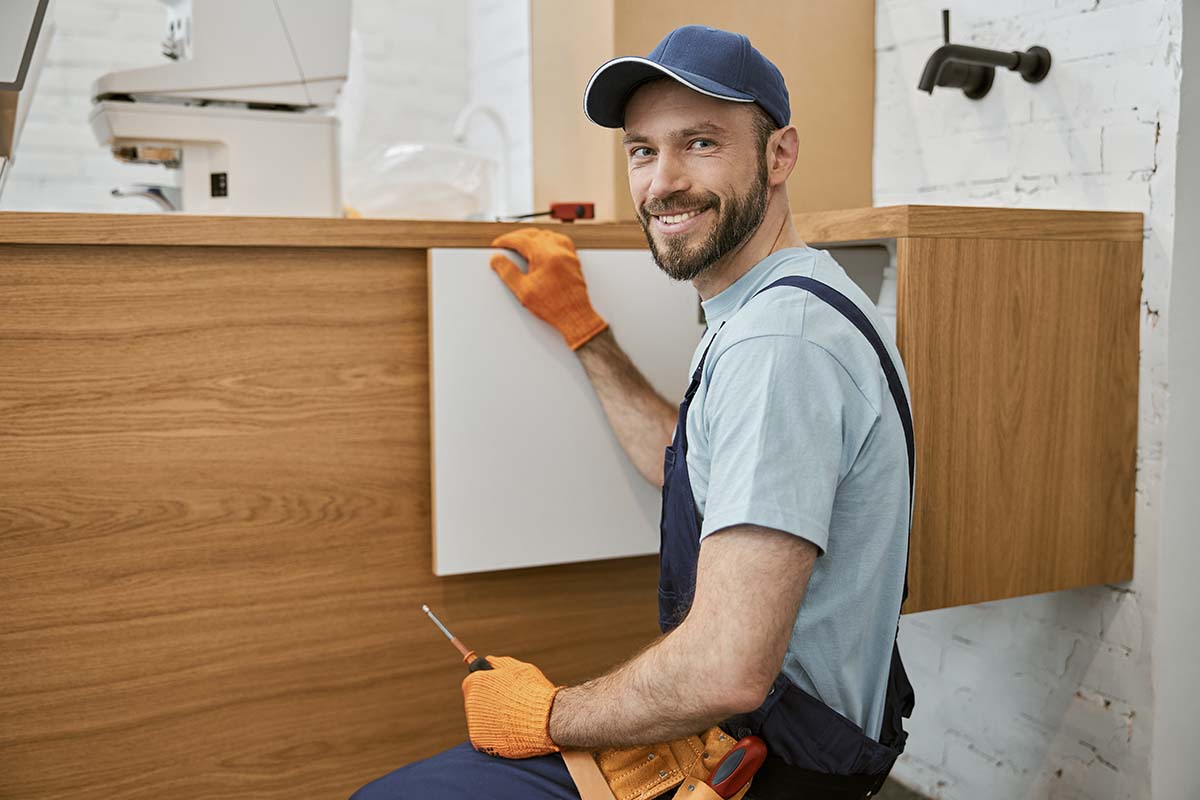 Kitchen cabinet refacing by replacing existing doors with new ones is a very popular alternative to buying and installing a whole new kitchen. It is a less expensive way to update the look of your kitchen and add some personal touches. Replacement kitchen cupboard doors can save you up to 50% off the cost of new cabinets and take less than half the time to complete.
In this article, we will go over the various types of cupboard doors that you can use to give a fresh new look to your kitchen. If you need any additional information or assistance with your kitchen cabinet refacing project, feel free to contact Ace Kitchens.
Made to measure replacement doors in Surrey
We specialize in the supply and installation of new bespoke kitchens, as well as made-to-measure replacement kitchen doors and drawer fronts. We have a wide range of door styles, colours, and finishes suiting everyone's needs, tastes, and budget.
Our experts can show you various options, take the necessary measurements, and give you with a free estimate. We can provide replacement kitchen doors and drawers while retaining the existing kitchen units. Do not hesitate to book your free consultation with us regarding your kitchen renovation and door replacement!
Types of kitchen cupboard doors
When it comes to replacement kitchen doors, you have a lot of options. Doors are available in a large range of styles and finishes, as well as a variety of materials. Here, we will provide you with some basic information about the different types of kitchen doors.
Kitchen cabinet doors styles
One of the most important decisions you have to make when planning a kitchen makeover is whether you want your new kitchen to look more modern or more traditional and classic. Here are some of the door styles you can choose from.
Shaker doors
Shaker style is always a good choice when you want to achieve traditional kitchen design. Typically, shaker kitchen doors have a square cut detail in the centre of the door between the frame and flat panel, or there is often a slight bevel in this area. Such a type of kitchen door is also known as a five-piece door because it is made up of five pieces, four on either side of the frame (end panels) and one in the middle.
Shaker-style doors can give a kitchen a very traditional and cosy feel. They can be made of a variety of materials, but most people prefer wood. However, when considering solid wood shaker doors, you should bear in mind that they tend to be more expensive.
Slab (flat) doors
Flat or slab kitchen doors are just the opposite of shaker-style doors. They have flat surfaces with no end panels. These types of kitchen doors are an excellent choice if you want to create a modern kitchen. They can give the room a minimalistic, contemporary appearance.
Kitchen doors with flat panels can be more budget-friendly than those with shaker panels. However, it will greatly depend on what material and finish you choose.
Integrated handle cabinet doors
With modern and minimalist kitchen designs gaining a lot of attention lately, integrated handles and handless doors are becoming increasingly popular. This door type has no handles on the front surface, giving the kitchen a very simple, minimal, and contemporary appearance.
The biggest issue with these kinds of doors is that they tend to accumulate more crumbs and fingerprints since they are frequently touched. In this instance, you may need more time to clean those doors, especially if they have a high gloss finish.
Kitchen cabinet door materials
When looking for quality replacement kitchen doors, one of the most important factors to consider is the materials used and, of course, the craftsmanship. Doors can be made out of a variety of materials. Here are a few of the most commonly used ones.
Medium density fibreboard (MDF)
MDF is one of the most widely used materials for kitchens and bedrooms. It's not surprising given the numerous advantages it provides. It is a strong, long-lasting, and dense material that will not warp due to humidity or crack due to temperature changes.
MDF is an ideal core material for achieving a perfectly smooth and consistent paint finish. It could be an excellent choice for new replacement kitchen doors.
Wood
Choosing wood replacement kitchen doors can be an excellent way to incorporate the beauty of natural materials into your kitchen, while also giving it a more traditional appearance. Aside from their attractive appearance, such doors are also strong and long-lasting.
There are numerous wood materials to choose from, including Maple, Birch, Cherry, and Oak. It is possible to paint or stain them. You can paint or stain them to prevent dark patches from appearing and to minimize any wood defects such as knots or discolouration.
Melamine-faced chipboard (MFC)
If you don't want to spend a lot of money on new kitchen doors and drawer fronts, melamine-faced chipboard is a good alternative. This is one of the most affordable materials. It consists of a laminated material bonded to a chipboard core. MFC kitchen doors are usually lightweight and simple to clean.
However, if you choose this material for your new doors, you should be aware that it only comes in flat panels. Another thing to keep in mind is that MFC doors can be more prone to chips and knocks than MDF and wood doors.
Kitchen cabinet door finishes
When selecting kitchen cupboard doors, you must consider not only the style and material, but also the sheen or finish. Here are the door finishes you can choose from.
Matt finish
Despite the fact that matt door finishes have been used for decades, they are now more popular than ever. Such cabinet doors can give your new kitchen a very chic, traditional appearance. In addition, they can hide smudges and fingerprints better than glossy surfaces.
The matt-finish surface absorbs light rather than reflects it. So if you want to achieve a more cosy and muted look, matt finish replacement doors are the way to go.
However, you need to keep in mind that in some cases such doors can make the space feel smaller. This is especially true if you opt for darker matt kitchen doors.
Glossy finish
Glossy finishes are the exact opposite of matte finishes. They are typically associated with contemporary kitchen design. Glossy finishes are more commonly used with flat cabinet doors.
The glossy surfaces have the ability to reflect light. Adding such doors to a smaller kitchen can make it seem larger and brighter. This is especially true for white glossy cabinet doors.
One disadvantage of glossy finishes is that fingerprints and smudges are much more visible, necessitating frequent and thorough cleaning.
Semi-gloss finish
If you can't decide between a matt or glossy replacement kitchen door, why not go with something in between? Semi-gloss finishes are not too flat or muted, as well as not too shiny. They can work well in any kitchen style.
Such door finishes combine some advantages and disadvantages of both gloss and matt kitchen cupboard doors.
How much does it cost to replace kitchen cabinet doors UK?
The cost of kitchen cupboard doors in the UK can vary greatly, depending on a number of factors. In addition to the size of your kitchen, the style, material, and finish you choose for your doors and drawers will significantly affect the price of the project.
To give you a general idea, a single kitchen door may cost you anywhere between £30 and £50. For a kitchen drawer, you can expect to pay £20 or £30. This means that if your kitchen is of average size or has about 11 units, your new kitchen doors will likely cost between £300 and £600. This is far less expensive than replacing the entire kitchen. In terms of labour cost, it is best to check out with local kitchen fitters. They are able to provide you with a more accurate price quote.
Our team, at Ace Kitchen, is happy to offer a free consultation and quote upon request. We have a large selection of kitchen cabinet doors in a variety of price ranges to suit any budget. So, if you need kitchen fitters in London, please contact us and schedule your appointment.
How to choose the perfect kitchen doors?
Whether you are planning a simple kitchen makeover, such as refacing cabinet doors, or a complete transformation, the first thing you must consider is your budget. You should decide how much money you are willing to spend for the replacement kitchen door project and this will help you narrow down your options.
Next, you have to think about the kitchen style you want to achieve. It is an essential step in selecting replacement kitchen doors. Consider whether you want to have a classic kitchen with wood shaker-style doors or a more modern kitchen with flat panel doors. Make sure you choose a design that matches the design of the rest kitchen units such as the worktops and cabinets as well as with the rest of the room in case you have an open-plan kitchen.
Knowing what style you want to go with will help you narrow down the options available as well as choose the right colour and finish. You can also start exploring our doors collection on our website. We offer a wide variety of kitchen doors, all of which are manufactured locally in a controlled workshop and come in a variety of price ranges to suit any budget.
If you need assistance in choosing the kitchen doors feel free to schedule a consultation with us. Our experts will be happy to guide you throughout the process.
How to measure kitchen doors?
Ideally, you should leave this job to professional kitchen fitters. Measuring kitchen doors is not as simple as it appears. Taking correct sizing is vital as it will ensure that your doors open and close smoothly. It will also provide a uniform appearance throughout the entire row of cabinets, making it appear as if those are the original doors, panels, and hinges.
However, if you are still considering tackling this job on your own there are some important things you need to know in order to measure doors correctly. Here are some tips to follow.
Measure the back of your doors instead of measuring the front.
Start measuring the height first and then continue with the width.
Make sure to measure each door and drawer separately.
Do not forget to take into account whether your doors will be right or left-handed.
Measure and specify the position of your hinge holes.
Measure your drawer fronts and calculate their sizes.
Read our article about how to measure kitchen doors and drawer fronts for more information. If you require any further assistance or questions you'd like answers to about kitchen renovation in Surrey as well as specific kitchen door styles, types and the replacement process - give us a call and one of our expert staff will gladly provide all the information you require!
Frequently asked questions
Is it cheaper to just replace kitchen doors?
Yes, it is much cheaper than installing a completely new kitchen. By simply replacing your kitchen cabinet doors you can save up to half of the price of new cupboards. It's an excellent way to give your outdated kitchen a new lease on life.
What are standard size kitchen doors?
A 60 cm kitchen door is usually the most common size. However, the widths of 30 cm, 40 cm, 80 cm, and 100 cm are also considered standard sizes.
Which type of door is best for kitchen?
MDF and solid wood kitchen doors are usually of high quality and can produce stunning results. They come in a variety of styles, colours, and finishes. What kind of replacement door you need will depend on your preferences and how you envision your dream kitchen.
Can you replace one kitchen cabinet door?
Yes, you can replace just one door if something goes wrong with it. As specialists in replacement doors, Ace Kitchens is able to help with both replacements of a single door and complete kitchens.