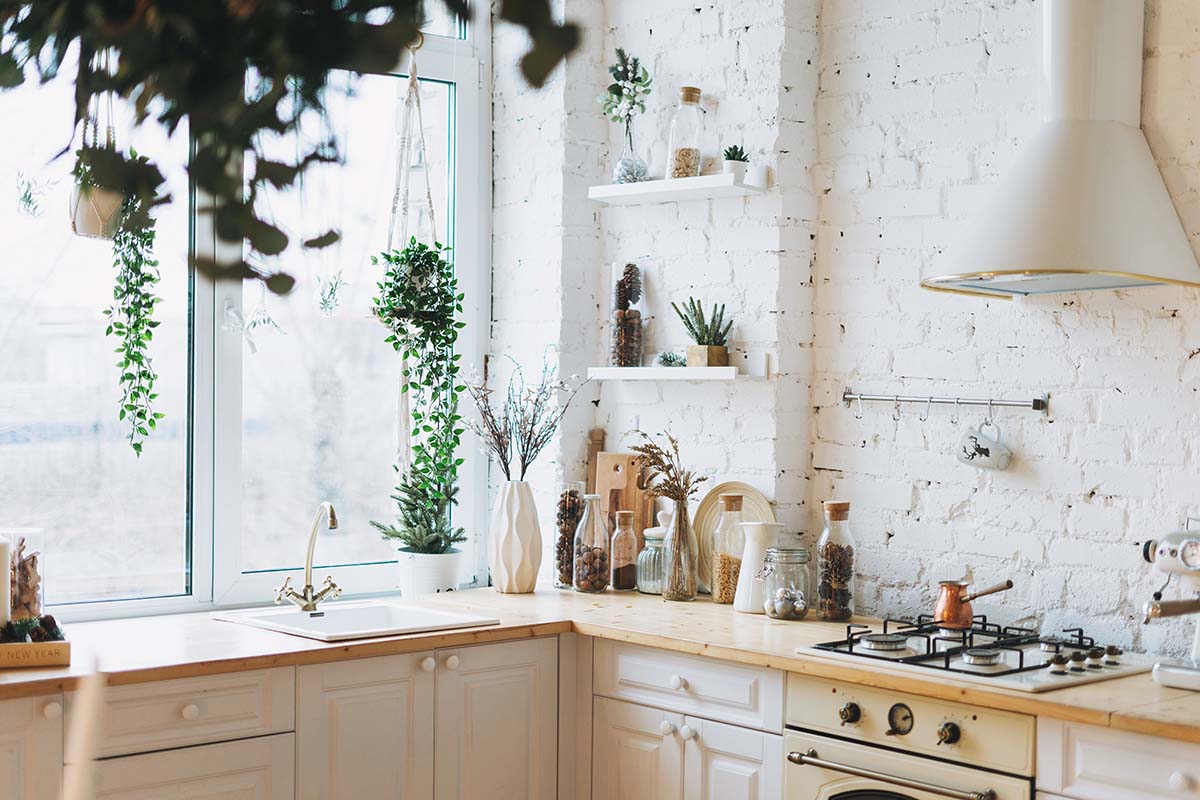 If changes are to be made to the energy efficiency of a property, it makes sense to start with the kitchen because it is often the room with the most appliances. A single refrigerator uses almost 14% of a house's energy. You don't have to be an eco-warrior to make a greener kitchen. It doesn't take more than some common sense and a lot of commitment.
Designing your kitchen with sustainability in mind should be your priority, considering the state of the environment these days. So, if you are already thinking about that, we suggest you have a look at this post where we talk about how you can make your kitchen less environmentally harmful. Check it out.
Key Takeaways about Sustainable Materials for a New Kitchen
Incorporating green habits and materials into your kitchen can be an expensive undertaking at the beginning that will prove to save money in the long run
The main focus should be on replacing your appliances, choosing the materials carefully, and working to reduce waste in a clever way
When it comes to designing materials, bamboo, cork, tiles glass, and hardwood are your best bet even though some of them may cost the earth
Lighting is another area where you can improve by opting for LED lights
When shopping for new stuff, look for qualities like recyclable packaging, renewable energy systems, carbon neutral and reforestation programmes (the brand is also crucial, although not the most important thing to consider)
What is a Sustainable Kitchen?
Sustainable kitchens incorporate choices and ideas that protect the environment with respect to the design, food preparation, and cooking. You can also come across the terms green kitchen design, sustainable kitchen remodeling and environmentally friendly kitchen renovation.
The goal of sustainability is to reduce the impact we leave on nature and the way to do that is to switch to energy-efficient appliances and sustainable natural materials like bamboo for just about everything in the kitchen.
Why Is It Important to Have a Sustainable and Eco-friendly Kitchen? Benefits of Eco-friendly Kitchens:
Reduce the carbon footprint of your family
Save time by using top-quality appliances
Reduce energy and water use
Save money in the long run
First and foremost, sustainable kitchen remodelling reduces the impact on the environment, which is great for all humanity. It can help us lead better and healthier lives. Second, it turns out to be much more economical in the long term despite that the initial investment can be exorbitant.
Using Reclaimed and Salvaged Materials in Kitchen Design: Timber and Solid Wood
A great way to get your dream kitchen to look vintage is to breathe new life into antique furniture. There are many ways to restore old furniture and professionals who do it in a spectacular way. So, before you throw it away, we recommend you check to see if it can be transformed into a new and unique piece. 
Reclaimed materials such as wood beams in an old house, timber, glass panels, recycled glass, and cobbled stones are great too. Reusing and recycling as many materials as you can is not only gentle on the environment but it can give your beautiful kitchen an amazing appearance. It's a way to achieve a rustic, classic look that new furniture simply can't.
Quality timber and solid wood should be considered for the cabinetry and worktop options. They are sturdy and durable. Plus, they look good and can last a long time. Keep in mind that not all plywood is ecological, so be sure to search for the FSC-certified logo on the package. You can get a Shaker kitchen for its timeless style.
Energy-Efficient Kitchen Appliances: Boiling Water Tap instead of a Kettle to Save Water and Energy
If you are going for a sustainable home, eco-friendly kitchen appliances are a must-have. An efficient dishwasher, for example, can use much less water than washing the dishes by hand.
But before you make a hasty purchase, ensure your appliances do need to be replaced. If it's time to say goodbye to an old unit, bear in mind that there are special take-back programmes in some areas that will help you dispose of your belongings in a proper way. And the reason you want to do that is because these units will probably contain harmful chemicals.
When shopping for new models, consider the Energy Star rating and opt for a simple design.  You don't need an extractor fan in your oven, which is - in most cases - ill-designed and therefore ineffective.
As far as refrigerators are concerned, think small. A lot of foods would last longer if they weren't in the fridge in the first place. For instance, most fruits will rot more quickly in the fridge since they secrete ethylene gas as they ripen, which remains trapped inside.
Further to this, induction hobs appear to be more efficient than gas hobs. When compared, the former are at 90% and the latter at 60%.
Last but not least, ditch the kettle and buy a boiling water tap instead. You will thank us later. You may want to get your hands on a Quooker tap. It gives you hot water instantly and is perfect no matter if you need a single cup of tea or a whole pot of hot water. The reason is that it gives the exact amount of water required. And with kettles, it seems, you often use more water than you need.
Kitchen Lighting: Long-lasting LED Lighting and Bulbs
Lighting-wise, you should take into account different factors, one of which is their energy efficiency. Even small changes like picking the right lights for your bespoke kitchen can protect the environment. Lighting technology has evolved a lot since the first light globe was invented and we currently have different options on the market, but do you know which is the best choice? 
The old incandescent units have a lifespan of about 1,000 hours. Halogen, which came to replace incandescent lights, would last a bit more - 3,000 hours. Energy-saving light fixtures were a huge breakthrough, lasting for 15,000 hours. But even the latter were dethroned by the arrival of LED lamps, which can serve you well for up to 50,000 hours. This means nothing more and nothing less than having the item on for 5 years straight. The numbers speak for themselves.
LED technologies save 75-90% of electricity, they last 25 times longer, and they are durable. The manufacturing process deserves a mention too. Traditional lamps are made with mercury, a toxic element. Unlike these, LED alternatives are not manufactured with chemicals that are toxic or harmful to the environment. This makes them recyclable.
Although the price of LEDs is higher than that of their traditional counterparts, in the end it generates significant savings. This is because its long lifespan translates to having to buy fewer bulbs. In addition, the energy savings of approximately 80% in electricity will lead to smaller electricity bills. So, the best thing you can do is swap out your old light fixtures with more modern ones in the whole house, not just the kitchen.
Kitchen Flooring: Bespoke Concrete Flooring for Sustainability
Cork, glass tile, bamboo, and sustainably sourced timber should be your considerations when choosing between floor types. Each one has its benefits and downsides. One of the biggest issues you will encounter is the cost of these new materials.
Bamboo is more expensive than hardwood per square meter. It has multiple layers and each layer adds to the price. It's water-resistant and easy to maintain.
Cork is not cheap either and tends to be costlier than laminate and vinyl. Comfort and sustainability come at a cost. The material is practical, healthy, and durable. It's also fire-resistant, which makes it ideal for kitchens.
Glass tile varies in price. The more quality and sturdy the product, the more it costs. It makes spaces feel larger so it's perfect for tight kitchens. Plus, it's easy to clean and very hygienic.
Kitchen Cabinetry: Cabinet Doors, Worktops, Pantries, and Countertops
Bamboo cabinets and wood cabinetry. Whether you use it for your cabinets or floors, you can't go wrong with bamboo. It's a renewable resource that regenerates in less than a decade. The material is much stronger than hardwood, it's better for the air quality indoors, and it will last you a lifetime alongside your existing kitchen. 
FSC- and ESP-Certified units. If you're looking for safe options for your kitchen, look for the Environment Stewardship Program (ESP) or Forest Stewardship Council (FSC) seals. This indicates that the material complies with strict environmental standards, offers good air quality, and is a renewable product.
Salvaged or reclaimed wood kitchen cabinets. Reclaimed wood is basically wood that has already been employed in building construction, while salvaged wood is used in its natural state.
Formaldehyde-free cabinets. If you want to have an environment-friendly kitchen, you should get rid of VOCs: volatile organic compounds. Formaldehyde happens to be one. It is emitted from various surfaces at home such as adhesives, lacquers, and paint. It's wise to pick water-based paints for your project.
Lyptus cabinets. This is made from a hybrid eucalyptus species and comes in a range of colour options. It grows fast and regenerates from harvested tree remains. You can have your cabinets and drawers made bespoke to your home.
If you don't like the above options, you can also consider quartz.
Kitchen Waste Management
One of the steps you can take toward good waste management is making compost. Leftovers and food waste will turn into valuable soil with this method. There are compact composters that you can use indoors if you don't have the luxury of a patio or garden. This is a smart way to put food leftovers to good use. It improves the soil and reduces the use of fertilisers and water, even for potted plants.
Another creative green kitchen idea is to go with biodegradable paper and plastic products. In fact, if you can avoid plastic, all the better. This will minimise waste. Third, reduce linen usage. Get rid of the tablecloth, runner or seat cushions to save water for washing.
Having separate bins that sort waste is a great initiative and a step in the right direction if you want to have an ecologically friendly kitchen. You'll need to separate your garbage into the following categories: plastics, metals, paper, glass, organic waste, and others.
Sustainable Kitchen Renovation Ideas on a Budget
If you are worried that taking on an eco-conscious approach to kitchen renovation will be exorbitant, here are some cheap ways to make your kitchen more environmentally friendly:
Change the lighting. Update the lights hanging from the ceiling. Consider placing your furniture where you eat and cook near the window. This way you don't have to turn off the lights every time you prep food or have a meal.
Replace kitchen cabinet elements. You can change the shelves or simply the handles for a different touch and look. This can be very economical and effective at the same time. When choosing a material, keep in mind that Melamine faced chipboard (MFC) or MDF, which is a significantly cheaper material, may have some environment-friendly qualities.
Change the colour of the table. The place where you eat is something you see every day. The easiest way to make a difference to it is by painting it another colour. A good idea is to match the colours with something else in the room.
Additional Tips on Designing a Sustainable Kitchen to Last a Lifetime
Try a pressure cooker. Without a doubt, pressure cookers are yet another way to save energy, cutting cooking time by up to 70%.
Stop pre-heating the oven since a lot of the stoves can raise the temperature so quickly that you don't need to use this option anymore.
In general, try to limit using the oven and make sure to find pots that fit the size of the burners perfectly so you don't lose heat while cooking. Stick with tight-fitting lids whenever possible. On an electric stove, for example, you will waste over 40% of the burner's heat if you place a 6-inch pot on an 8-inch burner.
Choose kitchen utensils that can stand the test of time. That means you have to get rid of the Teflon. While the debate over the health hazards of non-stick surfaces continues, there is no question that their lifespan is limited. Instead, opt for stainless steel or cast iron.
Keeping the refrigerator away from appliances that produce heat can help it consume less energy to maintain its low temperature. So, it is something important to keep in mind.
If you need to get rid of some belongings, consider selling or giving away those items that are in good condition to prevent them from ending up in landfill because that will create more waste.
FAQ on How to Create a Sustainable Kitchen to Make a Big Impact
Why chose to have a wood burner installed?
Wood burners save energy and can cut back on your electric bills, as compared to a gas fire. They can make a good environmental impact.
Conclusion
There is a point in sustainability, so if you want to make your kitchen more ecologically friendly, it will pay off over time. Not only will it save you money in the long term, but you will increase your quality of life by using less harsh materials that don't pose a threat to your health.
If you need a new kitchen, now is the time to consider ecological options. You can hire a specialist who will employ materials and practices that are responsibly sourced. Also, feel free to get a design consultation so you have an adequate plan for your project.
Designing a bespoke kitchen involves a plethora of details and steps, and you don't want to miss out on anything. Using sustainable sources, you can make sure your kitchen lasts in the decades to come, removing the need for renovation every few years. If you're not sure where to start, don't hesitate to contact us. We offer kitchens made from responsibly-sourced materials, created using the best methods and designs so don't hesitate to give us a call if you're interested in affordable and sustainable kitchen renovation in Surrey.