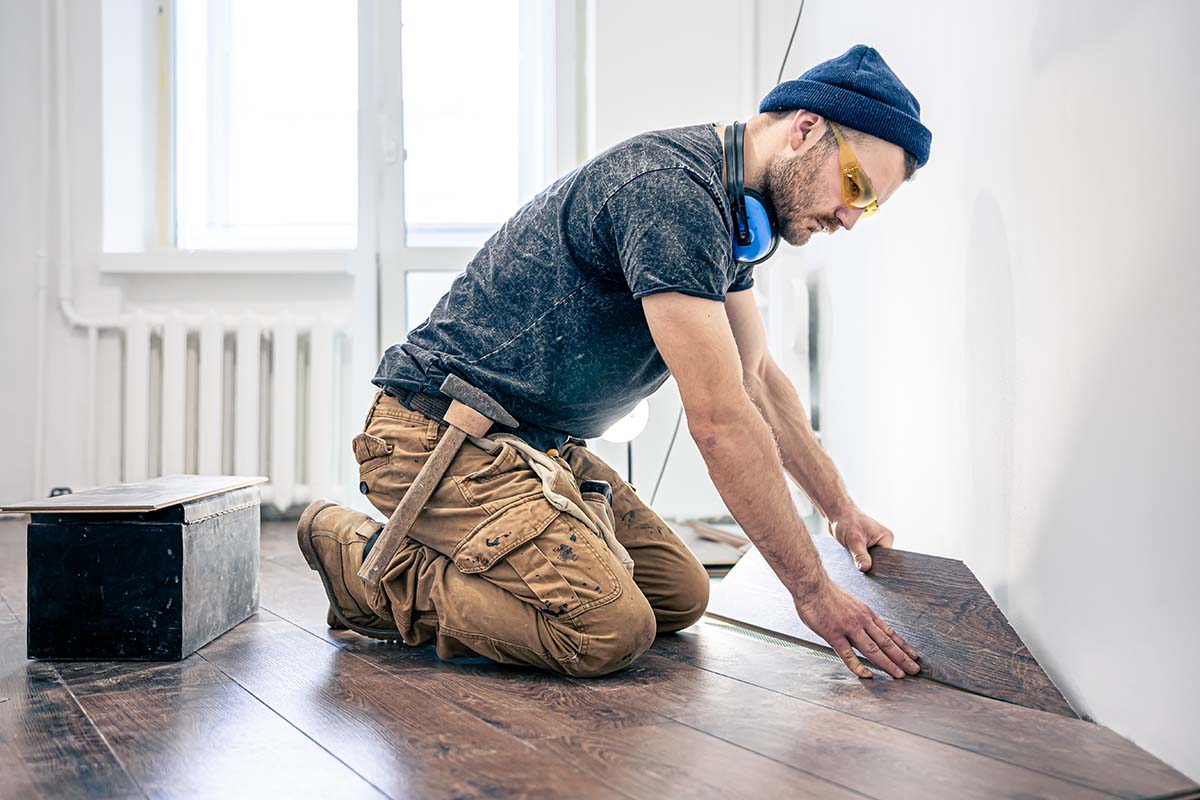 You've made up your mind about a home renovation and you are eager to get everything started but you have not secured a contractor yet. The marketplace is brimming with companies and it's almost impossible to narrow down your choices. Now what?
No worries. We can help you navigate the busy niche and pick out a builder that fits your budget, goals, and views on the subject. Keep reading to get to the gist.
How Do I Find a Reputable Contractor in My Area?
There are certain things to take into account when picking a renovation contractor.
Get references from other tradespeople
One thing is for sure, you aren't the only person on earth to ever hire a renovation contractor. Other people did it in the past too and some of them might actually be within your circle of friends, colleagues, or even neighbours. The same goes for a structural engineer, architect or other local trades that you may be working with. Don't be shy. Ask around.
You could try and reach out to the previous homeowners and see how they handled their renovations, what services they used, and which company they would recommend. It would even be better if you could talk to an employee or a subcontractor to get more details about the way the contractor managed the job. Some builders can provide previous customers' contact details.
Ask specific questions about the renovation work accomplished. How did they treat the site? Did they finish the task on time? Was the job site organised? Were the tools and materials meticulously organised?
What is more, how did they treat their employees? What does the finished product look like? If there were any changes to the contract, how did the company handle that?
Talk to your architect or designer about a building contractor
If you have already been in contact with an interior designer or architect, you can take advantage of their knowledge of the industry. They may be able to recommend you a good general contractor, or subcontractors, or help you sort through the offers you get.
If there is someone who is well acquainted with the local building scene, that's an architect. Even if they don't have any advice for you, it's still worth asking them, just in case.
Interview several house contractors
Online reviews are helpful as they can give you an overall idea of how a specialist is doing, but don't be satisfied with that. It's easy to put together a list of happy customers.
Dig deeper. Meet the contractors in person and conduct an interview, asking all the important questions and getting a sense of their approach and professionalism. See if they have recently completed a project and request photos as a means of proof. Better yet, ask if you can check out the job site.
Do a background check and verify their licence
Trustworthy contractors must have a license that allows them to work on most commercial and residential properties. A company should be willing to show its licence upon demand and it should also put its certificates on display for everyone to see.
When someone has acquired different levels of expertise, they are usually eager to demonstrate that, so you probably won't have to ask for that specifically. You just need to visit their office or check out their website for all the details you are looking to get. If they are members of trade associations, contacting the latter can provide you with more details about the person's qualifications.
Assess the estimate that your home renovation contractor provided
When you ask a company for an estimate, give it a good scan. It will help you decide whether you want to spend your money on that contractor or not. Here are some things to pay attention to:
Have any fees pertaining to your building inspector been accounted for in the estimate or do you have to add this to your budget?
Is VAT included and is it clear that it's included? (If they are not VAT-registered, you will not benefit from VAT concessions.)
Is the estimate broken down?
Does it have all the things that you asked for?
Are all the materials and labour mentioned separately so you have a good breakdown of the different costs?
Is there going to be a project manager for a stress-free experience, or are you going to have to handle that task yourself?
Is there something that you don't understand?
Do you see a Health & Safety report in the cost?
Are there any site meetings with your builder in that estimate? How many are they?
Are skips and waste included?
If you don't know the answers to some of these questions, be sure to ask the company for a detailed explanation. Good builders are thorough and clear. If you don't want to turn your extension or self-build into a disaster, take the above factors into account.
See if your renovation contractor is a good fit
When you obtain estimates from several contractors, it's time to sit down and do some thinking. Check out their offers and compare. Where are they based and will they be able to deliver the service they provide? Do they currently have other ongoing projects that they have to juggle between?
Also, what is their past experience? Ideally, you will hire someone with a slew of finished restorations under their belt but if that's not possible, try to find a home renovation contractor who is committed. But don't just choose someone with a bunch of projects; see if they have worked on a project that is similar to yours so you know if that's the best builder for you.
Lastly, you need to investigate whether that person or company is a subcontractor or a member of a local trade organisation or trade association.
Sign a written contract
The contract should protect your interests and your contractor's interests alike, rather than one side of the negotiations.
The agreement is not just about a fair price and the general timeline of the project. There is much more involved that you should put on paper.
For example, the contract should be very specific about what building materials the company is going to use and supply, what kind of warranty comes with these materials, what methods and approaches are going to be incorporated, etc.
Will there be subcontractors? Put down a list of their responsibilities. Don't be hesitant to add any details that are important to you regarding your home improvement.
Remember, everything is negotiable. If the company doesn't want to make some of the changes you put on the table, you are free to walk away. Find someone else.
The other thing you should not forget to include in the contract is if you are expected to talk to future clients about the job that the company did on your property. Some contractors are proud to show off their projects to others and might want to use you as a referral for potential clients.
Would you be okay with that? If not, make it clear right from the start and also ensure it's in the agreement.
Additional Factors to Take into Account
One thing to take into account is if you are going to need any permits for the building and electrical work that you plan to have in your property. Perhaps one of the most important questions to ask your potential contractor is: who is going to take care of the proper permits and building regulations, such as planning permission?
If that's outside the scope of their service offerings, you should be the one securing the right insurance and licensing needed.
Second, you will probably be demanded to pay a deposit to the potential builders before they begin work. This is a normal requirement that should not take you by surprise. However, what you need to keep in mind is that you should never provide more than 10% of the total amount upfront.
With that said, it really depends on the scale of the renovation project. Sometimes you may be asked to cover up to 50% of the amount beforehand. It might be a good thing to investigate how this matter should be handled in your area so that you don't end up forking out a lot of money to a dubious contractor and never getting its worth.
Third, they should have enough cash flow to cover the costs of subcontractors.
Frequently Asked Questions
How do I choose a builder for renovations?
When it comes to finding a builder for your home improvement, there are a few options: search online; get recommendations from other people; work with your interior designer or architect to find one; talk to previous customers, etc.
How do you know if a builder is good?
There are several signs that could indicate you are dealing with the perfect contractor for your home improvement project. For starters, they have a great reputation and experience. The more time you spend working in a certain niche, the more skilled you become.
A good builder is not afraid to have a warranty policy because they are confident you will like the results. They are proud of their previous work and will never be okay with compromising quality. Not to mention, they are honest instead of vague and confusing.
Further to this, they are flexible, doing their best to fulfil your goals. Last but not least, they are insured. This way, if they go out of business, without having completed your project, you will be made payments for the work that wasn't provided.
How do I choose a builder for an extension?
Search for someone with good testimonials coming from trusted and vetted websites. Make sure they are licensed and certified for whatever building work they provide. Check if they are a member of a trading body or organisation such as the TrustMark Scheme. This is a plus. It means they have gone through a rigorous verification process by a third party.
How do I choose a contractor for bedroom renovation?
Hire someone licensed and experienced. Check references and previous projects. Don't forget to get an estimate so you can see in more detail what the service entails. This will save time because you can see upfront if they are not a good fit, and usually without having to pay a single penny. Also, ask for referrals from colleagues, friends, neighbours, and relatives. Remember to see if your potential contractors have insurance.
What do project managers do?
Project managers are in charge of planning, organising, and implementing projects all the while ensuring these are executed on time and within budget.
What is the average rate of a project manager?
On average, project managers charge £150 per hour but as you can imagine, the fee varies from area to area. Some specialists charge 12-15% of the total cost of the project. Always ask for a quote and a detailed breakdown of the work.
Final Thoughts
Now that you have gone through our tips, hopefully you have a better idea of what to expect from a contractor and what to look for in a business when it comes to renovating your house or flat. These tips apply to kitchen remodels, bedroom renovation, house extensions, tile work, conversions for an added space, and whatnot.
It is essential that you work with reliable contractors and trusted partners for whatever renovation project you have going on. At the end of the day, you should always go with your gut feeling in your search for a builder.