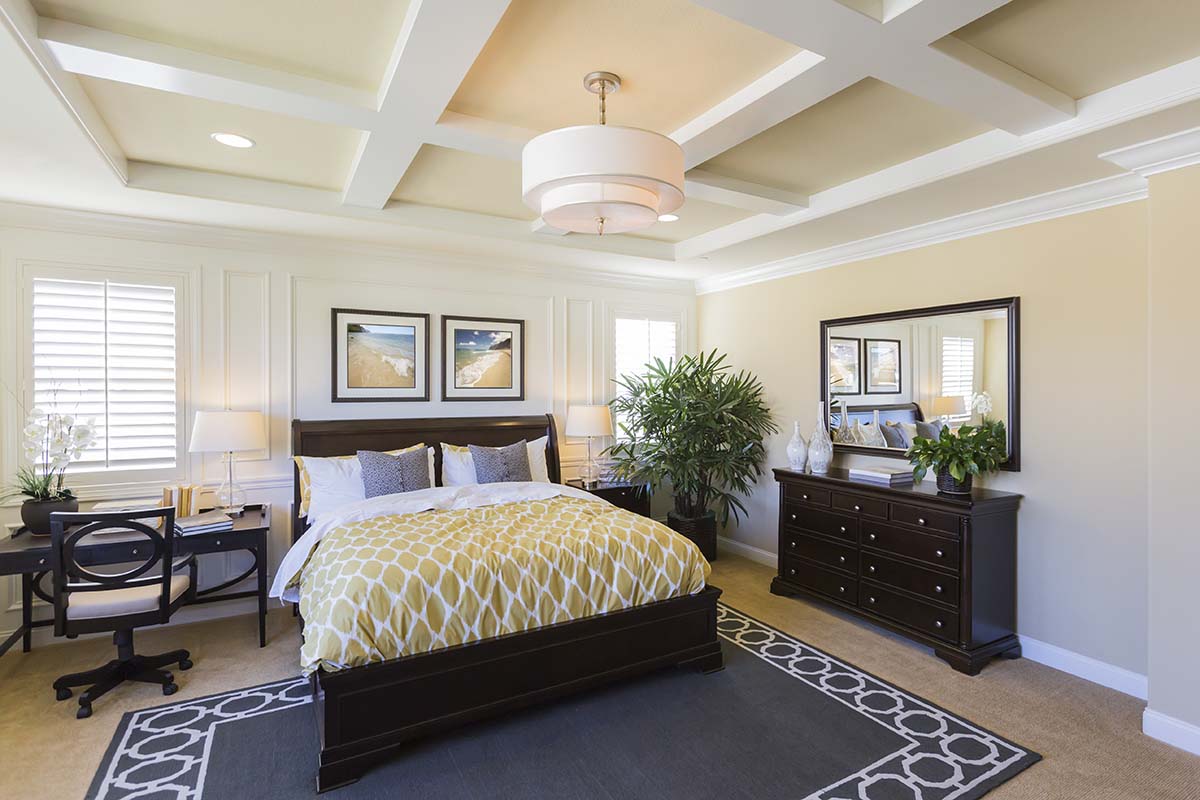 Do you feel like your master bedroom needs a do-over? Maybe the colour of the walls, which you liked before, now looks faded. Maybe the whole room has a gloomy atmosphere that does not inspire you to greet the new day with a smile. You know it is time for bedroom renovation, but you don't know where to start.
In this article, we will offer you some renovation tips and inspiration for bedroom decorating ideas that can help you transform the space. Please keep reading!
Benefits of remodelling your master bedroom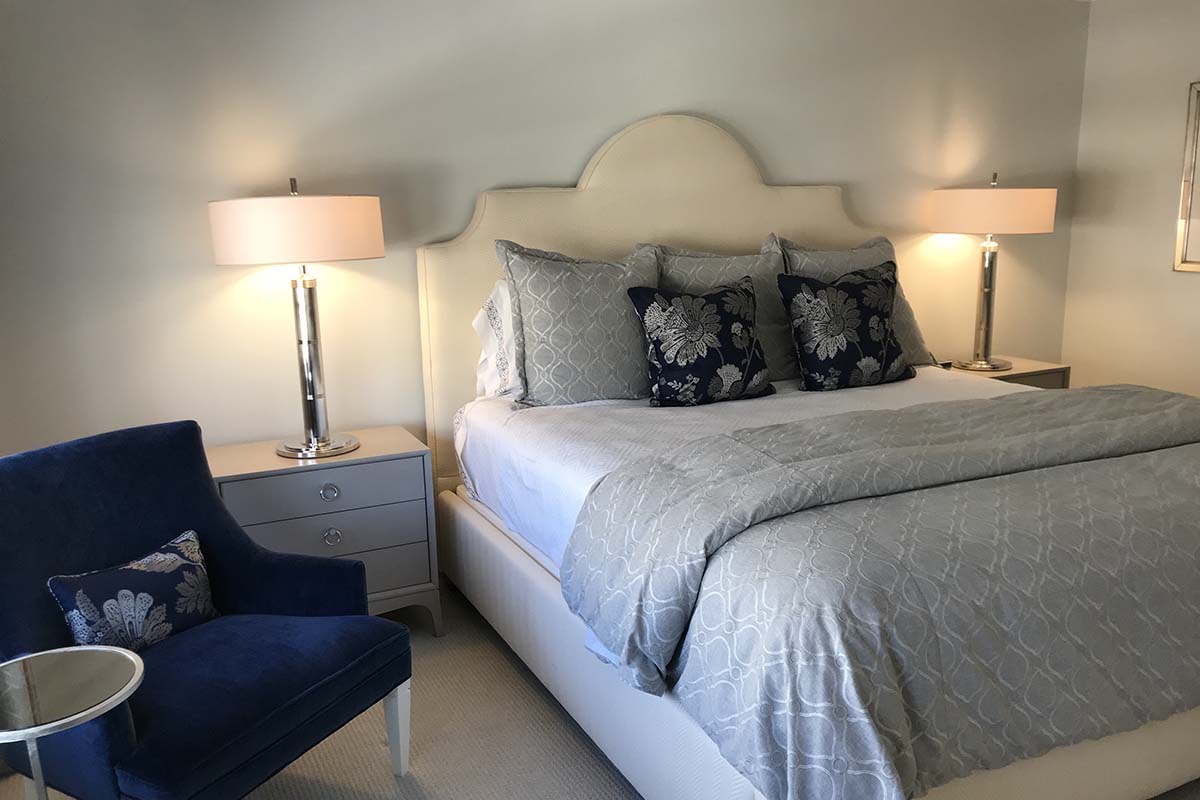 Bedroom remodelling has many benefits. It can make you feel better and more comfortable, improve your sleep quality, or give you more storage space for your favourite clothes and items.
Your bedroom is where you begin and end your day. This is the place where you spend valuable time resting and recovering from your daily activities.
Did you know that even small details like the colour scheme you choose, the textures, and each object contribute to creating the ideal environment for feeling comfortable and relaxed? A good pattern design can make an ordinary day extraordinary.
Furthermore, a nice and cosy master bedroom can significantly increase the value of your home. Even minor changes, such as installing new lighting fixtures or constructing an accent wall, can help attract new potential buyers.
Bedroom renovations are always worthwhile investments.
Bedroom remodel ideas
Here are some inspiring ideas for remodelling your master bedroom. We will include both luxury remodelling projects as well as some budget-friendly improvements.
Fresh up the paint on your walls
Painting is a cheap and easy way to give a new life to your master bedroom. Choosing the hue you like can also have an impact on your mood and feeling.
Colour is a powerful communication tool that can make us feel the way we want. It influences mood and even physiological reactions. So it is essential to pick tones that provide a calm and relaxing sensation. This applies not only to your bedroom walls but also to your bedding, furniture and other accessories.
When choosing paint colours for your bedroom you need to consider e a few key factors. Of course, first of all, you should pick a hue that you like. However, you also need to consider the size of the room, as well as its style and the colour of the other furniture and items.
Think about whether you prefer cool colours or warm colours. Cool hues such as green, blue or grey can create a calm and relaxed atmosphere. If your bedroom is not too big, it is best to stick to one, a lighter shade of cool colour. In case the room is bigger you can be more creative and combine several tones. You can create an accent wall which can act as a focal point.
If you want to bring more natural energy into your bedroom then you will not go wrong with warmer paint colours. They can make your master bedroom feel cosy and more intimate. Combining cool and warm tones is also a great way to add some personality to the room. For instance, blue can be perfectly combined with natural wood elements. It can provide contrast and warmth in the space.
Light your bedroom
Bedrooms are primarily used for sleeping. However, it is also a space where you can get dressed, read, and relax. It is a busy place even during waking hours. That is why using layers of lights makes all of these activities much easier. In addition, it significantly enhances the look of the room.
Obviously, the first thing you should consider is improving your general room lighting, or in other words the ceiling light fixture. If you want to create a more contemporary bedroom design then a pendant light is a great option. Flush -Mount ceiling fixtures are also a good choice. They can make your bedroom looks elegant and sophisticated.
Another type of lighting to consider is a chandelier. Although such fixtures are more commonly used in living rooms, they can add some romantic and elegant finishing touches to your master bedroom. However, keep in mind that placing a chandelier in a small room may not be a good idea.
In addition to ceiling lighting, consider adding recessed lighting or downlights. They can help you brighten the corners of the room. You can also use them to define a separate reading or sitting area in your bedroom. Recessed lights are also a great solution for a walk-in closet.
Replace the old fitted wardrobe doors
Do you want to renew your wardrobe without spending too much money? Replacing the old fitted doors with new ones can make a massive difference to your bedroom. Furthermore, it is much less expensive than installing a completely new wardrobe.
It is best to hire a professional remodelling service that offers made-to-measure replacement doors to complete such a bedroom improvement project. Simply look for a local contractor and ask for assistance.
Tell the specialist what you hope to accomplish and how much you are prepared to spend. The experts can help you choose the right style, finish, and color for your new wardrobe doors. They can also provide you with additional master bedroom ideas and tips to help you improve the space even more.
Invest in new bespoke furniture
Do you really want to have an eye-catching and luxury master bedroom? Then investing in a custom-built fitted wardrobe and fitted bedroom furniture is definitely worthwhile. Such pieces can really help you create the perfect bedroom that you dream of.
Bespoke furniture is made to measure furniture that is created particularly to your needs and preferences. One of the most significant advantages of these custom-made pieces is that they can be specifically designed to fit your room. You won't have to go out and look for different bedroom furniture sets and consider which one will work best in your space.
Another huge advantage of bespoke furniture is that you can get a unique master suite design. You can give your bedroom a modern, traditional, Bohemian, or minimalist look or maybe a combination of different interior styles. You can also have furniture of your choice, whether it is a unique bedside table, stylish vanity area or built-in storage. They can be made to fit in with any colour scheme.
Custom-made pieces allow you to be really creative with the design and decor of your bedroom. Just make sure to find a reliable company that offers supply and fitting of new bespoke furniture.
Upgrade the floor
When it comes to bedroom remodels, flooring is a popular thing to change. Installing a new floor can completely transform the look of your bedroom. There is a wide range of materials, colours and styles you can choose from. What you eventually decide would certainly be subject to your preferences and budget.
Carpets are one popular and affordable option for bedroom flooring. They can make the space feel warm and cosy. However, you should keep in mind that carpets can be difficult to maintain since they tend to hold too much dust and moisture.
Laminate flooring is another not expensive option. They might be a good choice if you want to emulate the appearance and feel of wood flooring without spending too much money. This type of flooring is durable and easy to maintain.
If you really want a quality and high-end option then hardwood flooring is the way to go. It is not only one of the most aesthetically elegant choices but also one that has maximum longevity. Combining wood floors with beautiful area rugs can really make your space look gorgeous.
Experiment with the decor
Looking for quick and easy bedroom decorating ideas? There are some simple changes you can make in order to improve your sleeping area and have sweet dreams.
Upgrade your bed. There are many ways to do so, from putting on a nice duvet cover and pillows to adding a new bed frame or a new headboard. The bed is the focal point in any bedroom, so you need to make sure it looks beautiful.
Attach floating nightstands to the wall. You can use them as an alternative to a side table. This is a great way to save space if you have a small bedroom.
Add wood panelling to your ceiling. It is an excellent way to improve your master suite. You can combine the wood panelling with striking light fixtures to create a beautiful and calming atmosphere.
Put on a cosy window seat. This can be a great addition in case there is a big window in your bedroom. It is not only an aesthetically pleasing solution but it can also act as hidden storage.
Liven up your bedroom with house plants. It is a cheap and simple way to add character and personal touches to your bedroom design.
If you need some more inspirational bedroom decorating ideas, then please see this article: https://acekitchen.co.uk/how-decorate-your-bedroom
Where do you start when renovating your bedroom?
Here are a few things you should consider before tackling any bedroom remodel project.
Plan your new bedroom
The first thing you need to do before you even start anything is to make a plan. Having a clear vision of what is going to happen, what you want to accomplish, and how you will do it is very important.
Take a look around your space and consider what you don't like about it. What would you like to change? Maybe you would like to update your bedroom furniture, improve the decor, or paint the walls. Search online for bedroom decorating ideas or go shopping to see various furniture options.
Consider your budget
Once you get some bedroom remodel ideas and have a clear vision of what you want to do with your space, it is time to think about how much you are willing to spend.
Check the prices of the materials and items you'll need and try to estimate the total cost of the makeover. The bedroom remodel project does not always have to be costly. Small changes in bedroom design and decor can sometimes make a big difference.
Find a bedroom remodel contractor
There are some bedroom makeovers, such as painting and decorating, that you might be able to tackle on your own. However, in most cases, house improvement projects are time-consuming and also may go far beyond your current skill set.
House renovation contractors, on the other hand, have the knowledge and expertise to do the job successfully and turn your desires into great results. All you need to do is to find specialists and share your goals with them. They can give you some bedroom remodel ideas and tips so that you get the best results.
Frequently asked questions
How can I make my master bedroom look luxurious?
There are many ways to make your sleeping space look more luxurious. Here are some of the best bedroom remodel ideas:
building en suite bathroom
getting bespoke furniture
installing high-end flooring
adding hanging light fixtures
incorporating stylish accessories and other modern pieces.
You also need to make sure that your furniture choices complement the space, so it doesn't look cluttered.
How can I make my small bedroom look nice?
Your small space can also look great. Just be creative and play with the decor. Here are some bedroom ideas you can use to achieve beautiful results.
Choose lighter paint colours. Clean white walls are always a good solution
Make a mirrored wall. This will create the illusion that the bedroom feels bigger.
Add floating nightstands. This way you can have some more floor space.
Opt for made-to-measure furniture. They are great for optimizing the space.
You can also play around with the decor. Just be careful not to overcrowd the room, as this will make it appear even smaller.
What things should be in a master bedroom?
In addition to a bed frame, mattress, wardrobe and nightstands there are some other essentials to consider if you want to create a beautiful primary bedroom. You can add an accent chair, have a vanity or a study area. Consider adding a headboard to your bed, beautiful lighting on the ceiling and walls, or you can have a floor lamp. Make sure to dress up your windows and place an area rug which complements the style of the room.
How do I make my master bedroom look expensive?
Consider installing bespoke furniture to ensure that it is perfectly suited to the space. You can also improve the flooring. If you want something truly luxurious, go with real wood flooring. Be sure to pay close attention to the lighting, window treatments, over-the-bed decor, and other important details.