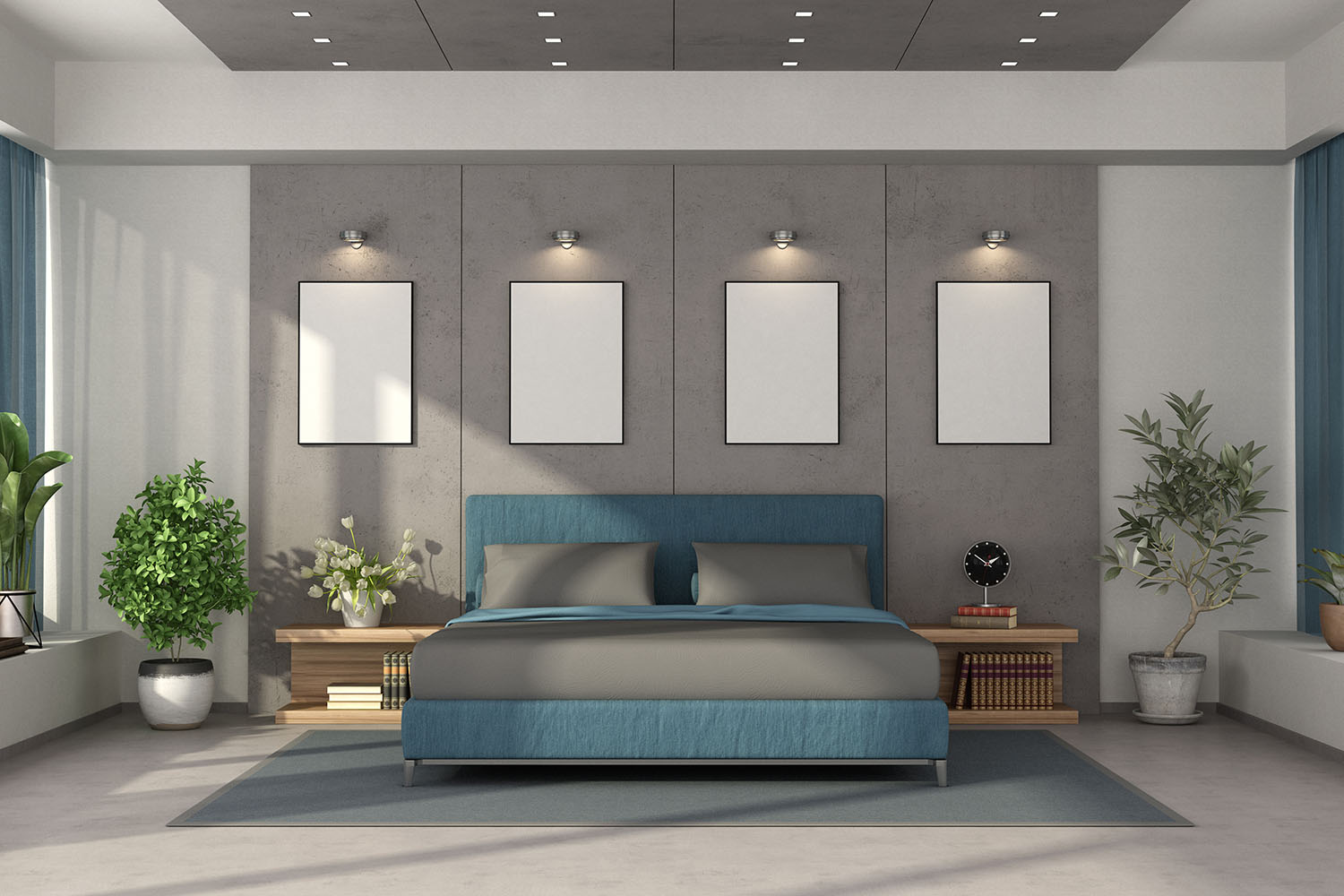 Bedroom lighting is so underrated. We tend to think about the kitchen, living room, and hallway but we rarely plan any special lights for the bedroom. Not only does it add to a more serene atmosphere, but the amount of light you let into your sleeping area can directly impact the way you rest in the arms of Morpheus. It's just as vital as the mattress you rest your body on. But if you are reading this, then you probably care. So, let us provide more clarity on the topic of spotlights in your bedroom and ambient lighting. Keep reading.
Downlights in Bedroom: Yes or No?
Let's kick it off by saying that downwards-facing lights have their place in the bedroom when they are used wisely and installed in the right nooks. Nevertheless, they should not be the only form of lighting you have in there, especially if your space is vast.
Depending on their type, position, and brightness, they will pair well with portable reading lamps, pendants, table lamps (bedside table), ceiling fans, wall sconces, etc. Bedside lighting should definitely be a part of the lighting scheme and in fact a focal point. It can be combined with a heavy ceiling fixture.
Now, how many downlights should you assemble? That is a good question. The general rule of thumb is 1 downlight per 1.4m2 of coverage, which is around 4 downlights for a standard bedroom. With respect to bedside lamps, there can be more than one on each side of your bed, whether on the wall or the headboard, or even the floor. Task lighting helps to get the most of a single area.
How to Position Downlights in a Bedroom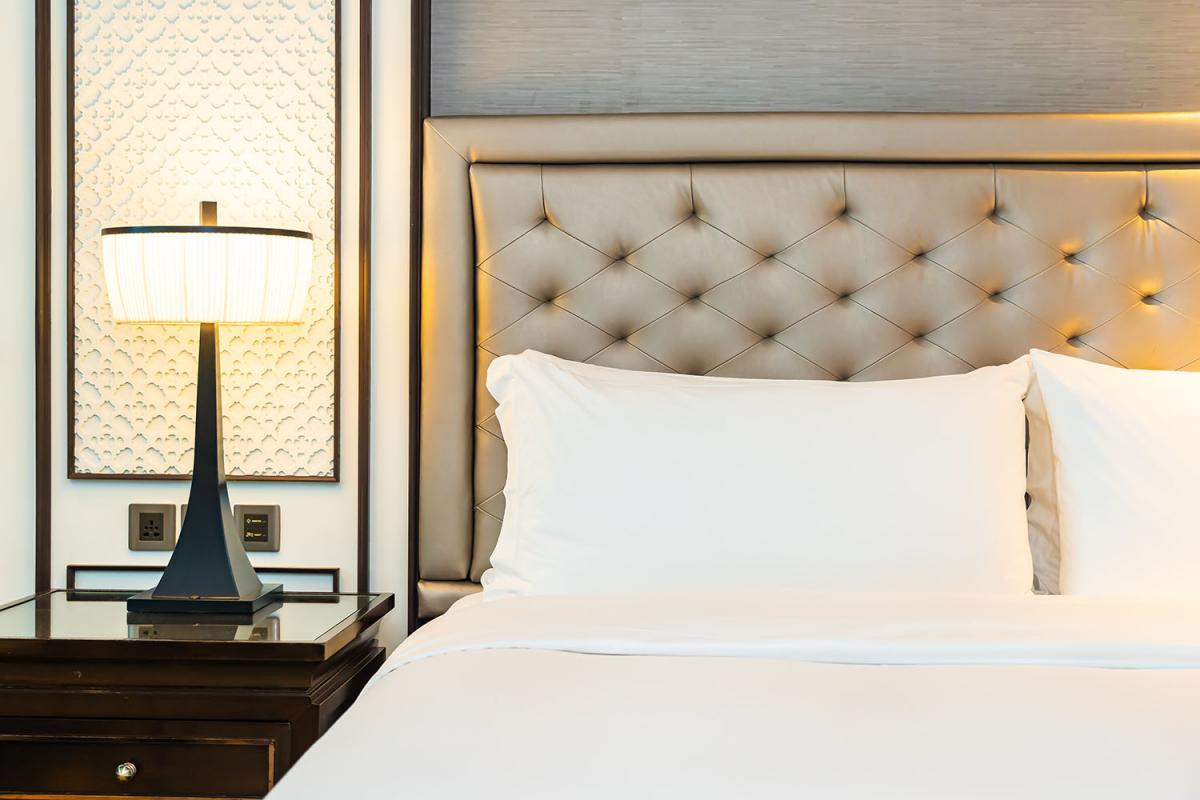 The first rule of thumb is to avoid corners and edges as this will create shadows. This applies to both bedrooms and other rooms in the house. Always leave about 2-3 feet of distance between the bulb and the wall. Second, use your bed as your starting point and work your way around the room, trying to balance every element.
That said, never suspend light directly over your head if you care about a good night's sleep. Backlighting a headboard instead would be a much better alternative. Are you an avid reader? To keep your reading spot well-lit, it's wise to settle on a bedside lamp.
Now, you want to work carefully around ceiling fans as this project can easily turn into a failure. The spinning diameter of the blades is what you should steer clear of or else it may produce a flicker effect every time the lights are on. And this will reflect the entire room.
Changing our focus to task lights. They should definitely be used in your lighting scheme. For example, a spotlight fixture would be a great pick because it has a minimalist touch to it. Not to mention, it helps you to direct light exactly where you need it for an ambient effect. Then again, it may or may not be suitable for your bedroom based on the colour scheme, overall design, your personal preferences and the activities you perform in there.
Mind you that the position of the downlights will also be determined by the tilt of the fitting and the ceiling height.
What Wattage Downlights Do I Need?
In terms of energy efficiency, you always want to stick with lower wattages. LED lights vary from 4.5 watts to 14 watts, which is much lower than what halogen bulbs have. It's important to point out that watts are in no way related to the brightness of the bulb.
Let's dwell on this for a while. You've probably heard of the terms Lumens and Kelvins and are wondering what they mean and how they affect your bulb. Kelvins are used to measure how yellow the bulb is. If you want a warm white, your best bet is to buy a bulb that has around 3,000K. If you are more into cool white, then you should go higher: 5,000K. This is more like natural daylight.
For your bedroom, it is a good idea to stick to 2,700-3,000K. If you have a special task-centric nook, feel free to put a wall lamp or a desk lamp shape, or any other type of lighting you want, that comes with 6000-6500K.
On the other hand, Lumens reflect the brightness or the output of your bulb. A candle is estimated to produce around 12 lumens. In comparison, a standard 60-watt incandescent light bulb delivers around 840 lumens. The same applies to a LED. It is estimated that a bedroom needs approximately 3,600 Lumens.
How to Choose Downlights for Your Bedroom?
LED downlight can really change the environment in your house and add more quality ambient lighting to the areas and features you use the most. They are great not only for bedrooms but for all rooms in general if you know how to use them.
First, determine the shape and type of bedroom lighting you want. Leave style and design for last.
Find bedroom lighting that suits you as a person. Do you like extravagant or minimalist? Are you the classic type? Do you prefer functional or creative? If you are all about functional, then this may not be the best option for your place.
How do you imagine your new lighting fixtures? What style do they exude? Which areas can they fit better on? Do you want a wall washing light just for the amazing effect that it has or do you want LED lights all over the place? Or is it bedside lights that you only care about? Do you have a bedside table and how do you provide lighting to it? Look at some bedroom lighting ideas online for inspiration because there is an abundance of products in the market.
What is your budget for your lighting solutions? Whether you want pendant lights, fairy lights, or table lights, floor lamps, wall lights, bedside lighting, accent lighting and even a full bedroom redesign, you won't get too far unless you can afford to buy it. Don't forget that even if you replace a lamp or two, it has to blend well with the overall lighting scheme in your bedroom. The good news is that the bedroom is reserved for you and your family. Even if you fail with the design, no one will know it but you. But you still want to make a nice and comfortable space (You may be interested in reading our guide on how to make the most out of your small bedroom)
Other Lighting Ideas to Consider
Before we wrap this up, there are some tips we would like to share with you regarding lighting in different parts of your bedroom. See, there is a difference between bedside task lighting and closet lights.
Bedroom Lighting for Dressing Table
If you own a vanity table, you'll want to put some more lighting in that area. When you apply makeup, it's more than crucial to have the right amount of light so you can see what you are doing. Now, if you work with bulbs that hit the 2,700-3,000K range, you might fail to achieve a seamless blend without even being aware. This is owing to the fact that softer light can make your skin appear more youthful and even-toned than it actually is.
The best light for makeup application is natural light. But since you will be using dressing tables, you need some LED downlights. Go for bulbs that come with 4,800-5,000K. When you have them installed, test them to see if they hit the right angle. The last thing you want is for the device to cast a shadow over your face. Wall lights work fine here. Alternatively, you can attach a few bulbs to the dressing table itself.
Bedroom Lighting in Walk-ins
Those walk-in closets could use some nice lighting too. You need proper light to see your finished look after all. The important thing to remember is that if you choose to go with bulbs that are suspended from the ceiling or racks, you have to ensure they are not blocked by your stuff. Not only will this limit the amount of lighting you get but it can also present a fire hazard. That plus, there should be 7 feet (2 metres) of clearance between the bulbs and walking areas.
Children's Room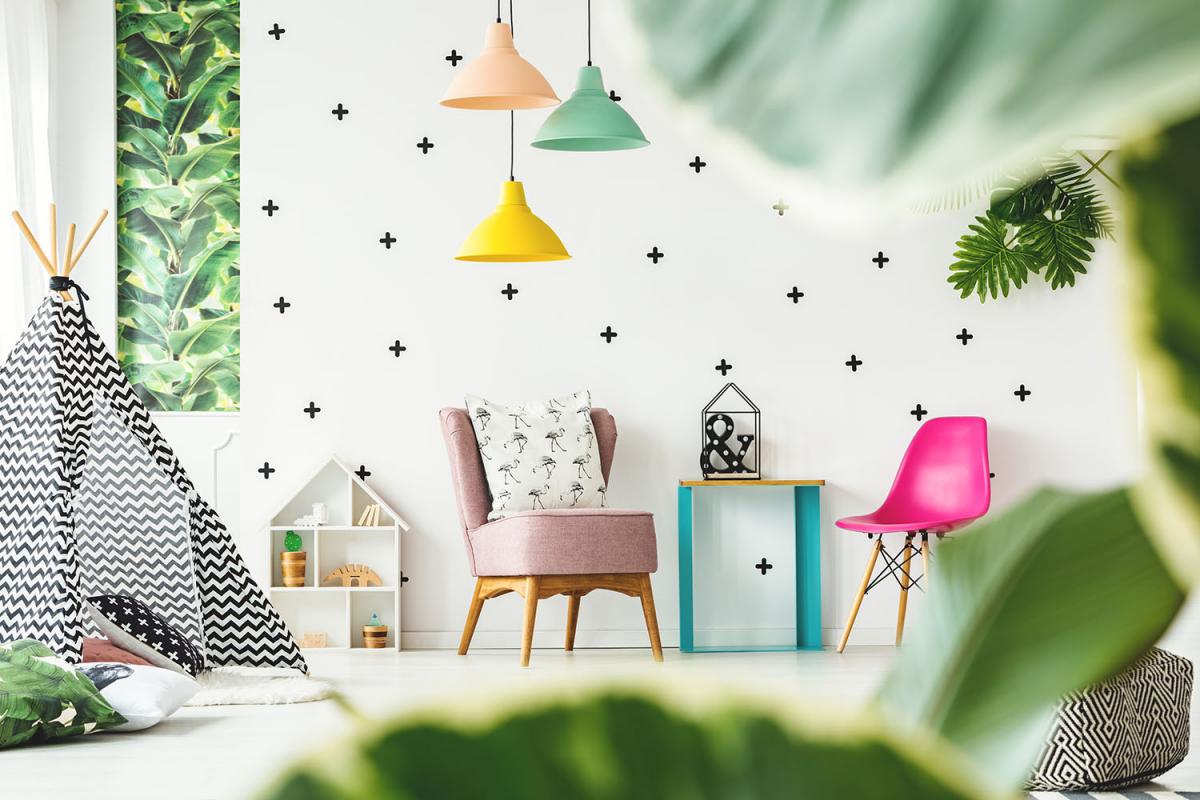 Designing a children's bedroom is much tougher than you think. You have to keep in mind that they will grow up fast and before you know it, they will not be kids anymore. Thus, you need to plan every step of the process carefully. It's likely that they lose interest in the decorations a year after you've assembled them.
Regardless of how old your offspring is, you want to keep everything simple so that you can easily upgrade when the time has come. If you feel like dolling it up a bit, you can install dim lights that your little ones can change lighting levels. This will create a relaxing yet cheerful atmosphere for sleep. Table lamps, pendant light, spotlight, wall sconce, and any type of lighting you select has to blend well with the room and make the space enjoyable.
Regulations when it comes to Spotlights in Your Bedroom
No matter the choice of downlights in a bedroom, don't forget that you need to comply with the local building regulations every time you start a decorating project. Make sure to familiarise yourself with the municipality by-laws so that you do everything right on your first try.
And this sums up the tips we have for you when it comes to the bedroom lighting portion of your bedroom makeover. Without the shadow of a doubt, this is as vital as kitchen lighting. Like everything else on the market, this one offers plenty of choice style-wise. This way you can make sure that every element in the room complements the rest all the while creating the amount of light you need. Feel free to get in touch with us for a free quote on bedroom renovation and makeovers in Surrey.