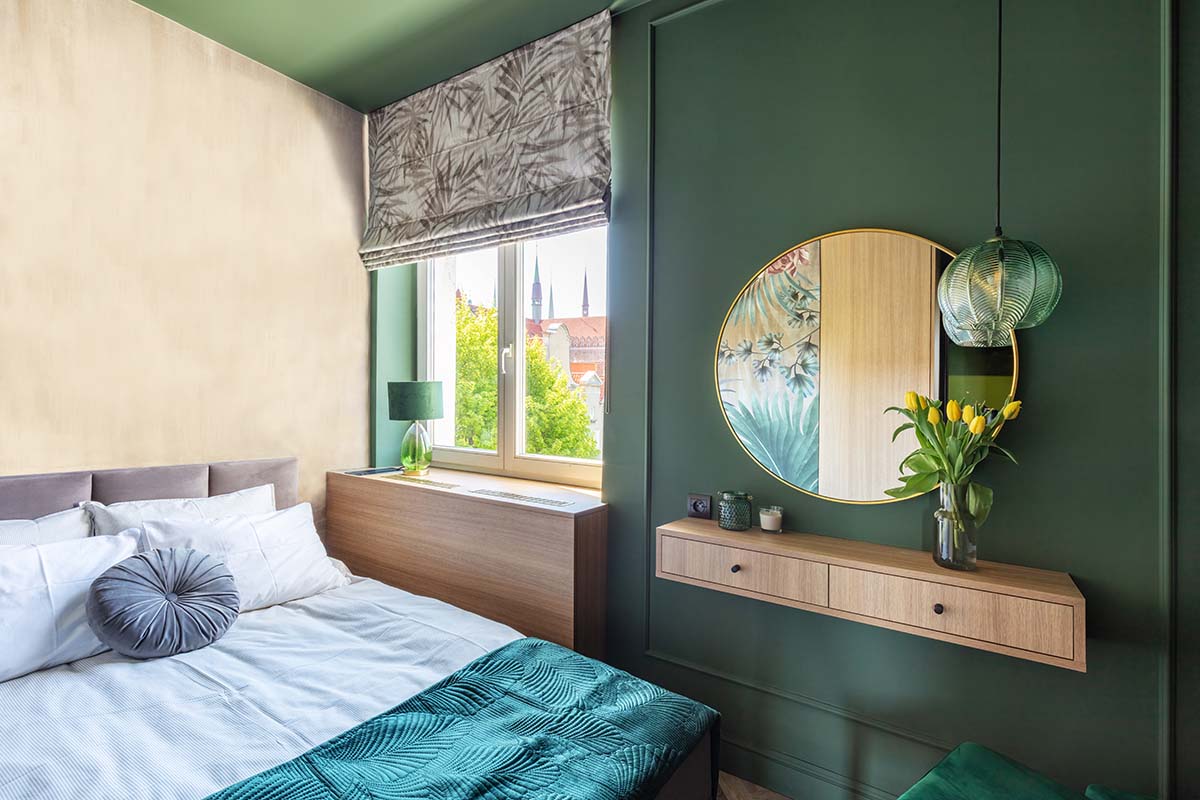 It's like we have forgotten bedrooms are supposed to be used for sleep and relaxation. We assign a tonne of different functions to them, not realising this compromises our precious slumber. Isn't it sad that the nook that should put our minds at ease is often used as a storage area?
Since it's not open to visitors, there is no rush in getting it decluttered, so we pile up possession after possession. Before we know it, this can quickly go out of hand. And when you're dealing with limited space, it presents a real challenge.
Well, if you're reading this, you are probably aware of the problem and you want to do something about it. We have a few design tips for a small room that we would like to share with you. Stick around to learn more.
Optimisation Tactics for a Small Space
If you want to optimise the space in your small bedroom, you have to go by a few rules of thumb. They go something along the lines of:
Rule number 1 - if you can't make your tiny bedroom any bigger, opt for visual tricks that will give it a spacious feel.
Rule number 2 - When crafting your small bedroom renovation plan, forgo on contrasting colours, as this will only make things worse. You want the main furniture to be a neutral colour that doesn't distract the eyes.
Rule number 3 - it's all about choosing the right height and scaling your pieces of furniture to give the illusion of space.
The tips we've accumulated in this article are going to focus on the above focal points but are in no way restricted to them. You may also be interested in reading our article breaking down the costs of bedroom renovation in the UK.
Bed Area & Small Bedroom Ideas
Let's start with the bed. You should definitely consider turning the area under your bed into under-the-bed storage where you could dump boxes full of belongings. For that to happen, you need to get your hands on one of those storage beds (unless you already have one) as they serve double duty.
To really make the most of it, measure the height that's available underneath and then find appropriate boxes to fit. Truth is, beds take up a lot of space and they should be used more intelligently. If you want a finished look, opt for pull out drawers (built-in drawers), the outsides of which match the colour of the bed.
Now, even small bedrooms need furniture that will accommodate stuff and reduce clutter. If possible, install two nightstands (bedside tables) on both sides of your bed, with nesting tables. This will not only serve as storage but also add a natural bed frame. Plus, if you utilise it as a dresser, it will save some floor space.
Also, does your small bedroom double as an office? In that case, it may be more convenient to buy a Murphy bed that is mounted to the wall and can be stored in a cabinet when not in use. Furniture stores have plenty of options. If you don't want a Murphy bed, you may think about getting a room divider that will set clear boundaries between the sleeping area and the office one.
Alternatively, you don't have a special bed for this purpose, consider adding furniture risers for small rooms so you can tuck in some drawers underneath. Some of them come with a bedside table. This will create more space for your clothes and other belongings that don't fit any other room.
Here are some more tips for the bed area in a small room:
Skip the headboard if you really have to make do with a cramped space.
Replace your normal wardrobe doors with sliding doors. This will make a difference.
If you don't have any closet space, you need to be more creative. One way to fix that is to resort to a bed frame that has built-in storage drawers. It looks good and adds style.
If you have high ceilings, a four-poster bed might give the illusion the room is bulkier. But this option won't function everywhere, so choose wisely.
When deciding on the best position for your bed, go in for the centre of one wall in lieu of letting it touch an adjacent wall.
Create a storage bench near it if the small master bedroom allows it.
Make sure to check out our bedroom collections if you're looking to do some work on your bedroom in Surrey.
Window Area in Small Bedrooms
It's best to keep window treatments to a minimum if you have a small bedroom. Select neutral shades for privacy and leave curtains for another room. If you can't bear the no-curtain rule, settle on long curtains that go as close to the ceiling as possible. And also ensure they match the colour of the wall. This will make a small room feel taller.
Adding a wide window sill is definitely going to secure extra storage space in a small bedroom. In addition to potted plants, you can also put other stuff on it, like books, souvenirs, candles, mason jars, etc.
How to Free up Valuable Floor Space in a Small Master Bedroom
When you have to make do with a tiny bedroom, each square inch matters and this applies in full to the floor space. There is something you can do about the floors, actually.
For example, if you plan to have a carpet or rug, it is advisable that you go big. Plump for an area rug that doesn't cover the place completely. Meaning, make sure it sits a few inches from the walls. For that purpose, you're going to need to measure the available space and order a custom rug. It may not add more storage, but it will breathe new life into your room.
Our second tip is, instead of a dressing table, use floating shelves as a storage space for your makeup and jewellery. That is, unless you have a small closet that allows you to install a table. While we're still at it, please don't buy floor lamps or table lamps as they occupy more space. While they work great in large areas, they will only take up valuable space. Since you can't do without lighting at night, go with sconces. We have a full guide on bedroom lighting and spotlights and how to position them for maximum efficiency.
Third, stick with hanging nightstands or ladder style shelving for your small bedroom. If you can make your bed fit in one of the nooks, this will free up lots of space as well (or you can try the trick from above where you put the item in the centre of the wall). Make use of the vertical space for extra storage. Vertical storage is so underrated. Add racks or cabinets if the design of your bedroom allows it.
And lastly, don't forget to manage clutter in your small master bedroom. Nothing makes a small space look crowded like a pile of clothes on the floor or a bunch of knick-knacks and decorations scattered around. Regardless of how much square footage you have at your disposal, it won't look good if it is packed with personal effects.
Wall and Ceiling in Small Spaces
When it comes to a small bedroom design, it is important that you don't overwhelm your wall space with decoration. This could draw the eye to the windows and create the illusion of space.
Paint the walls light colours because they will reflect light better for an airy feel. The more light, the larger the room feels. Plus, it just looks good and is relaxing.
Vertically striped wallpaper can help you exaggerate the vertical space to make the ceilings appear higher.
Another clever way to create vertical storage is to pick floor-to-ceiling furnishings and storage drawers. One of their advantages is that they have a dual purpose: they give you storage space galore and they free enough space at ground level. Not to mention, they create a uniform look helping any room feel larger.
Read our painting and decorating tips for more information.
Mirrors and Natural Light for a Small Bedroom Design Style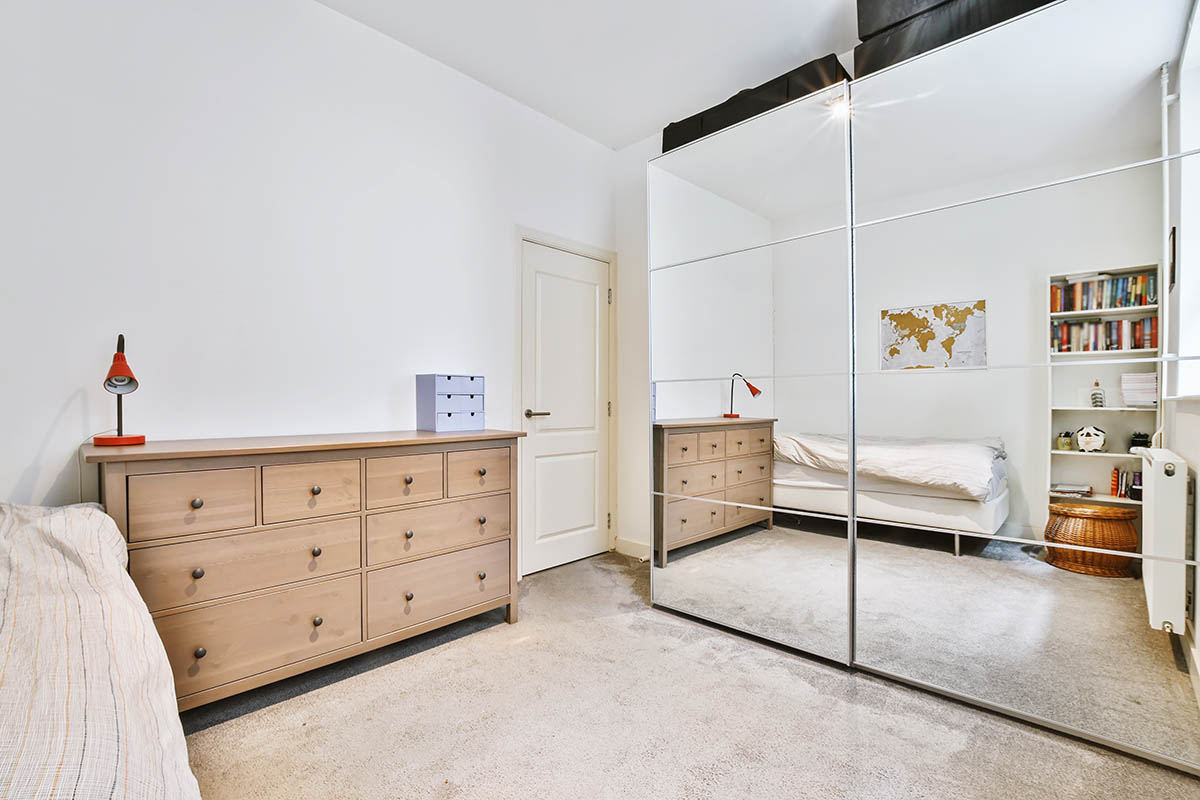 Without the shadow of a doubt, mirrors work wonders in any home. It's one of the tricks that never fail - and one that designers love implementing in smaller bedrooms. Whether you pick one large item or a few separate ones, they will reflect the light coming through the windows. A small bedroom that receives heaps of natural light comes across as more spacious.
Another advantage of mirrors is that they give the illusion of depth, especially when you arrange them at the desired angle. These items can provide an interesting perspective on any room, depending on where you place them. The height at which they are positioned is also important.
Takeaway
Hopefully, these small bedroom ideas will help you organise the space around your sleeping area and make it more relaxing for you and your loved ones. While you are at it, make sure the style of the furniture does not interfere with your comfort and storage solutions. You can read more cheap and DIY bedroom ideas here.
And whatever you do, remember that clutter is a huge offender. Even if you implement the best tools and design tricks, having too many possessions all over the place can ruin all your previous work.
All in all, it is not impossible to dwell in a house or apartment with a small bedroom. There are some steps you can take to enhance the space and look. But it requires forethought and planning. So, no matter what stage of your bedroom renovation you have reached, it is crucial that you pay special attention to storage and design. If you don't think you can do this yourself, feel free to get in touch with us for a consultation. They know better.
If you found this useful, you'll surely enjoy our post with kitchen lighting ideas.