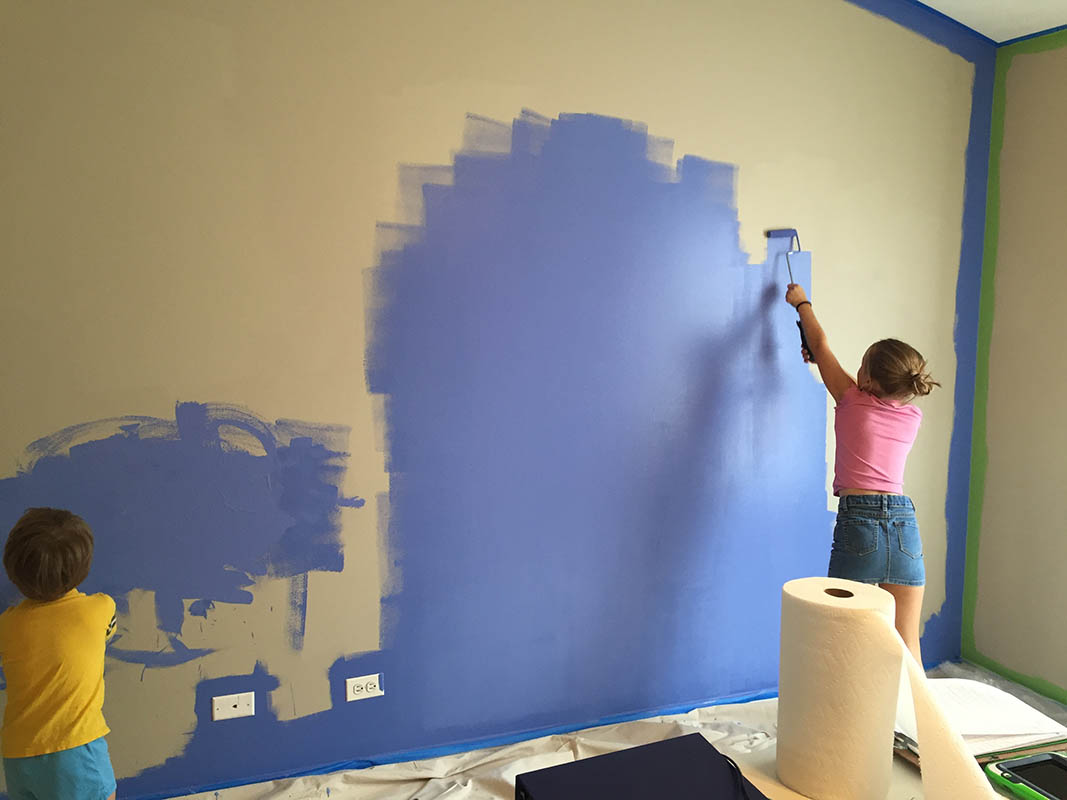 When it comes to updating your bedroom on a budget, painting the walls is one of the best options. Adding on a fresh coat of paint can change the vibe in the room and improve the design of your home. You can give a new life to your bedroom or children's room or renew the walls in your living space.
Bedroom painting is usually not a difficult job. Furthermore, it is not costly or time-consuming and if something goes wrong, it can be easily corrected. However, as with every bedroom renovation project, painting the bedroom requires good preparation. You need to choose the right colour, pick the necessary materials and tools, prepare the room, walls and so on. It is also important to know the basic steps for painting a room. It is especially important to pick the right colours if you have a small bedroom in order to make the most out of the space.
We created this guide in order to help you tackle your bedroom painting project.
Simple steps to paint a bedroom quickly
Make a plan
Choose the colour
Prepare the materials and tools
Prepare the bedroom and walls
Mix the paint and start covering the surfaces
Clean up
We will now take a closer look at how to put everything into action.
Our article full of painting tips for beginners might be of interest to you as well.
Plan your approach before you start
People often skip this step. They just grab the brush and start painting without having a clear idea of what they want to achieve. It commonly leads to an unsatisfactory result. That is why it is important to plan your actions as well as imagine how you would like the finished project to look. If you are not sure exactly how you want your bedroom to look like you can always check on the internet for some creative wall painting ideas.
It is also important to set up your budget. Think about how much paint and what kind of instruments and materials you will need to buy. Keep in mind that using cheap paint might not be an effective way of cutting costs. Low-quality paints contain large pigments that only increase the amount of paint in the can rather than enhance the colour. For this reason, cheaper paints require more coats.
How to choose the right paint colours for your bedroom? 
Paint and colour designers offer two methods of creating impact in bedrooms - strong contrast or pastel idyll. However, your decision should mainly depends on how comfortable you feel in your bedroom because after all, this is your place to rest. There are generally no "suitable colours" for a bedroom, there are only recommended ones.
Ideally, the colours used in the bedroom should be in their pastel and light versions, so that they don't strain the mind but calm it instead. When designing an interior and painting, as a rule, strong and saturated colours are used to highlight the space while pale shades are used as background. Depending on your bedroom style, pastel ocher, pale yellow, soft purple, or soft white background could be perfect for the interior. They can be combined with textures, such as self-levelling plasters or embossed wallpaper.
When it comes to the paint colours and type of paint there are many different options to choose from. Whatever you buy your paint the paint professionals at the store can assist you with product selection. Just you need to be clear where you are going to use this paint. Also, you can find a ton of articles and videos all about picking the right paint colour. It is always good to check them for some extra advice, but at the end of the day, it is going to come down to your personal preference. Even if you end up hiring a colour consultant they will normally ask questions about your tastes and incorporate them into the design.
What materials and tools do you need for painting?
If you believe you are ready to go when you have a brush and paint, then you are wrong. There are a couple of things you will probably need on top of that in order to get the job done. Here we will provide you with a checklist of basic tools and materials you need to set yourself up for success job.
Paint and primer. If you are covering unpainted surfaces or darker colours then you will need to get a primer. You can also opt for self-priming paint.
Floor covering. You can use canvas drop sheets or rollable cardboard or a combination of both.
Painters tape. You will need to use it in order to ensure clean edges during the painting process.
Plastic sheeting. It will be useful to cover the furniture if there is any in the room.
Screwdriver. It is needed when removing pictures, fixtures and all the plate covers surrounding the switches and outlets.
Spackle and spatulas. They are used for plastering the pins, screw holes and other wall damages.
Sandpaper. This is used to smooth the plaster and to even out any rough texture on the wall.
Paint scraper. You will need it to scrap any left or old paint.
Paintbrush. You can choose between smaller or larger brushes. Two and a half angled brush is normally preferred.
Roller. Obviously, you will need a roller to cover the surface area. The thinner roller cover is more suited for a smooth surface while the thicker one is more appropriate for a rougher surface.
Paint tray. It will hold your paint roller.
Painting pole. This will help you reach all the areas and will make your painting more comfortable.
These are some of the essential tools and equipment you need to achieve a professional finish. They should give you some confidence in knowing that you are prepared. Keep in mind that you can always hire a professional and they can bring all their own stuff.
How to prepare the room for painting?
Before you start painting you need to prepare the room. Many people actually skip the prep just because it seems it takes too much time. But doing it, can practically save you time and ensure the success of your painting job. Here are some tips on how to prepare your room for painting.
Clean the room. Move all furniture to the centre of the room and cover them with a plastic drop cloth. Also, make sure you take anything off the wall.
Protect the floor when covering it with a drop cloth. You may also want to attach the drop cloth up to the baseboard by using painter tape.
Prepare the bedroom walls. If there are any specks of dirt clean them off the walls. Use clean water to do it. After that, you can start repairing the wall. If there are any holes and chips fill them by using a spatula and primer. Then sand the wall with sanding paper. 
How much paint do you need to paint a room?
A general rule is that one gallon of paint covers about 350 square feet. So if you want to determine how many cans of paint you need you should first measure the room. So the length, the width and the height will give you the square feet of wall space that you will need to cover.
One of the most important things, when you are trying to calculate your paint coverage, is the texture of the wall. Keep in mind that the different textures will soak different amounts of paint. For example, drywall usually takes longer. It has a lower spread rate so it might need more paint. Primed and painted-primed walls are usually covered very quickly and easily.
The other thing you need to take into account is the colour differential. If you are going from dark to light colour then you will probably need some extra paint.
You may be interested in reading our DIY bedroom makeover ideas.
What is the correct order to paint a room?
It is best to begin from the ceiling and work your way down. Start by cutting along the ceiling with a brush. Then cover the ceiling surface by using the roller and the extension pole. Then continue with the walls starting from the edges and moving onto the surfaces.
How do you cut? Make sure you wipe both sides of the brush off so that you avoid paint dripping off the brush. When cutting you need to hold the brush like a pencil. You just have to find your line and get moving. If you are a beginner it may take time to get that.
How to paint the surfaces using a roller? Before start rolling, make sure you have your paint tray close by you. You don't want it on the other side of the room. Give the roller a good dip into the paint tray and start covering the surface. You should always start away from the edge to avoid thickening in the corner. Apply the wall paint by overlapping the W- or M-shaped strokes. Once the first coat of paint is dry you can start applying the second one.
How to clean the paint rollers and other painting instruments?
Get most of the paint off your roller and brush and then clean them with soapy water. Put the leftover paint in the can. After that, clean the excess paint from the top of the can by wiping it with the brush and then put the lid back. To keep the brush's bristles from spreading, slip the brush back into the paper wrapper once it has dried completely.
How long should it take to paint a bedroom?
If you are a non-professional painter then you will probably need one day to finish the room. However, there are several factors that will affect the amount of time needed for painting including your experience, the wall texture, the type of the paint and its colour, and so on.
It usually takes one coat to paint ceilings, whereas walls usually require two coats of paint plus priming. However, if you are painting over dark colour you may need to apply 3 or 4 coats of paint which will take extra time. The same applies if you want to create a feature wall in your bedroom.
The average 12-by-12-foot room with 8-foot ceilings should take you about five hours to paint.
Hiring professional painters may save you time and money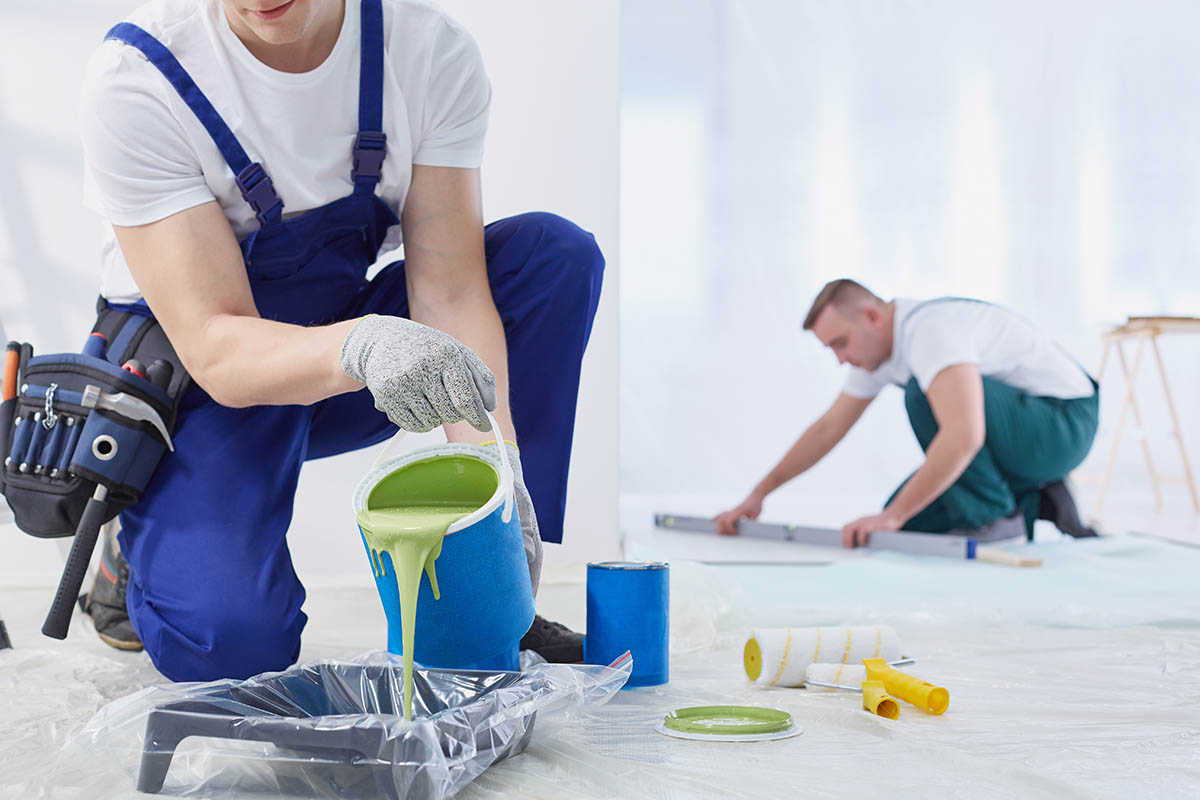 Of course, you could go out buy all the paint and tools and spend a couple of weekends with your DIY project or you can hire professional painters and they can have it done a lot quicker (plus, you get to enjoy your weekends).
Here are some reasons why you should hire professional painters instead of doing it yourself.
They can help you choose your colour.
They have the right equipment.
Professional painters know how to do the job right.
They use proven painting techniques to achieve a perfect finish.
If you hire professional painters you won't need to clean up because they do it when they are finished with the paint job.
Professional painters usually use high-quality materials.
They know how to do the job safely.
If you are looking for professional painters in Surrey, do not hesitate to contact us. They are specialized in bedroom refurbishment. In addition to painting and decorating, their services include replacement bedroom doors, custom made wardrobes and furniture, bespoke cabinets, study furniture, etc.
At AceKitchen we offer a variety of bedroom styles from which to choose, as well as a number of innovative creative designs for your bedroom. You can check out our before and after work gallery to see the quality of our work.