When considering selling a home, it is critical that you present it in the best light possible. That is why many homeowners perform repairs before listing their house or apartment. In most cases, home renovations can bring a higher sales price.
However, making major upgrades and improvements before selling your property can be a huge risk. The secret to a successful renovation is only doing things that really add value to your home. Without a doubt, you cannot go wrong if you choose to tackle the kitchen. This type of upgrade typically has a high return on investment.
The kitchen is the most important room in the house, and buyers normally spend a lot of time there during the inspection. That is why experts suggest refreshing the space even if you have a tight budget. This can help you add value to your home and sell it faster.
But what is actually the right course of action when you want to get the best price and sell the property as soon as possible? Should you do a complete kitchen renovation or just a minor update? Is it worthwhile, and how much value does a renovated kitchen add to your home? Continue reading to learn more.
How much does a kitchen renovation add to home value?
It is possible to increase the sale price of your property by 5% to 10% when you renovate or build a new kitchen. However, how much value it adds will depend on the renovation project you undertake - whether you install a brand new kitchen or merely refresh the old one, what the state of the kitchen is like, and what you choose to renovate exactly.
In any case, refurbishing just one room of the property can make a huge difference in both price and saleability. The kitchen upgrade can make the house stand out in front of many others that might be on the market in the same area. When you offer a stunning kitchen, prospective buyers won't have to consider the added costs of remodelling the place themselves.
The kitchen is the focal point of the entire house. A well-designed kitchen can make a huge difference and significantly increase the value of a home. However, when planning such a project, you must be very careful. After all, kitchen renovations can be quite expensive, so you want to make sure that the money in added value is recouped when you sell your home.
Kitchen updates that add a lot of value
Will a new kitchen add value to your home? Actually, the full kitchen remodel is usually costly and doesn't prove to have the best return on investment. However, some minor and not very expensive upgrades can have a big impact on buyers. For instance, a minor kitchen remodel that costs around £4000-£5000 may recover about 80% of your spending at resale, while a major renovation can recoup less than 50% of the costs. So when it comes down to it, an expensive kitchen refit may not be the best option. Installing new kitchen doors and hardware or new worktops can be sufficient to increase the potential value of the property.
Here is a list of kitchen renovations that can give you the best return on your investment.
Replacing kitchen worktops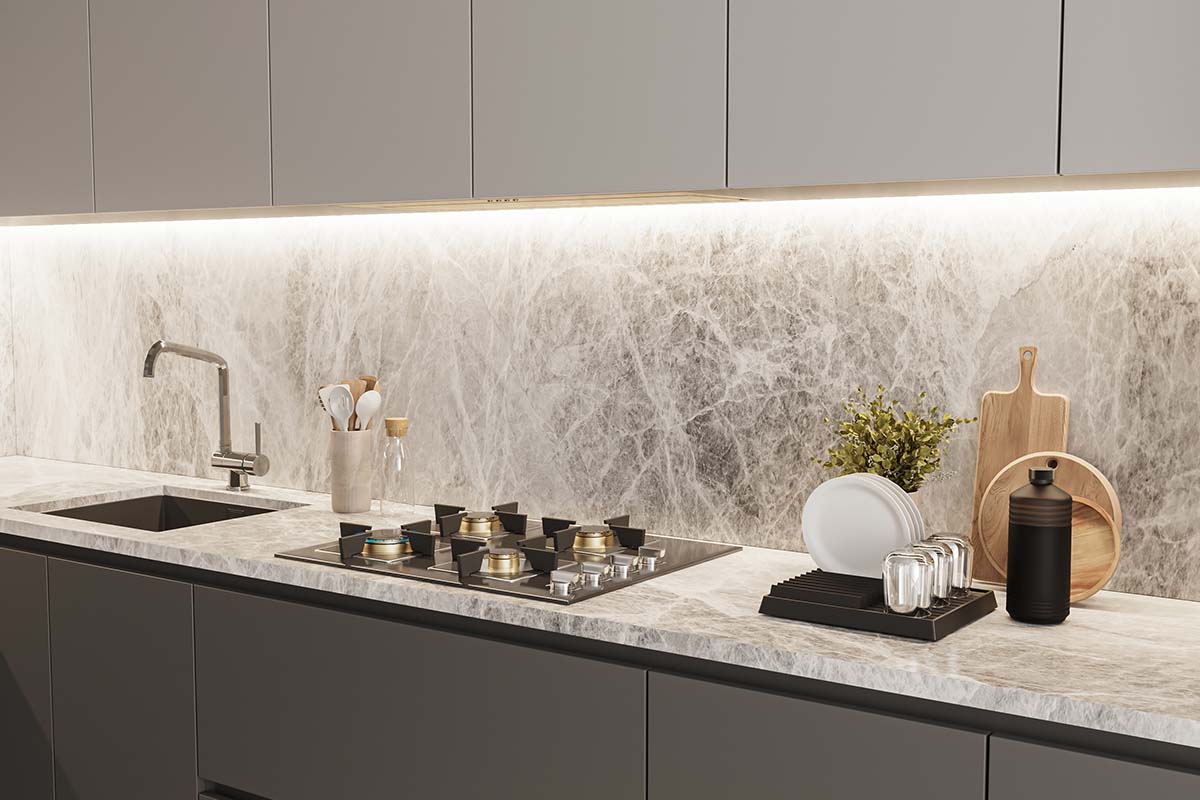 It goes without saying that if the work surfaces in the kitchen are old, scratched, or otherwise in poor condition, you must replace them before listing your home for sale. They will give your kitchen an instant facelift. Kitchen worktops in Surrey are typically the focal point of any kitchen and the first thing prospective buyers notice. And we all know that first impressions count.
Worktops, on the other hand, are likely to be one of the most expensive options on the list. But, with such a huge range of options on the market today, you can surely find something affordable that also fits your kitchen.
Granite and quartz are typically more expensive choices. However, a kitchen with such worktops, as opposed to laminate, is a stand-out feature with a distinct market advantage. So, if it is within your budget, you should consider installing stone worktops in your kitchen (Check out our article on kitchen makeover on a budget). You can combine them with an aesthetically appealing sink made of the same material. If the stone is out of your price range, you may consider going with different material such as laminate.
Upgrading the cabinetry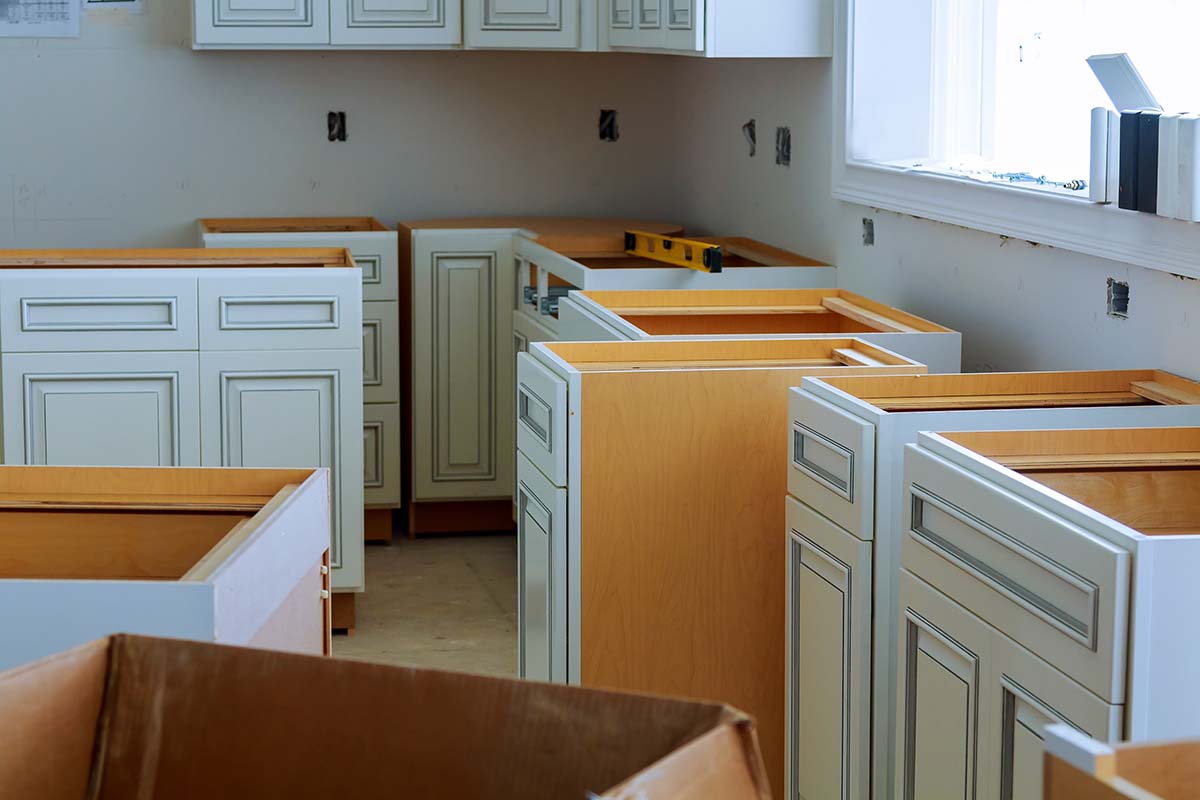 Upgrading your kitchen cabinets is a must if you want to make your kitchen stand out. There are several ways to accomplish this. Painting the cabinets in a new contemporary colour is one of the cheapest ways to update their appearance. You might also think about getting new kitchen cabinet doors. There are different colours and styles you can choose from.
That is usually a great kitchen improvement because the doors are what most buyers will notice in the room. Furthermore, it is less expensive than replacing the entire cabinets, especially if the old ones are still in good condition.
You might also want to consider building an island in your kitchen to add some extra, functional space. Such a piece of freestanding furniture can really make all the difference to potential buyers when they look at your kitchen. It is both functional and accessible, but it also speaks volumes to someone looking at the space.
Replacing kitchen cabinet hardware
Regardless of whether your cabinets are framed or frameless, installing new kitchen cabinet hardware is an excellent way to improve the operational quality of your kitchen. This is especially important if you have old barrel-style face frame hinges on your framed cabinets.
Swapping to a concealed hinge with a soft close feature is a great improvement. Changing your drawer glides is another excellent upgrade. Hinges and drawer glides are typically the most used and abused areas of your kitchen. As a result, they deteriorate, loosen, and become out of alignment over time.
Installing new appliances
Maybe you have an old energy-guzzling fridge, a crusty old oven, or a vent hood that has been there for ages and has simply yellowed with grease. Such units will almost certainly not appeal to buyers. It might be time to get rid of everything and start fresh with new, modern appliances. Whether you sell your home or not, you will be glad you did it.
You may want to consider removing the cabinet above your range to install a new chimney-style vent hood. You might also replace the old kitchen appliances such as the fridge or oven or install a new dishwasher. Although such an investment may appear high, if you shop during seasonal sales or maybe buy appliance packages, you may end up saving more than you expected. Just be sure all your kitchen appliances are the same colour.
Installing new light fixtures
The lighting in the kitchen is the next important aspect to consider. Maybe your kitchen cabinets are in a good condition, and maybe your worktops are divine, but you just need a little bling in the space.
If you don't have under-cabinet lighting, you can install some. When it comes to a small kitchen upgrade, this is pretty much the standard go-to. You can consider adding pot lights to your ceiling. This is a simple and effective upgrade that works well in almost any kitchen. Pot lights can also be added over the countertops, over the sink, and over the kitchen island.
Incorporating good lighting into the kitchen will not cost you much money, but it will make a significant difference. You can literally change the entire look of the room with just a few hundred pounds.
Painting and decorating
Looking for the simplest and least expensive way to update your kitchen before selling your house? It is, without a doubt, a painting. It is an excellent improvement option not only for the kitchen but also for the rest of the house. Painting is relatively inexpensive and provides the highest return on investment. Furthermore, the whole process can be completed in a single day.
But what are the popular trending colours, and which paint colours will help you sell your home? It is best to stick to more neutral tones such as beiges, greys, and greiges. Of course, you can never go wrong with white. It is usually a very traditional and safe choice.
Though painting might seem like a straightforward task you can do on your own to save money, if you want to get truly stunning results, it is best to have your walls professionally painted.
There are also other kitchen upgrades you may want to consider in order to increase home value. You can install a new sink and faucet, get new flooring or build a nice breakfast bar. Such improvements will make the place more attractive to potential buyers.
What kitchen styles add the most house value?
The kitchen design trends come and go every year. In the past, dark brown cabinetry was all the rage. Even tiled countertops were popular. Currently, the trend is towards industrial-looking kitchens. However, if you are about to sell your home, you should avoid focusing on these passing trends. Instead, focus on timeless kitchen designs and kitchen styles that will always look good. Here are some suggestions.
Classic kitchens
Classic kitchens are usually timeless. They appear simple and minimalistic, which usually attracts potential buyers and increases property value.
If you want to create a classic kitchen, then make sure to stick to white or neutral tones. Such colours go perfectly with classic door designs, such as the shaker-style cabinet front. To achieve a nice look, it is best to stick to white appliances. You can go for fancier European-style or farmhouse-style appliances. You can achieve a very classic and elegant look by combining a white kitchen with natural wood worktops. It gives a clean and comfortable vibe.
Modern kitchens
The design of modern kitchens also includes minimalist features and a simple colour palette. However, unlike classic styles which have rounded shapes and a warmer atmosphere, modern kitchens tend to have sharp edges and apparent angles.
If you want to design a modern kitchen, make sure to stick to open spaces and minimalistic design elements. It is good to choose cream or grey glossy acrylic finishes, or matt laminate finishes for the cabinets and worktops. Stainless steel appliances are appropriate for these kitchens because they will provide an elegant and streamlined look. You may also want to add some fancy gadgets to create even a more modern vibe in the room.
DIY or a professional job?
Kitchen renovation is not something you should attempt on your own, especially if you want to increase the value of your home. Yes, you may be able to do some tasks such as painting the kitchen cabinets or walls or changing the handles. However, you should keep in mind that there is always a chance that the end result may not be what you expected. Bad workmanship can actually depreciate the value of your home. In the end, you'll need a professional to repair the damage.
Benefits of hiring a professional kitchen renovation company
They will complete the task quickly. Kitchen renovation is a difficult task that will require a significant amount of effort to ensure the success of your project. It is far preferable to have the job done by an expert team.
They will assist you in achieving results that will significantly increase the value of your home. A renovation professional closely monitors every step of the renovating project to ensure you get stunning results. When professionally completed, the updated kitchen can significantly increase the value of your home.
They will advise you on how to improve your kitchen and create the wow factor. Professional renovators have the necessary experience and knowledge to understand what people like and what types of renovations can add the most value to your home. They can advise you on whether to build a new kitchen or how to improve your existing kitchen in order to sell your house for a higher price.
Hiring professionals will not necessarily break the bank. If you do some research, you may discover that services like painting and decorating, as well as replacing kitchen cabinet doors and hardware, can be quite affordable.
At the end of the day, is kitchen renovation worth it?
A kitchen renovation is usually a wise investment, no matter whether you plan to sell your home shortly or not. If you intend to sell, you will be able to recoup a significant portion of your investment through increased resale value. Even if you have no intention of selling, a well-designed kitchen will make your home more enjoyable to live in.