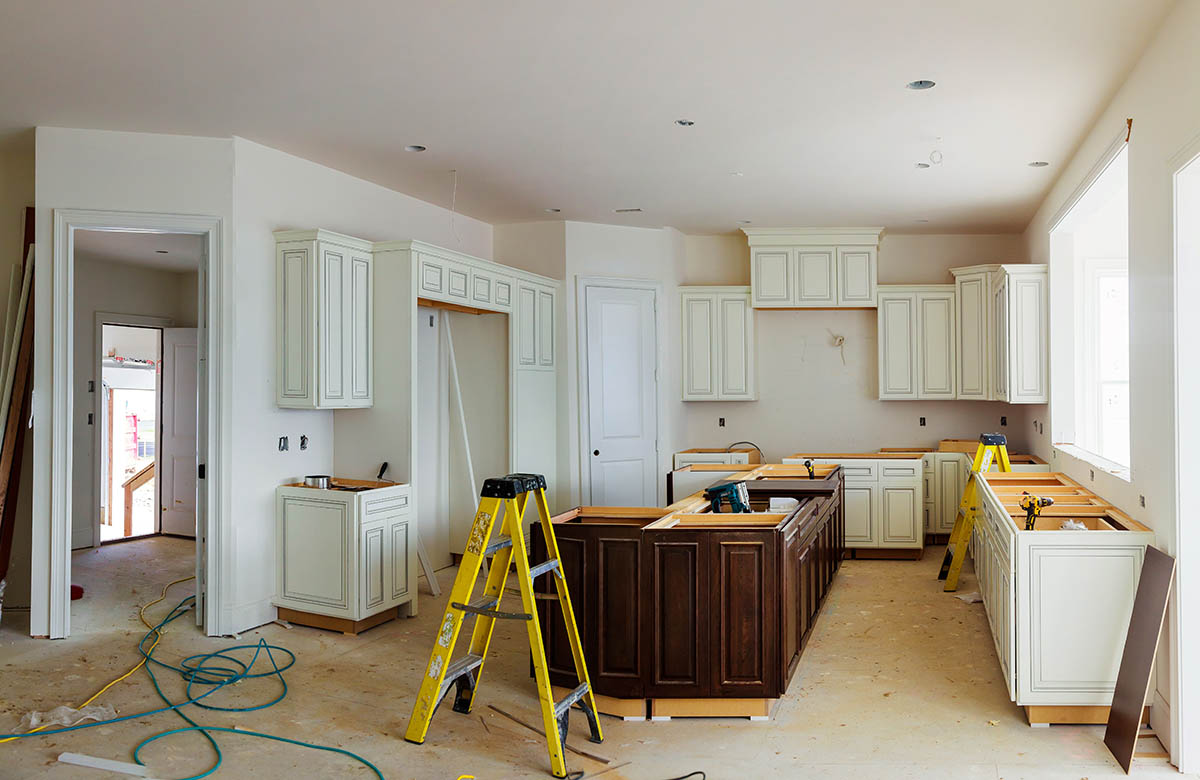 Join us for a few kitchen refurbishment tips. Spending time in your kitchen on the daily speeds up its wear and tear immensely. After several years of use, not only does it lose its shine but it becomes outdated. This is the moment you usually consider updating some features. Whether you need just a few small changes or a complete refit, you want the best for the heart of your home.
Next time you ask yourself, "How do you facelift a kitchen?" leave this to the kitchen refurbishment specialists. We've assembled some tips and advice to get you started so you can pick out the best ideas and implement them in your home improvement plan. Dive in.
How Much Does a New Kitchen Cost UK (Surrey and other areas)?
The average kitchen refurbishment cost UK leans towards £4,000 and £5,000. If you do your best to lower the expenditures, you may pay around £1,200. But before you let out a sigh of relief (or indignation), let us tell you that these numbers cover certain elements of a kitchen installation such as shelves and cabinets and the assembling part itself.
One thing that's not involved is the price of the appliances you are going to use. Plumbing and rewiring come at an extra cost too. Other elements that the above figure excludes are flooring and tiling. The same applies to worktops and - to tell you the truth – refurbishing kitchen countertops is one of the most exorbitant parts of kitchen makeovers.
Another thing to take into account is that the prices are steeper in London and South East England. This includes kitchen refurbishment in Surrey as well. Some makeovers add value to the home (if you are planning to sell, that is).
And lastly, hiring a company will add more charges to the list. Planning and installation costs can be daunting.
How Much to Refurbish Kitchen Interior in Surrey?
Now, as far as refacing a kitchen in Surrey is concerned, the cost may be the same as the above range or extend beyond it depending on the kind of makeover you want to get. Generally speaking, homeowners shell out between £888 and £3,000 for their kitchen redos. It has to be said this is the absolute minimum.
The number can sit anywhere on the price spectrum and the higher end is particularly busy with prices like £15,000 for a full-on refurbishment, especially if you call in a company to lend a helping hand.
How to Reface Kitchen Doors and Drawer Fronts for a Brand New Kitchen Look in Surrey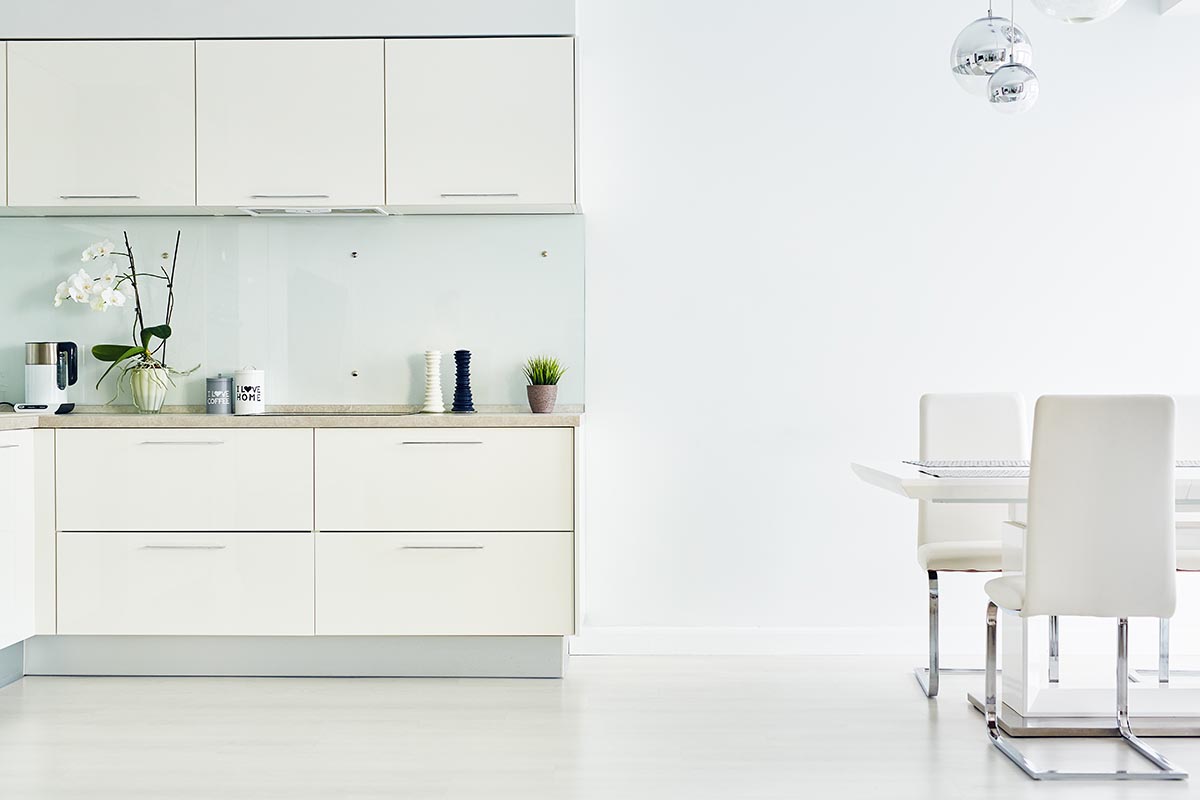 Now that we dug into the financial aspect of the project, let's see what we can do about refurbishing those old cupboards and drawers for some special kitchen magic.
Truth be told, you don't always have the budget or desire to get involved in lavish kitchen refurbishments. Sometimes you want to switch things up a notch without all the mess and elbow grease. When you begin to ponder upon it, you almost immediately go to replacement doors and drawer fronts. And here is what changes you can make to them. Check out our article on how to measure kitchen doors and cabinets for more information on that.
Self-adhesive wallpaper
One of the fastest, easiest, and cheapest ways to give kitchens a brand new look is to transform the cabinets using wallpaper. It's best to choose self-adhesive wallpaper that was specifically meant for kitchen units and furniture since it comes lined on the back side to help you measure and cut the right-size pieces in a cinch.
You remove the packaging, cut it into the desired pieces, and apply it. And, voila, you instantly breathe new life into your cabinets without even having to disassemble them. You may need to unscrew the handles, though.
If you go to Amazon, you will find heaps of options that appeal to all tastes. You will mentally get lost in the range of products in stock. Some of these have various colours, while others come in different patterns, from floral to simple and vintage.
Stickers for new kitchen doors
Speaking of sticky things, if you want to decorate the kitchen doors and drawer fronts for a fraction of the cost, use stickers. They are not messy or difficult to apply. It's a DIY job, basically, and you don't need an expert to get it done.
Kitchen decals are the perfect choice. They come in nice patterns and are usually removable with hot water and some soap. It goes without saying they work best on surfaces that are plain and undecorated. And just so you know, this option works for all doors around the home.
New hardware for your kitchen door front
It's surprising how something so small like swapping out the old hardware can make such a big difference to the overall kitchen design. Installing new handles and hinges will bring out another side of your kitchen and make things more exciting. Again, this option will work its magic on all doors around the home. This step can be applied when doing a bedroom makeover too.
How to Refurbish Kitchen Cabinets and Worktops in Surrey
Let's look at kitchen cabinets in more detail. They are the stars of your kitchen and deserve to be given attention.
Change the materials of the drawer fronts
If replacing your kitchen cabinets is not in the cards right now, don't let that stop you from sprinkling some kitchen magic all over the place. It's still doable. Cover the surface with different material of your choosing so it looks notably beautiful. It makes sense to go for the doors and kitchen worktops since they are the ones on display, all the while keeping the insides intact.
The material is the "skin" of your kitchen cabinets. It's what gives them this distinct look and also the thing that determines their lifespan. When choosing a product, think of the vibe you want to create and the functionality of your kitchen. This will help you make the right choice. If you are persistent and patient, you can get some of these for factory prices.
If you are not ready for a change thig big, feel free to limit your decorating spree to the cabinet doors only. For example, you may take out the doors and swap them for new.
Add stick-on contact paper
Working in a similar fashion like the adhesive wallpaper, stick-on contact paper can imitate a range of materials. It works for all kitchens. If there is no prospect of buying new cabinets anytime soon, give this alternative a consideration.
Just wrap up all sides with a refreshing piece of paper. There is an infinite stream of items online like black wood, grey wood, mosaic, marble, gold stripes, beige stone, granite, you name it. Get the one you want and rolls your sleeves up.
No, this doesn't add value to the home but it can enhance its appearance. It doesn't require any refitting. Be careful when working your way around the handles and other hardware. This can be used for doors everywhere in the property.
Paint your cupboard doors and drawer fronts
It may be the most trivial advice in the world when it comes to kitchen refurbishments but it always does the trick. As soon as you change the colour of the walls, it turns into a different room. A place you've never been to so far. This is the magic of paint.
Now, you may be tempted to ask: "Can I spray paint kitchen cupboards?" and the answer is: yes. Far-reaching cabinets are a challenge to paint but when you resort to spray paint, it makes the job less daunting and time-consuming.
This step is great for a bedroom as well.
Kitchen Refurbishment - How to Refurbish Kitchen Chairs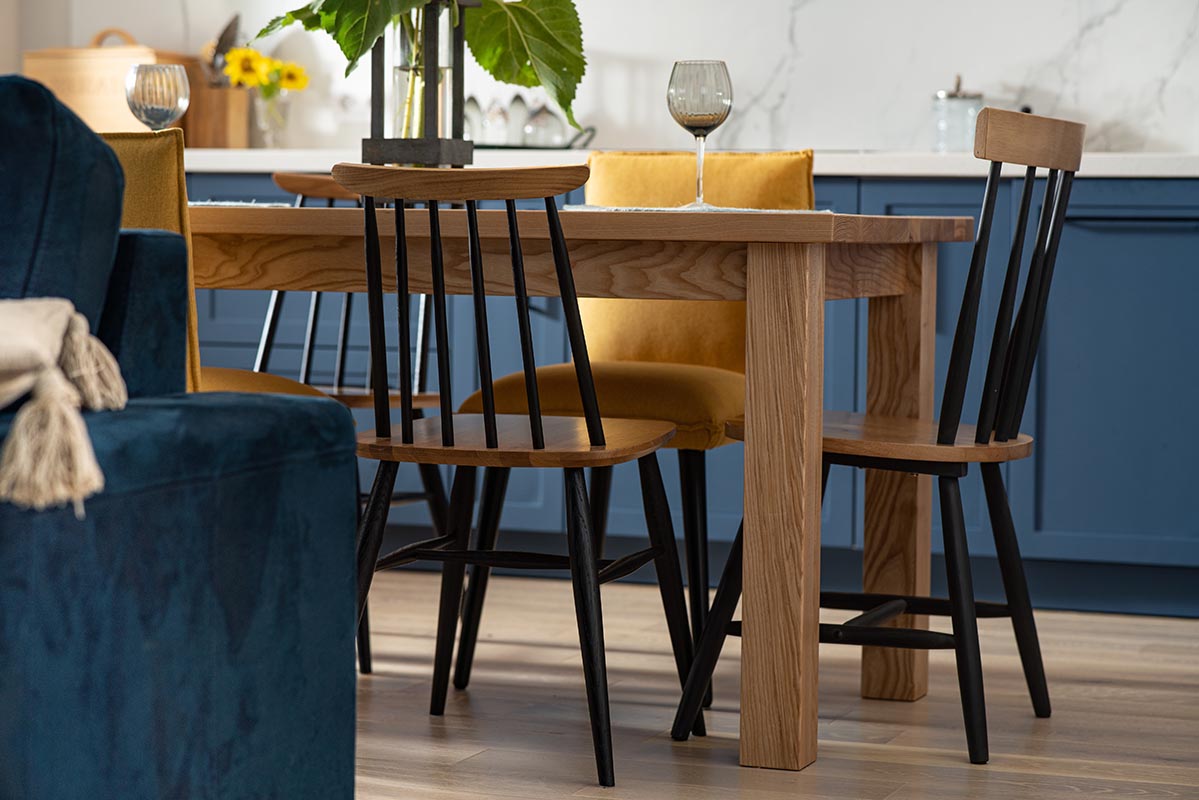 To be honest, the majority of people rarely think about redoing their chairs. They prefer to toss them away and bring in some new buddies instead. Or they just don't know how to get the job done, that's why the thought of chair refurbishment doesn't cross their minds. It's perfectly understandable.
Chairs are not a huge expenditure, yet they can add to the financial burden, especially when there is more than one to buy. If your chairs are in mint condition, why splurge on new?
Reupholster
You have two options here: do the job yourself or take the chairs to the pros. Depending on your budget and willingness to get involved, you will choose either.
For the DIY reupholster, you will need to get your hands on some products and tools like fabric, staple, pressing sheet, measuring tape, scissors, etc. There is a range of fabrics to choose from that will go well with the dream kitchen design.
You might have to take out the base of a chair to use as a guide for all items. Lay it over the fabric and cut around it. Then cut all the pieces for the rest of the chairs. Make sure to iron the fabric before sticking it to the head with a staple. It is best to watch a video on how it is done.
If you think a pro will do better, find a company service near your address postcode and get things going. Unless you want to be taken aback by the prices, send a quotation request in advance.
Paint and lacquer
Wooden chairs can look like new with a new layer of lacquer on top. For a long-lasting finish, it is essential to prep the surface before you start the actual job. This usually involves removing any dust and dirt as well as sanding the wood to eliminate any scratches and imperfections.
For the first job, use a special product to degrease gunk. Remember that the smoother and cleaner the surface, the better the result. Then, grab a piece of sandpaper and begin scrubbing against the wood. Get into all those nooks and crannies. It will remove the old lacquer.
Once you are finished with this step, you can prime the surface. Get a quality product from a nearby store in Surrey. Wait for a few days before you apply the lacquer. Work in layers and leave enough time before each application so it can dry. To get that shine and smoothness, rub some paste wax. Apply the substance on a piece of cloth and run it over the chair. This really improves the lacquer. Let it sit for 15-20 minutes.
Get chair slipcovers
Give your kitchen the ultimate sophisticated treatment and make it more fancy by jazzing up the chairs with some slipcovers. As far as finding those is concerned, the Internet is your best friend but also feel free to visit your favourite land-based shops for an even greater variety. To select the right covers, you have to take your chairs shape and size into consideration. Understandably, some models don't go well with such design tricks, so choose wisely.
More Tips and Ideas for Kitchens:
Instead of following the current trend, choose materials and design that stand the test of time (you may consult with interior designers for this part).
Plan everything from start to finish so you achieve a cohesive look (your plan should include all details like floors, doors, picture frames, knick-knacks, plants, hardware, worktops, appliances, towels, etc.).
Other than using replacement doors for a big change, you can spruce up the kitchen sink by swapping the sink taps.
Hang out fancy tea towels and cloths for more depth.
Add blinds to more effectively manage the amount of light that hits your kitchen.
You should not focus entirely on the kitchen door and worktops. Think about the floors. Throw in a nice, cosy rug.
Upgrade the appliances. If there is one thing you can do about your kitchen layout, it's this. Replacement items should be in tip-top condition.
Use self-adhesive film to renovate kitchen worktops
Replace the flooring;]. If you are not good at doing the work yourself, hire a professional fitter. They will get the job done in a day (just send a few experts at kitchens a quotation request to compare service prices and see if it fits your budget).
Invest in storage bins that blend well with the new kitchen, including the doors and drawer fronts.
Do the majority of installation jobs by yourself if you can to salt away some money for your new kitchen.
If you live in an expensive area such as Surrey, London, or someplace else, shop around until you find the best deals. Know that every high-priced product has a low-priced alternative but don't compromise with quality.
Now, if you are thinking about hiring an agency for some of these jobs, don't forget to choose someone qualified. You can check out their reputation online, including what customers are saying about them. Usually, after a project is over, people send a review request to assess the service. The data will help you figure out if this is someone you want to trust your kitchen with.
How Can I Renovate My Kitchen Cheaply in Surrey?
There is no single answer to this question. You can choose to focus on the details like adding a few decorative items or replacing the existing ones. Some flower pots here and there will add life to the heart of your home. Improving the lighting is another inexpensive idea that will lend a different feel to the room for a fraction of the cost.
And so will a new coat of paint. Nothing speaks new like the perfection of a successful paint job. It can add a dramatic difference to the overall look and it costs next to nothing.
Some of the steps from above are great for an affordable kitchen renovation job in Surrey. For instance, the part where you replace the doors instead of the entire cabinets and drawers is a great example. If you are delighted with your current storage space and the materials is in optimal condition, that's your best move actually. It will save you money and effort.
As a whole, everything that involves updating the existing kitchen door fronts and units rather than buying brand new is a good option. Think about what you can do the stuff you already have and how it can affect the design in a positive way.
In most cases, it is recommended to stick with DIY kitchen refurbishments for a new kitchen look. Booking a kitchen refurbishment company service in Surrey is the best choice when you want everything done to perfection but it can add somewhat of a burden to your budget. For this reason, you have to make sure you can afford this step before you call the pros.
Of course, you should not forget that some of the restoration jobs had better be handled by a company with an impeccable reputation. Talk about pipe work, electric work, and everything in between that only a professional service can nail. Send them a brochure request to see what options they have that can be done for a fraction of the cost.
These days, you don't have to go to the company's head office or reveal your address postcode to get a brochure. Instead, you can receive one by email. All you have to do is leave your name, email, phone number, or other data on the retailer's website (the requred fields are marked with an asterix). Then, the company will send you the details as per your brochure request.
Things to avoid doing if you want a budget-friendly kitchen redo in Surrey is to stay away from kitchen worktop refurbishment. As mentioned above, it costs a fortune to make this kind of alterations, especially in Surrey, London, and nearby areas.
Bottom Line on Refurbishing Kitchens
It's no secret that kitchen refurbishments can be a pain in the neck independent of whether you use a company or not. They take lots of time and require some vigorous work, but most of all they can drain your bank account faster than those pampering sessions at the beauty salon (although we know you enjoy them so much).
Hopefully, guided by us, you've learned how to refurbish a kitchen. Doing some tasks yourself has its benefits but it doesn't hurt to get help from someone experienced like a professional kitchen refurbishment specialists or company.
At the end of the day, if you are not sure what to do, you can always contact our kitchen refurbishment specialists in Surrey for more data and quotation request. Follow their advice and let the kitchen magic happen. Leave your name, email, phone number and request about your kitchen refitting to get further information.